Employee engagement is essential for business success, however, increasing that engagement can be challenging. With low levels of employee engagement being linked to low morale, high staff turnover, decreased productivity, failed projects, lower profits, and costly mistakes, it makes sense to do everything you can to make sure it doesn't happen.
One strategy that an increasing number of organizations are adopting is employee gamification. Keep reading to find out more
Why Use Gamification for Employee Engagement
As we have stated in our employee engagement guide, gamification can have a lasting and positive impact on a business's overall success. This is a very general statement, so let's start this post by examining why you should adopt gamification for employee engagement in your organization.
Gamification is a way of promoting employee loyalty and engagement by making work processes fun and rewarding. The benefits of adopting this approach can be immense, and here are some examples.
Gamification Makes Learning Fun and Engaging
Gamification uses tactics such as interactive visuals, fun experiences, and rewards. These have been shown to increase the amount of information a person retains by up to 33%. It also makes the learning process more entertaining and boosts a person's willingness to study and learn.
Gamification Can Decrease Employee Stress
When the learning process is more engaging and fun it makes employees more productive and happier at work, and less stressed. Gamification can also help professionals learn new concepts, solve problems, develop skills, and make decisions. Such skills will reduce the chance of finding themselves in situations beyond their capabilities which could result in tension and stress.
Gamification is Appealing to the Younger Members of Your Workforce
Members of a workforce that are more digitally savvy find gamification very appealing. It can be particularly effective when used as part of the onboarding process. It's a natural, fun, and effective alternative to traditional onboarding techniques because it's better aligned with the younger generation's style of learning and skill development.
Gamification Enhances Collaboration and Social Interaction
Finding avenues where employees can socially interact and collaborate with other employees has become difficult, especially with the rise in remote working.
Gamified processes increase social interaction and collaboration by providing training and learning with other employees, friendly competition, participation in team missions, and celebrating and congratulating team members on their achievements.
Gamification Provides Opportunities for Real-Time Feedback
Using game-based training and processes, managers can provide frequent feedback and recognition in the form of rewards. Such rewarding experiences let employees know immediately how good of a grasp on the material they have.
How Do You Make Employee Engagement Fun
Gamification resonates with employees because it taps into a variety of deep and universally motivating elements. It also channels our natural desire for self-fulfillment and a sense of purpose. However, if you don't make it fun for your employees, they'll be less willing to participate. Let's help you discover how, with the help of game mechanics, you can make employee engagement fun.
Implement Gamified Learning & Onboarding
For many people, the traditional onboarding process of endless how-to videos and job instructions can be boring. This is a shame because the first round of training experiences can make or break it during an employee's first week.
Using gamification for learning, on the other hand, is an interactive way to keep new and long-serving employees engaged. Examples of gamification techniques that work successfully include trivia, quizzes, and icebreakers. These are also a terrific way to lessen the monotony of training and add some fun to your employee's working week.
A fine example of gamification in action was designed by Salesforce Trailhead. Trailhead is a free online learning platform that teaches tech and business skills. Depending on your job role, there are different learning paths you can follow, earning credentials along the way.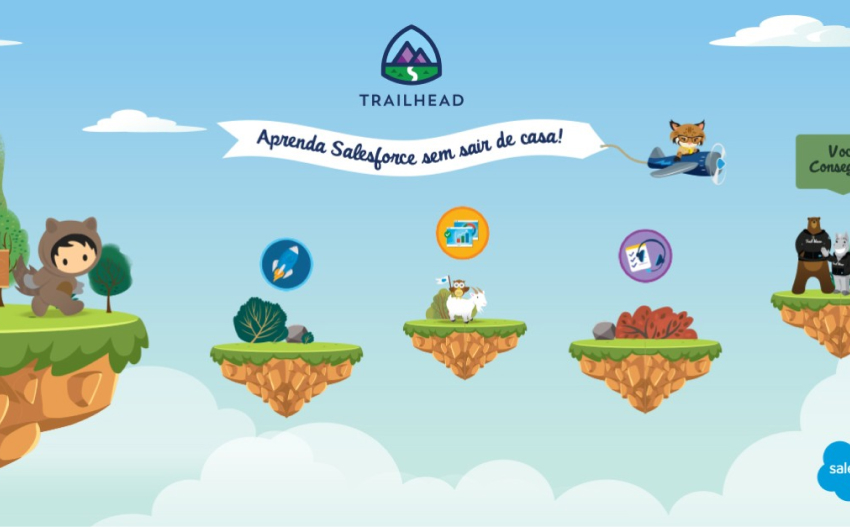 Run Company Competitions
While many gamification ideas focus on improving productivity, others simply provide a bit of fun and distraction. The opportunity to just kick back can have a profound impact on employee morale. A fantastic way to encourage this is with friendly company competitions. The important thing is to make it relevant for your workforce.
BeeLiked helped Trafalgar with its company competition and chose a spin-the-wheel campaign. The campaign aimed to incentivize and reward the company's team of travel agents and sales reps. The Trafalgar incentive program was an enormous success, and the company plans to repeat the exercise in the future.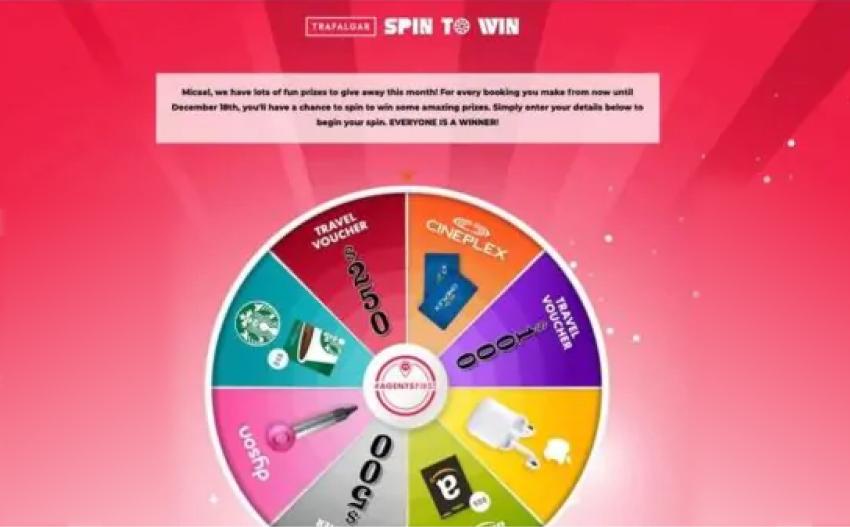 Use a Rewards Program
Introduce a rewards gamification program and it will encourage your employees to go above and beyond. An employee engagement rewards platform ensures employee efforts are measurable and quantifiable.
The benefit of using this gamified approach is increased employee engagement, productivity, retention, and morale. In addition, it can help encourage company values and recognize employees' achievements.
The rewards might be monetary, non-monetary, social, or performance-based. It's down to you to decide whether a badge is enough, or you need something more. The rewards also have to suit your company's size, budget, and objectives.
Start a Point System
A point system is one of the easiest methods to choose if you want to introduce gamification. Employees earn points for completing tasks, demonstrating desired behaviors, and reaching targets. Points can be exchanged for rewards or recognition.
Try an Interactive Leaderboard
Interactive leaderboards are a fun way to increase employee productivity and create a more engaging workplace. Points-based leaderboards introduce a little bit of friendly competition and encourage employees to learn and repeat behaviors.
Run Challenges
Gamification can be applied very successfully to Various HR practices such as recruitment, training, recognition, and rewards. Some examples of gamification challenges include quizzes, team-based quests, and missions that foster collaboration and problem-solving.
Do a Trivia Game
Trivia games are another effective way to improve staff morale and there are numerous ways you can do it. Why not plan a trivia night, for example? It's a way of inspiring team members to foster new connections and improve engagement levels.
Another benefit of trivia nights is that they work well for remote and hybrid teams. They are easy to set up virtually so that all team members can participate and enjoy the experience.
Don't worry if you don't have the time to plan an interactive trivia night experience because there are plenty of online resources or preplanned trivia experiences.
Offer Spin-to-Win Prizes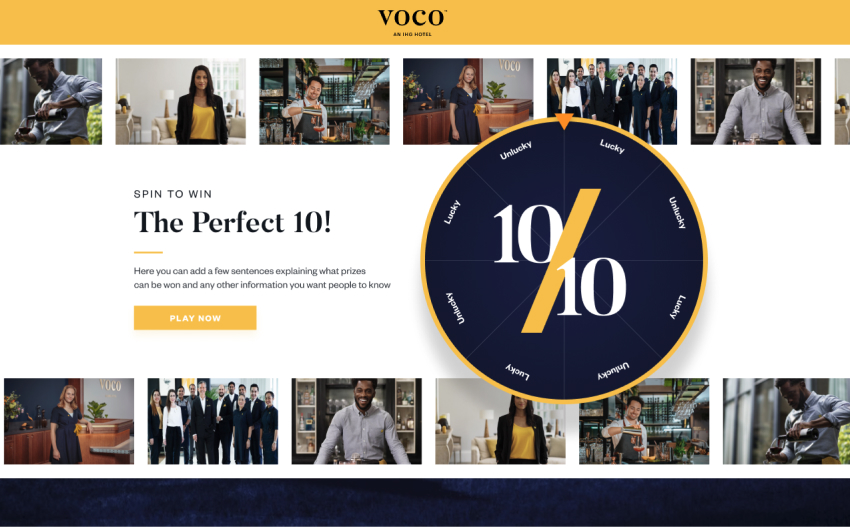 We've already looked at some ways to introduce gamified rewards and points systems, but an alternative is to use spin-the-wheel pop-ups.
An example of this method in action is the Voco Hotels Employee Rewards. The Voco Hotels brand is part of IHG and has hotels across the world that promise an unstuffy atmosphere and amazing customer service.
In the hospitality business, as we all know, every member of the team has a role to play from managers to porters. To help motivate the entire team an inter-hotel competition was introduced.
Part of the competition was a rewards spin wheel. BeeLiked Studio Team helped to design an experience that all staff members would find appealing. The winning hotel employees received an invite to spin the wheel and claim their prizes.
The result of introducing the gamified incentive program was an increase in staff motivation and performance by up to 10%.
Make Advent Calendars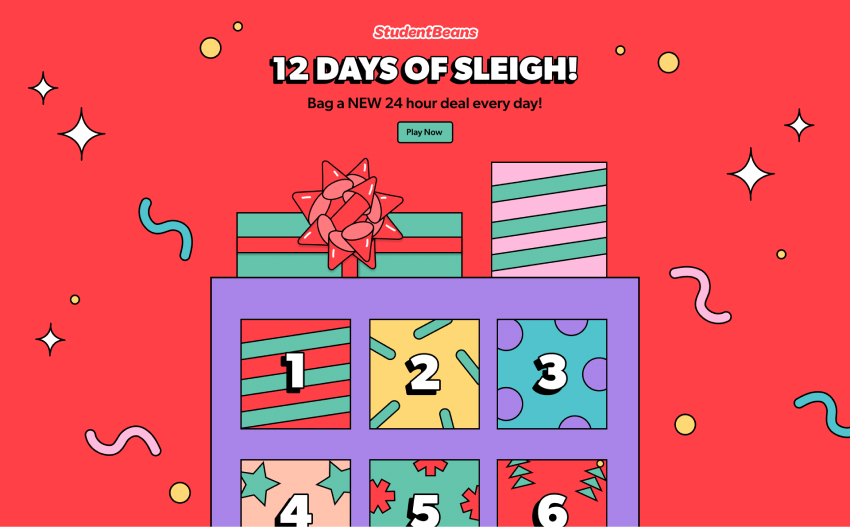 Online advent calendars are great for promoting a business over the festive period and engaging customers, but digital advent calendars are also amazingly effective in the workplace for increasing employee engagement, motivation, and productivity. They do this by presenting tasks in a more challenging and playful manner.
BeeLiked can help you create a personal online advent calendar because it's fully customizable. You get to choose the number of 'Windows", the schedule for unlocking the windows, the winning message, and automated emails.
Gamify Your Employee Engagement Program
BeeLiked can help you make the most of gamification for motivating and rewarding positive actions that grow your business. It will also increase employee engagement and lead to increased productivity, higher employee retention rates, an enhanced company culture, and excellent customer satisfaction.
Are you ready to get started on your gamification journey? With our enterprise gamification solutions, you can incorporate game elements into your online stores, e-learning platforms, online communities, corporate networks, and websites.