The modern marketplace is incredibly competitive, which may leave you wondering what you can do to drive your business success. Employee engagement has emerged as a critical driver, but where do you start?
Let's start by sharing some statistics so you can appreciate the benefits of having an engaged workforce.
Companies with the highest levels of employee engagement are 21% more profitable than their peers.
Highly engaged employees are 87% less likely to leave their place of work
Employees who are more engaged with their jobs have higher levels of job satisfaction which leads to 17% increased performance.
With disengaged employees costing organizations between $450 and $550 billion annually, it's time for you to focus on your workforce, and work out how to manage and drive employee engagement.
What Is Employee Engagement?
is more than a measurement of how much someone likes their job. It also indicates how committed an employee is to a business and its success. In addition, engagement tells you how motivated an employee is and how emotionally invested they are in the work they do.
There are lots of ways you can improve employee engagement, such as:
Providing them with the tools for success.
Getting to know them.
Allowing them to grow.
Supporting them
And recognizing the hard work they do.
A strategy that's recently emerged is gamification for employee engagement. In this post, we're going to examine the concept, help you introduce it to your business, and reduce the risk of employee disengagement.
The 5 C's of Employee Engagement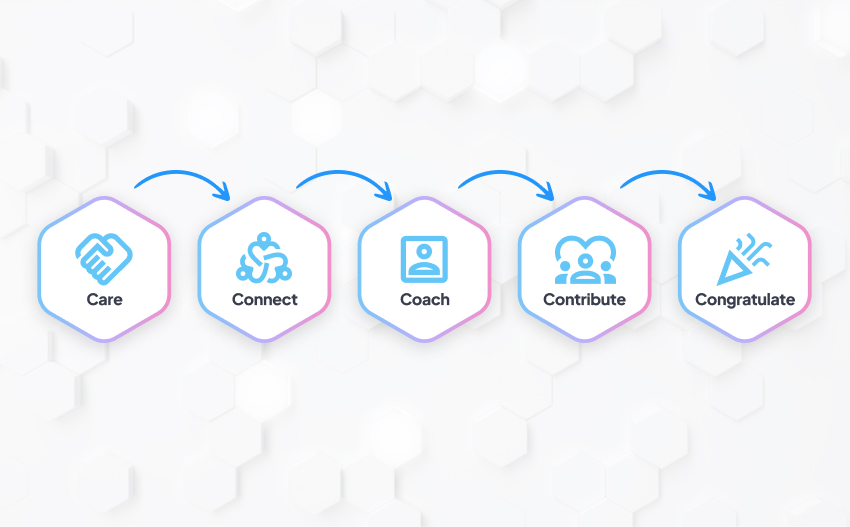 One way to approach the idea of employee engagement is using the 5C strategy. The following are key drivers and the foundations of clever employee engagement strategies:
Care
This is all about employee happiness, making them feel appreciated and valued, and showing that your business is not all about making profits and growing market share.
When employees realize that the company they work for is also interested in their well-being, they will actively invest in the physical and mental well-being of each other. It's also likely that they'll be more productive and happier, which means higher profits for your business.
Connect
Making a connection with employees means regular informal chats, performance appraisals, or reviews. You'll be able to make sure your workforce is satisfied and provide opportunities for asking questions.
When employees see that feedback is welcomed and any feedback provided is used constructively, they'll feel more comfortable approaching management in the future.
Coach
For leaders to be successful and for there to be positive company cultures, employees require coaching and guidance. Micromanaging and barking orders don't work anymore. Employees must be encouraged because this is the best way to improve retention and empower and grow talented staff.
Constant coaching also makes employees feel useful and more likely to try harder next time.
Contribute
It's important to provide opportunities for employees to share ideas and make contributions. Suggestions from all employees, not just managers, are equally important and have a role to play in making a company successful.
When employees make suggestions, don't dismiss them immediately because this makes employees afraid to contribute in the future, for fear of rejection.
Congratulate
A good habit to work on is regularly praising or congratulating employees when they've done something outstanding, whether it's at work or in their personal lives. Making sure the praise is public is also a big confidence booster.
Job Satisfaction vs Employee Engagement
Isn't employee engagement the same thing as job satisfaction? Job satisfaction and employee engagement might seem similar, but they are two different concepts.
Job satisfaction is the sense of contentment a person feels as a direct result of being employed in a particular role. It's not just contentment in the workplace either. Their job makes them feel content in life which impacts areas such as confidence and security. Job satisfaction is essential if you want employees to stay with your company for a long time.
Employment engagement is more about a person feeling involved and connected not just with their role but the company in general. Engagement is what ensures that employees are part of a company's growth curve.
Why Is Employee Engagement Important
Employee engagement is not a new concept. The term was first coined more than 2 decades ago, and it's just as important today as it was back then.
There are many reasons why employee engagement and company success go hand in hand.
Increases productivity: An engaged employee works hard and goes the extra mile to fulfill their job.
Reduces turnover: If an employee feels appreciated, they don't have a reason to look elsewhere for work and can keep a good work-life balance.
Provides better quality of work: Actively engaging employees injects motivation into the workforce and incentivizes employees.
Improves customer satisfaction: Customer experiences and employee engagement work in close association with each other. Engaged and happy employees are the friendly face of a business.
Fosters healthy company culture: A positive and collaborative work environment enhances company culture.
Reduces stress: When employees are engaged, they are less stressed in the workplace.
Strengthens employee relationships: Employee relations improve because employee engagement fosters trust and respect amongst colleagues.
What Do Companies Do for Employee Engagement?
Knowing what to do to engage employees can be confusing. Let's help you out with some inspiring examples.
Coca-Cola
With the help of Qualtrics technology, soft drinks giant Coca-Cola closely monitors employee engagement, and it works not just from the top down but upwards as well.
Collected employee data is democratized. Managers give feedback to employees in the traditional way, but employees also get the opportunity to give upward feedback.
Apple
Apple uses several employment engagement strategies including the following:
Office design: At Apple Park in Silicon Valley, there is a fitness center, an energy plant, and acres of apricot orchards. Every detail has been meticulously planned to create the ideal environment for innovation and to encourage collaboration between departments.
Workplace design: Apple uses spaces called pods. There are different pods such as a pod for office work, a pod for teamwork, and pods for socializing. Employees use different pods during the workday depending on what they're doing.
Google
When it comes to employee engagement, Google is a pioneer and at the forefront of employee satisfaction and engagement. Here are some examples of how this internet behemoth keeps employees engaged:
Exclusive perks such as subsidized massages, foosball and video game stations, on-site physicians, gym and swimming pool memberships, and more.
Flexibility is key, and Google allows its engaged employees to do whatever it takes to yield the best results.
Netflix
Netflix offers employees the following:
Work, not drive initiative
Unlimited personal time off
Top of market-based salaries
Employee Engagement Action Plan + [Template]
If you want to kick-start employee engagement in your business, a good place to start is with a well-designed employee engagement action plan. There are numerous benefits to crafting this type of plan, for example:
Productivity will improve because employees are more engaged in the workplace and co-workers
Employee satisfaction increases which leads to improved performance and happier employees
Attrition rates drop because employees are more satisfied and engaged
Employees feel more empowered to achieve their work-related goals which results in a better work-life balance.
If you're not sure where to start and need some guidance, we've created an employee engagement action plan template. Download it and adapt it to your organization's specific needs.
10 Easy Employee Engagement Ideas
With your engagement action plan in place, it's time to move on to choosing a strategy. Here are some ideas for key drivers of employee engagement.
1. Create a Great Onboarding Experience
With the right onboarding process, you could boost new hire retention by 82% and employee productivity by 70%. With the onboarding process, you're building trust with new hires and proving that the promised positive company culture is real. Try to design a process that stands out, excites new employees, and convinces them that they've made the right decision.
Consider one or more of the following:
Icebreaker activities
Cool welcome gifts
Introduce them to everyone
Have a buddy system
Make the transition from onboarding to regular work a smooth one
2. Hold Brainstorming Sessions
Brainstorming sessions can increase employee engagement by allowing them to offer their ideas, be heard, buy into, and implement a plan of action. It also builds cohesiveness with colleagues.
Examples of brainstorming activities include virtual coffee chats, team-building video conferences, cooking classes, and fitness challenges.
3. Improve Communication and Transparency
Communication is a building block for creating an ultramodern work environment. It also encourages teamwork and collaboration. However, remember that communication should always be a two-way road. Management must be willing to listen as well as keep communication simple and jargon-free.
In the modern workplace, where remote working has become the norm, good channels of communication are vital if you want to incentivize remote workers.
4. Encourage Ongoing Feedback and Advice
Listening to customers is important, but so is listening to your employees. If you want to keep employees engaged with your company, organize regular meetings, employee engagement surveys, and more. It's equally important to take on board any employee feedback received and implement changes if possible.
5. Make Diversity and Inclusion Incentives
Diversity and inclusive incentives can increase employee engagement by:
Representing and connecting employees with a diverse leadership team.
Fostering feelings of value, well-being, and pride by participating in inclusion initiatives.
Embracing individuality and supporting employees' autonomy, recognition, and growth.
Giving employees a voice and making them feel involved through inclusive communication.
Building trust and performance among employees.
6. Celebrate Achievements
Team celebrations when goals are met or milestones achieved also reinforce the idea of collective effort, not just individual achievement. When companies recognize hard work, they demonstrate gratitude and build a positive atmosphere where ambition is rewarded, the employee experience is valued, and excellence is encouraged.
7. Work on Recognition and Rewards
Recognizing the efforts of your workforce doesn't have to be complicated. At the most basic level, simply expressing gratitude during meetings or leaving a thank you note can make an enormous difference.
To take this point one step further, you could introduce more formal methods of recognition such as awards or "Employee of the Month/ Year" programs.
8. Apply Gamification Strategies
Gamification boosts employee engagement by driving employees towards important company goals and helping build a sense of community. It also aids in the onboarding process and motivates employees to be more active and engaged.
There are lots of gamification engagement ideas to choose from, such as leaderboards, games of chance, badges, awards, accolades, and many more.
9. Hold Q&A Meetings
Breaking down the walls of communication and fostering workplace collaboration allow employees to feel a real connection with their work. Engagement is higher when people can ask questions, and share ideas, knowledge, and insights.
10. Organize Volunteers for a Cause
More and more companies are realizing they can boost engagement and productivity with employee volunteering programs. Volunteer programs are a way for employers to participate actively and support their employees in serving their communities.
Bring Gamified Incentives to Engage Your Employees
If you need some expert help introducing gamified incentives in your business, we can design and incorporate game elements to engage and incentivize your employees.
BeeLiked can help with its enterprise gamification solutions, whatever industry you work in.