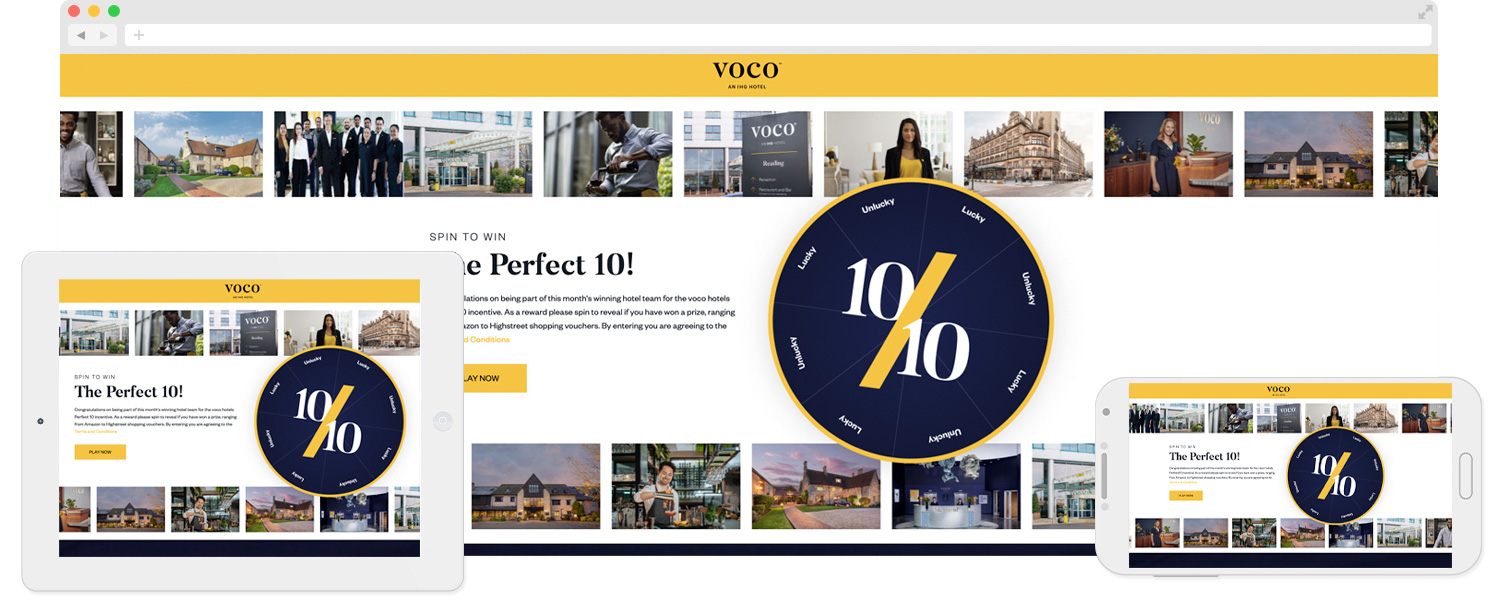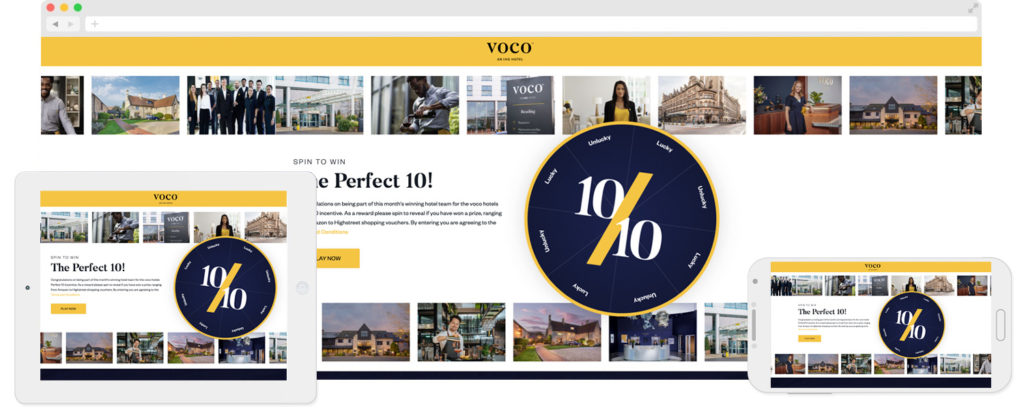 Reward the best customer feedback
Voco Hotels, part of IHG, has hotels in the UK, Australia, United Arab Emirates, and Saudi Arabia. The brand prides itself on having an unstuffy relaxed atmosphere that stands out from the crowd with amazing customer service.
In hospitality, every staff member (from the managers to the porters), matters to the overall guest experience. To help engage and motivate the whole team the idea of an inter-hotel competition to get the perfect 10 review score was conceived.
Employee Rewards program
All staff from the hotel with the best overall reviews is invited to participate in the monthly employee rewards spin wheel. The BeeLiked Studio Team worked with the Voco leadership team to create an experience that would appeal to all staff and incentivize everyone to work together. Every month the general manager sends out an invite to each team member of the winning hotel. It is then up to chance and the winning probabilities as to who and what they win.
BeeLiked has created a completely automated experience from invitation to the redemption of rewards.
All Voco Hotels compete to get the highest customer satisfaction scores as measured internally by IHG
The general manager of the winning hotel is notified and given instructions on how to invite each staff member to play.
Staff members from the winning hotels get individual invitations allowing them to spin the wheel to see what they have won
All digital rewards are automatically sent to the winner to redeem
Next month's competition begins!
By using a gamified incentive program on the BeeLiked platform, we increased our staff motivation and performance scores by up to 10% across our various properties. We look forward to running more programs in the future and see gamification as a cost-effective way to motivate and reward our team members without increasing our fixed costs.
Devina Morjaria | Brand Operations Manager | IHG voco hotels & Vignette Collection