Every year, Black Friday seems to come around sooner than ever, but it's never too early or too late to get your Black Friday marketing hat on. There's a massive amount at stake during such an important holiday sale but you'll need to pull all the stops out if you want to stand out from the competition.
Not sure where to start? Don't stress because we've written this blog post just for you.
What Are the Benefits of a Black Friday Promo?
For people all over the world, Black Friday has become an important day in their bargain hunting calendar. As well as a wide variety of discounts and offers, Black Friday is also the best time to take advantage of limited-time deals and to look for the best ones available.
But what about the retailer? How do they benefit from Black Friday promos? It's an opportunity to increase traffic, sales, and revenue, and clear old inventory to introduce new stock a little later in the year.
5 Tips for a Flawless Black Friday Strategy
1. Make Sure You Start Early
One of the major trends we've noticed is just how early Black Friday sales are starting, with a large number of people buying between 3pm and 8pm Thanksgiving Day (shouldn't we all be busy with dessert around then?) Take a look at Walmart which promoted a guarantee on stock as long as you arrived within one hour of their Black Friday sale beginning. The catch? Their sale began at 6pm Thursday. If you want to compete – you need to get in on the action just as early. Start planning your campaigns now in preparation and think carefully about who your competitors are and when they're going to start advertising.
Maybe consider running a price drop the week leading up to Black Friday, with a larger discount each day whilst stocks last. Your Black Friday social media marketing needs to be ready to go asap.
2. Make It a Competition
If there's one thing everyone likes it's a competition. Adding some kind of a game into your Black Friday marketing can entice your audience really successfully. We offer a pretty cool "X Marks the Spot" game which requires users to locate something within a picture. You could really easily incorporate this idea into your marketing strategy, offering a super enticing discount to those who can correctly spot what's hidden. Maybe even increase the impressions by offering a further discount for sharing it on their social media.
The possibilities with this are endless, but the fact is people really enjoy the competitive element and the excitement of games. Promote it with a fantastic email and some solid social media marketing and we promise it will take off.
3. Get People to Like Your Brand for the Best Deals
Why not run a promotion which requires liking your brand or following your Twitter account? You could offer a special discount code to everyone who follows you before Thanksgiving and then tweet the code out that morning. The benefit of this method is that it's relatively simple for people to do, even if they decide to do it on a whim and unlike you after the event there's a good chance they'll forget or be so bowled over by their purchases and your hilarious account that they won't want to. Not to mention the fact that their friends will see that they've liked your brand, exponentially growing your presence.
Black Friday social media marketing is all about increasing the number of people who see your brand and social sharing is the best way to get the word out there.
4. Don't Forget About Cyber Monday
All the chaos we used to see that Friday morning has shifted inside. Cyber Monday has been a record breaker for years now, continually topping sales polls. When you think about your Black Friday marketing, make sure you're including Cyber Monday marketing campaigns into the mix. The best way to maximize your selling potential on Cyber Monday is to make it an Anti-Black Friday sale.
5. Make Cyber Monday Your Anti-Black-Friday Sale
I absolutely love this idea, it's been popping up everywhere recently and its mass appeal makes it a brilliant holiday campaign. Who wants to drag themselves out of bed to shop? Absolutely no one. So why not use your Cyber Monday social media marketing as your 'Anti-Black Friday Sale'? Make a big deal of it! Run an Instagram gallery of people comfy in bed browsing your products, everyone who enters receives a special discount code!
Black Friday Marketing Ideas
It pays to be prepared if you want to roll out some killer tactics. If you're stuck for ideas, here are some tried and tested marketing campaigns you might want to try.
1. Announce Your Sale Over Email
Apple decided to increase interest in its Black Friday and Cyber Monday deals with its "Apple Shopping Event". In 2022, it ran from November 25 through to November 28, and customers were informed of the event over email.
The plan is for it to be an annual event during which Apple offers a bonus Apple Gift Card when consumers buy an eligible product. The gift cards range from $25 all the way up to $250, and they can be used at Apple Stores, the Apple Online Store, the App Store, for Apple services, and more.
Apple is not known for running any sort of direct promotions, so this was a journey into the unknown for the brand.
The email sent to customers who purchased an eligible product also included details of other Apple features such as free delivery and pickup, Apple Trade In, free personal engraving, and the 3% Daily Cash back at Apple with an Apple Card.
2. Use a Spinning Wheel Promo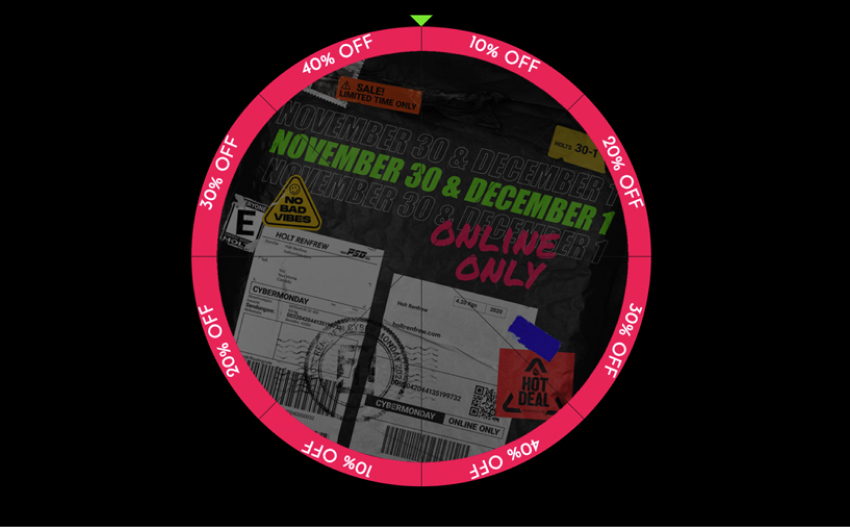 BeeLiked worked directly with Holt Renfrew, a Canadian luxury department store chain, for their Holt Renfrew's Black Friday Promo. It was a Spin Wheel promotion and its aim was to generate significant website traffic during the end-of-November sale period.
With the spin wheel promotion, players were in with the chance of winning up to 40% off via unique percentage off coupon codes.
Needless to say, the possibility of a 40% discount proved to be very popular and hundreds of entries were received every minute during the peak of the promotion.
3. Make a VIP Sale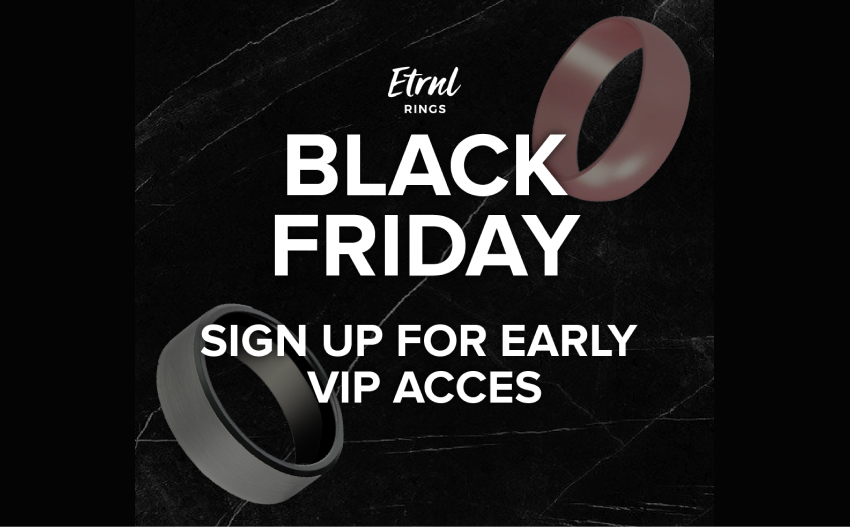 Black Friday embodies mass consumption and endless opportunities for attractive discounts. However, there's no reason why you shouldn't offer even better discounts for VIP customers.
Loyalty programs exist because we like to be rewarded and made to feel special. They also nurture a bond between the brand and loyal customers.
VIP customers can be rewarded in different ways, such as giving away steeper discounts, discounting special products, or packing a group of products together and discounting them as a bundle.
Etrnl Rings, a designer of functional wedding rings, decided to use the VIP sale approach and offered customers the chance to sign up for early VIP access to its Black Friday sale and to get exclusive updates.
4. Run a Black Friday Quiz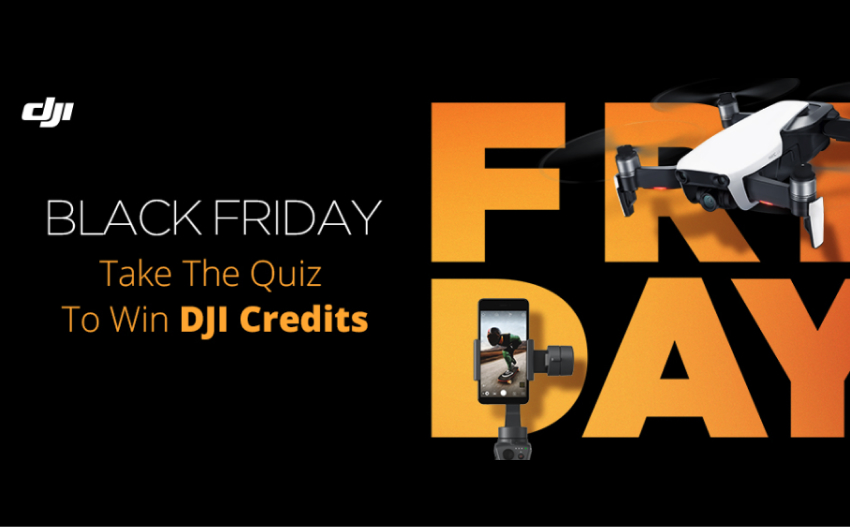 DJI is a world leader in civilian drones and aerial imaging technology. This company is well-known for offering lots of exciting deals over the Black Friday weekend, but customers were given the chance to get additional discounts by participating in a quiz during the campaign period.
Quizzes are incredibly effective at generating leads, engaging audiences, and much more. Use a quiz to appeal to your audience's natural curiosity and give them a fun way to connect with your brand. At the same time, they're also a valuable way of gathering customer insights.
5. Make a Pop-the-Balloon Challenge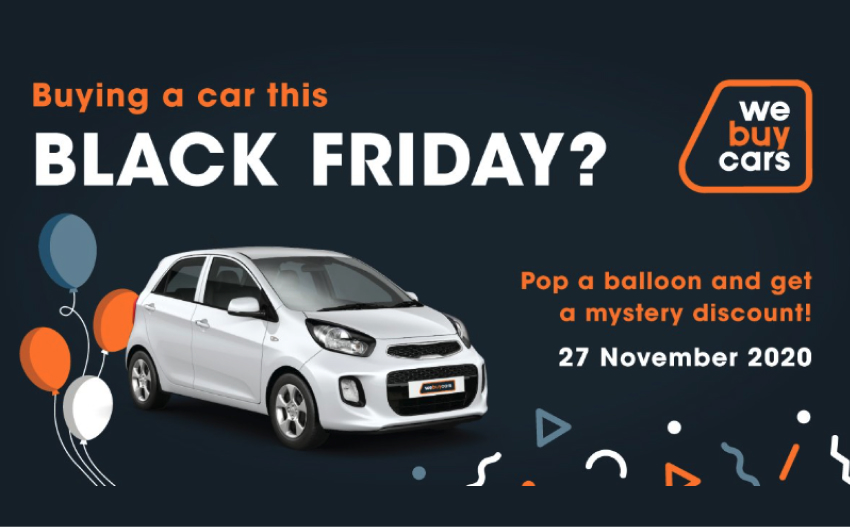 Pop-the-Balloon is a game of chance that gives an audience to pop a balloon for the chance to win some great prizes. As well as being perfect for customer incentives, it also works very well in the workplace.
WeBuyCar, a car buying service with over 500 UK and 170 US locations, decided to take advantage of a pop-a-balloon promo for its Black Friday promotion a couple of years ago. When customers bought a vehicle from any of the branches, they received a mystery discount. To find out what the discount was, they had to pop the balloon.
6. Offer a Scratch-Off Card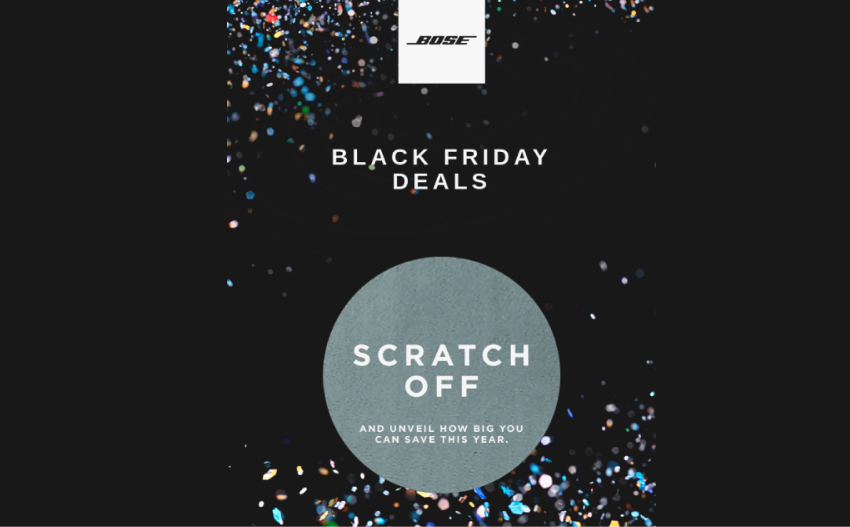 You can use a scratch off card to add an element of surprise to your Black Friday marketing. It builds anticipation but also makes the shopping experience more interactive.
Bose, an American manufacturing company that predominantly sells audio equipment chose this approach to promote its Black Friday deals. Participants had to scratch off to unveil how much they would be able to save.
7. Surprise with a Mystery Box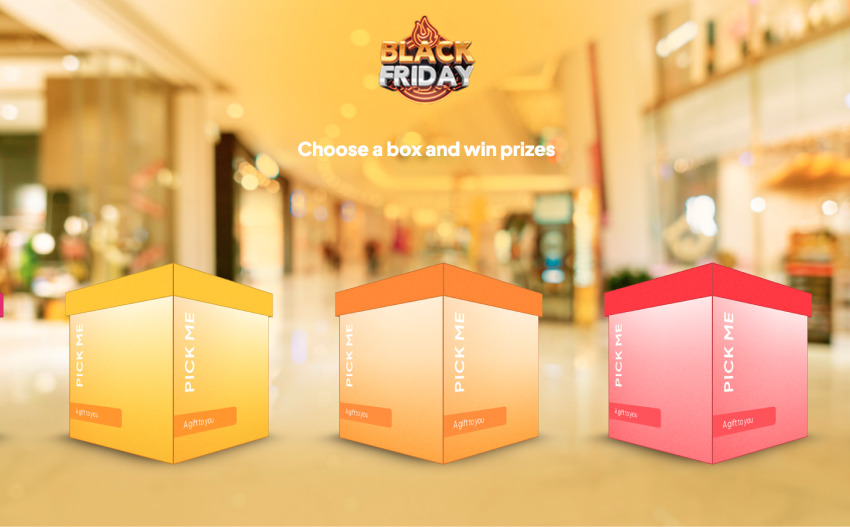 Another great idea for building anticipation is with games of chance such as the mystery box. This type of promotion also adds an element of mystery and interaction.
The good thing about mystery box promotions is that they are fully customizable, easy to create with the help of BeeLiked, can be personalized with winning messages, and integrate with coupon providers.
8. Launch a BOGO Deal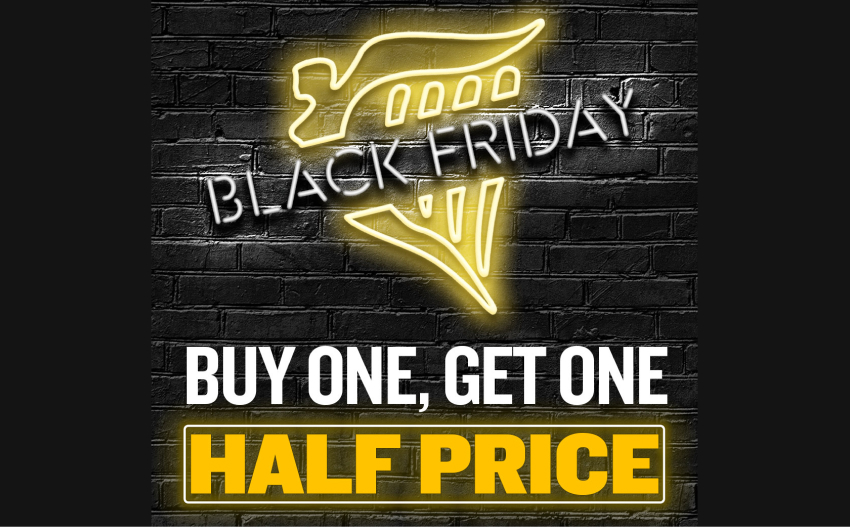 BOGO stands for Buy One Get One Free. This type of Black Friday deal is a win-win for both the retailer and customer. The benefit for the customer is obvious while the retailer benefits because it's a chance to clear out their inventory and drive revenue at the same time.
Ryanair took advantage of this marketing approach with its 2022 Black Friday BOGO Half Price offer.
9. Run Deals All Week Long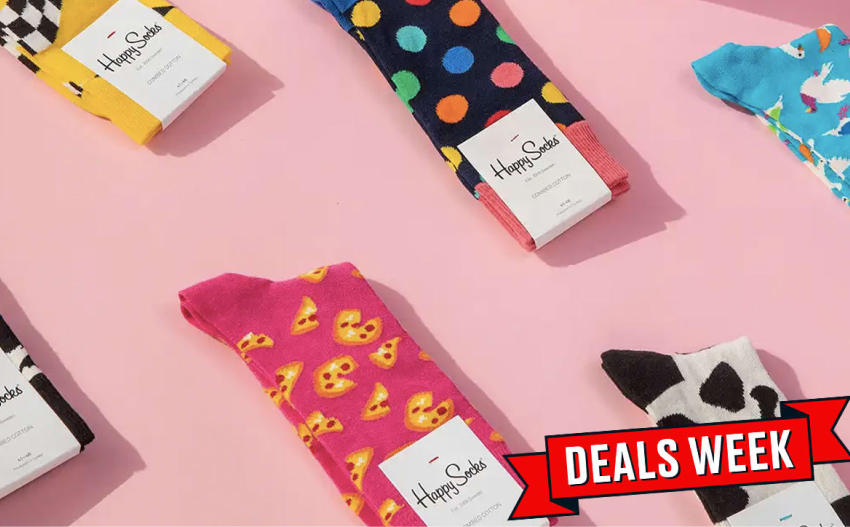 Happy Socks is more than just a company that sells socks, it's a company that takes self-expression to new heights with socks that can be an insight into your inner soul. There are some amazing patterns to choose from and in 2019, it was offering customers the chance to put their best feet forward with Happy Sock's Huge Sock Sale.
It was not just a Black Friday sale but a deals week that lasted from November 26 to December 2.
10. Send Mystery Envelopes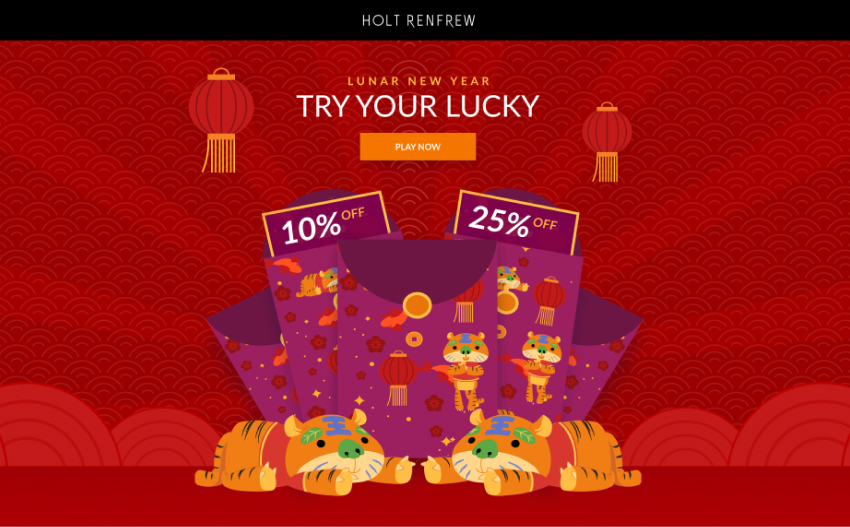 A mystery envelope promotion is another great way to build anticipation. It's a gamification idea that can be easily personalized. By using ready-made templates, a mystery envelope promotion can be set up in hours.
To take part, players can be asked to fill in data which you can then use for audience segmentation, targeting, and personalized product recommendations.
11. Release Black Friday Coupon Codes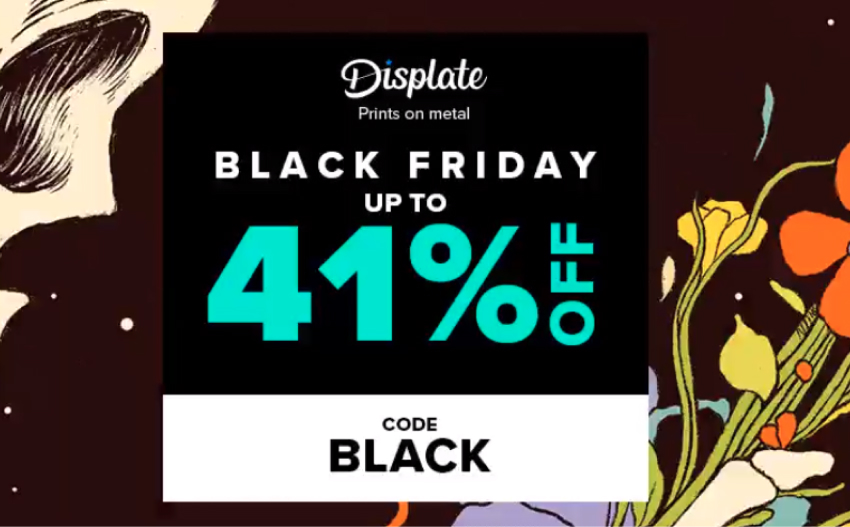 Using coupon codes is a great way to grab users' attention and direct them to your online store. There are lots of different coupon ideas to choose from and an equally varied number of reasons to use them, for example:
Use coupon pop-ups to encourage users to stay
Time-limited coupon codes take advantage of scarcity and the urgency to convert browsers into paying customers
The coupon could be for a free shipping discount
An exit intent pop-up can be used to encourage shoppers to stay
Coupon codes sent via email can reach a larger group of people
SMS coupon marketing is a great idea for promoting Black Friday promotions
Displate, a company that manufactures metal posters use discount codes for their Black Friday promotion, as you can see above. Using the BLACK coupon code, customers could enjoy up to 41% off.
12 . Offer Discounts on Advent Calendars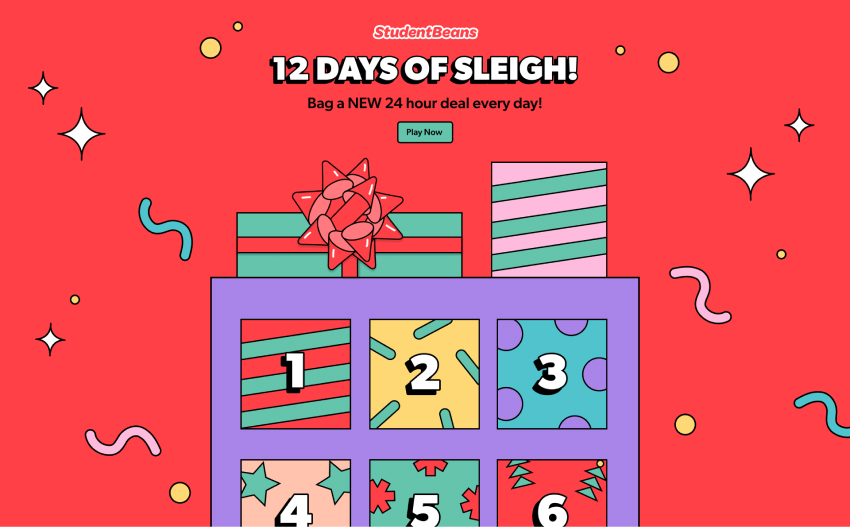 How about building the suspense leading up to Black Friday weekend with an advent calendar gamified promotion? While advent calendars are traditionally for the festive period, there's no reason why they can't be used at other times of the year.
The design team at BeeLiked can customize an advent calendar to your needs. You get to choose the number of windows, the schedule for opening the windows, winning messages, and automated emails.
13. Give Away Free Gifts
In 2022, Lego, the Danish toy production company that's most famous for its exciting range of plastic building-block toys turned to gamification for their Black Friday promotion.
Anyone who says they don't like free stuff would be lying, which makes any kind of free gift promotion a winner. When you give away a free gift with every purchase, people are more inclined to buy your products.
Lego chose to offer up to four free gifts for Black Friday deal hunters. The free gifts included a free brick bag for VIP rewards program members.
14. Include a Personal Touch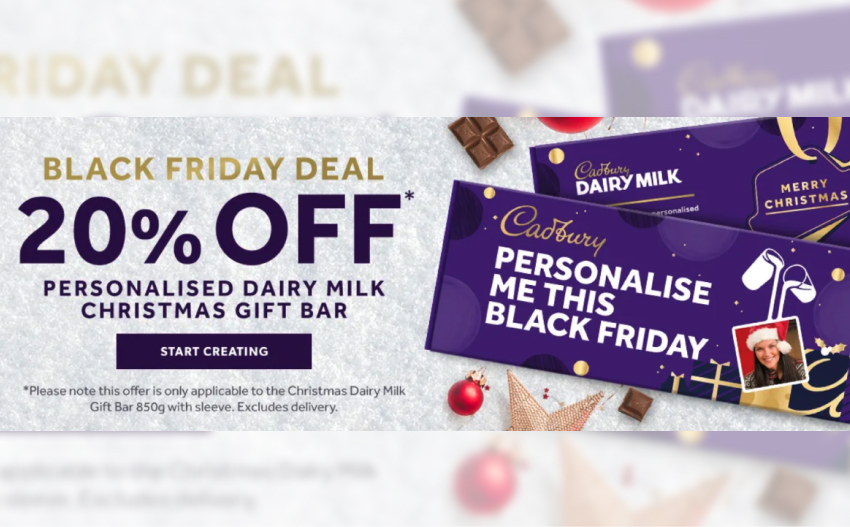 How many of you remember the Coca-Cola promotion that had people searching for a coke bottle that had their name on it?
Cadbury, the globally recognized chocolate bar maker put their own spin on the idea. Customers were given the opportunity to create their own personalized Christmas Dairy Milk gift bar and receive 20% off the price.
Including a personal touch creates a more satisfying customer experience, increases customer loyalty, makes businesses real to people, and builds brand loyalty.
15. Create a Slot Machine Game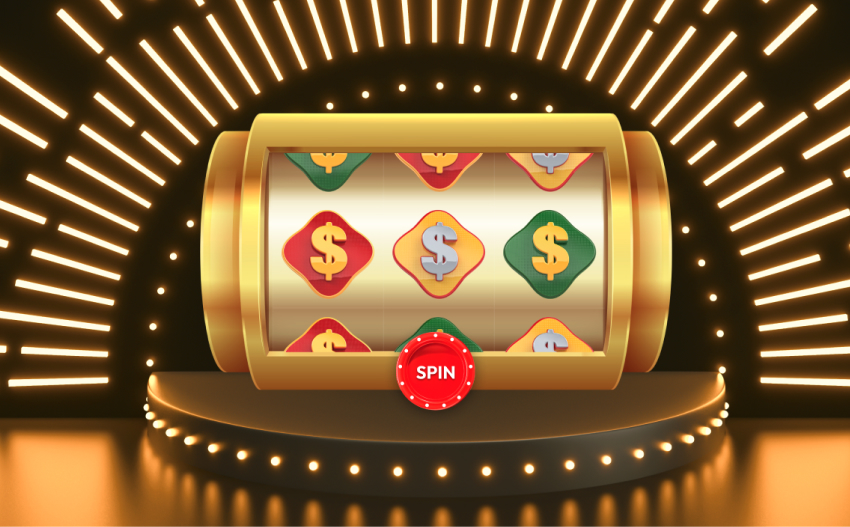 A slot machine game is instantly recognizable. Games of chance like these can be used very successfully in a Black Friday marketing campaign. Players spin for the chance to win great prizes.
This Black Friday Use a Rewards Platform
A gamification rewards platform can help boost any Black Friday campaign by increasing customer engagement and loyalty.
Using gamification as part of your marketing strategies creates a sense of excitement and competition among customers, which can lead to increased sales and customer loyalty.
For example, you could offer rewards to customers who make purchases during a Black Friday sale or who share your Black Friday deals on social media. This helps incentivize customers to participate in your Black Friday campaign and increase their engagement with your brand.
This all sounds very exciting, so why not give it a try? Check out BeeLiked's gamification solutions platform.