As the festive season fast approaches, one of the most enchanting times of the year, Christmas, is just a snowball's throw away. But with the marketplace jingling with similar strategies, standing out can feel like finding a needle in a haystack. How to boost brand engagement this Christmas is the hot topic for many marketers.

Does it sound familiar? If your brand is sinking into the holiday hustle and bustle, it's time to tap into an untouched reservoir of potential.

Just like Cyber Weekend, the holiday season is ripe for leveraging innovative tactics to catapult your business into untapped growth trajectories.
It's time to deck the halls with something extraordinary. What if there's an overlooked yuletide treasure that could level up your Christmas campaigns? Imagine unlocking a whole new realm of customer engagement, lead generation, and potentially soaring revenue by incorporating gamification into your marketing.
Join us as we explore how these top brands made their Christmas campaigns merry and bright with a touch of gamification magic, achieving outstanding results and inspiring customers to take action.
Merry Cheesemas – A New Take on the Advent Calendar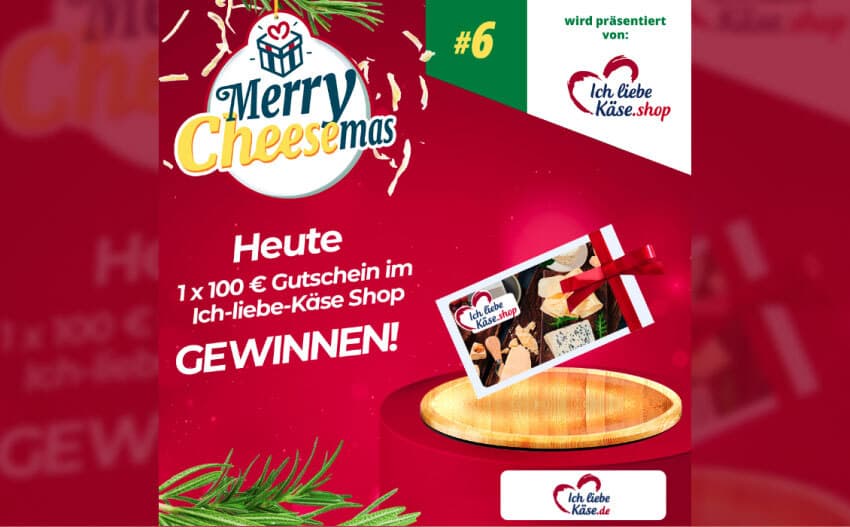 Innovation doesn't have to be complex, and the traditional advent calendar perfectly highlights this. By leaning towards conversational marketing, the static, mundane advent calendar turns into an interactive and exciting experience that can skyrocket user engagement, generate more leads, and significantly increase email opt-ins throughout the festive season.
Conversational Marketing in Action
The German cheese market leader SAVENCIA launched what seemed to be the first chatbot-based Advent calendar in December 2018, on their website Ich Liebe Kaese. With a stirring shift from static web forms to a vibrant, engaging conversation via a chatbot, users were treated to a unique and user-friendly experience. The advent calendar served as a 24-day interactive dialogue where users found a delightful Christmas quiz behind each door.
Simple Integration, Maximum Engagement
This chatbot integration was smooth and straightforward. With no download or installation requirements, the web-based messenger was accessible to consumers on any device through any browser. To make participation even more user-friendly, a daily reminder was set up that included quick links, which took consumers back to the advent calendar with their identity being recognized, giving a personal touch to the experience.
Staggering Outcomes
The impact was remarkable with a significant rise in all Key Performance Indicators (KPIs). Subscriptions for newsletters surged by over 45% and the daily reminder had an opt-in rate north of 60%. The advent calendar saw amazing customer loyalty, with visitors engaging with it over 10 times on average in less than 4 weeks, spending approximately 2 minutes each day.
Surprisingly, age was no constraint for the appeal of this chatbot calendar. The primary age of the participants was as high as 52, with a strong presence even among individuals aged 70+, demonstrating the vast appeal of conversational marketing and gamification for all.
Conclusion: The Winning Factors
The advent calendar's successful interaction and conversions could be traced back to three main aspects:
The inherently user-friendly and intuitive design of the chatbot made it accessible for everyone.
The rewarding and engaging experience it offered kept users interested.
Due to its seamless operation across all devices, participation was made simple for everyone.
This success story gives us insight into the potential of gamification and conversational marketing. Clearly, it offers relevant lessons for engagement not just during the Christmas season but all year round. So remember, keep it simple, make it fun and engaging, and ensure it's easy to access and you're on your way to a successful campaign.
Reimagining Tradition: Argos' Christmas Wishlist Gamification
Renowned UK retailer, Argos, took the initiative to evolve with the digital revolution, harnessing the power of gamification for their compelling Christmas campaign.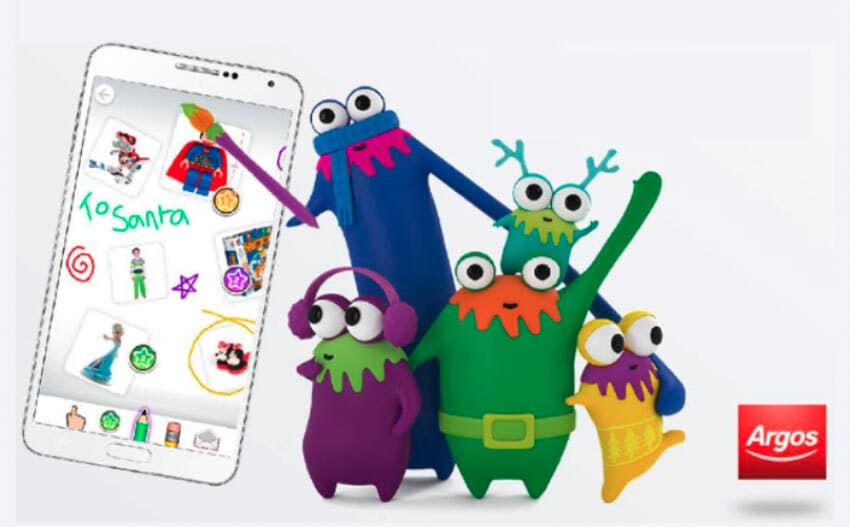 The Challenge
Despite boasting physical stores within 10 miles of 96% of the population, and with 90% of transactions still involving these stores, Argos realized a need to adapt swiftly to customer's digital needs and demands, to sustain and grow their business. Further, with their website attracting one billion visits a year, they identified digital innovation as the key to enhancing their massive customer engagement.
The Innovative Solution
In this vein, they turned to gamification, a popular tactic in the retail industry amplifying engagement and action among shoppers. In collaboration with REPL, Argos launched an application, 'The Christmas Wishlist', transforming their traditional catalogue approach into an interactive digital spectacle. Designed for children aged three to seven, the app allowed young users to browse through over 3,000 of Argos' most popular toys, add them to a wish list, and even personalized their experience with charming features like photo taking and drawing. This gamified approach re-imagined the age-old tradition of making collages for Santa into a visually inviting, engaging experience for both kids and their parents.
The Stellar Results
The Christmas Wishlist app provided a perfect case study of successfully incorporating gamification into retail marketing. Backed by strong retail KPIs like the 11-minute average dwell time and the 36% click-through rate, the app also won over users' hearts, garnering a 4.5 out of 5 rating via Apple's app store.
Argos' successful gamification showcases its power to boost customer engagement and set your brand apart, leading directly to business success. It underscores the significance of innovation and adaptability in a changing market. This festive season, consider ramping up customer engagement with proven gamification strategies, a potential holiday boon for your sales.
Unlock Holiday Magic: The Power of Advent Calendars in BeeLiked's Success Stories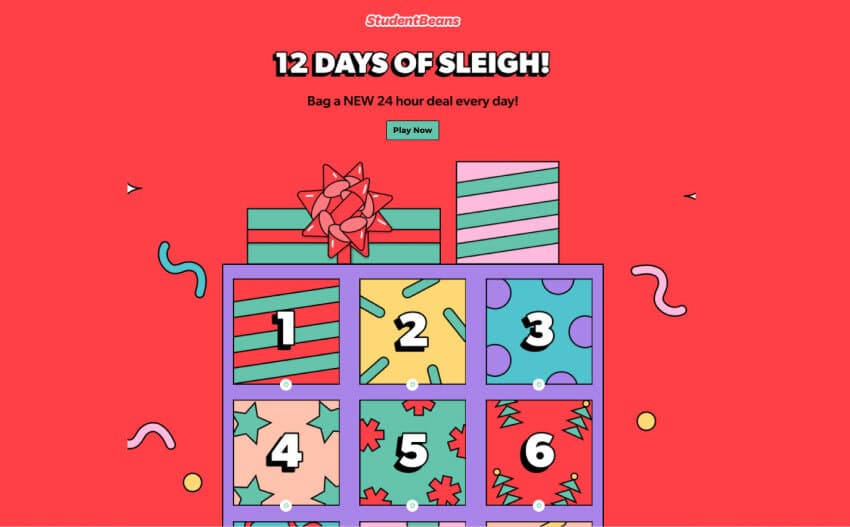 At BeeLiked, we specialize in taking customer engagement to the next level by crafting tailored, game-based experiences that really click with your audience.
Let's look at how our success stories with Student Beans and GLH showcase the power of our gamification campaigns and their impact on driving growth.
Student Beans: Attracting and Rewarding Loyal Customers
Partnering with BeeLiked, Student Beans- a global leader in student loyalty networks, pulled off an innovative digital Advent Calendar campaign. With an eye on turning the festive excitement into a customer engagement drive, they successfully landed 34,000+ entries into the digital Advent Calendar and fulfilled several prizes.
Student Beans' massive network, reaching over 163 million students across 52 countries, took on a whole new level of engagement. The digital Advent Calendar, chock-full of enticing deals from big brands, introduced an adrenaline rush of appealing offers that lasted just 24 hours creating a unique sense of FOMO.
Our collaboration with Student Beans is a testament to how BeeLiked's game-changing strategies can boost customer engagement and reward loyalty. In the world of marketing, it's all about the narrative woven around your brand, and gamification can be the thread that ties that story together.
GLH: Rewarding Employees with Festive Surprises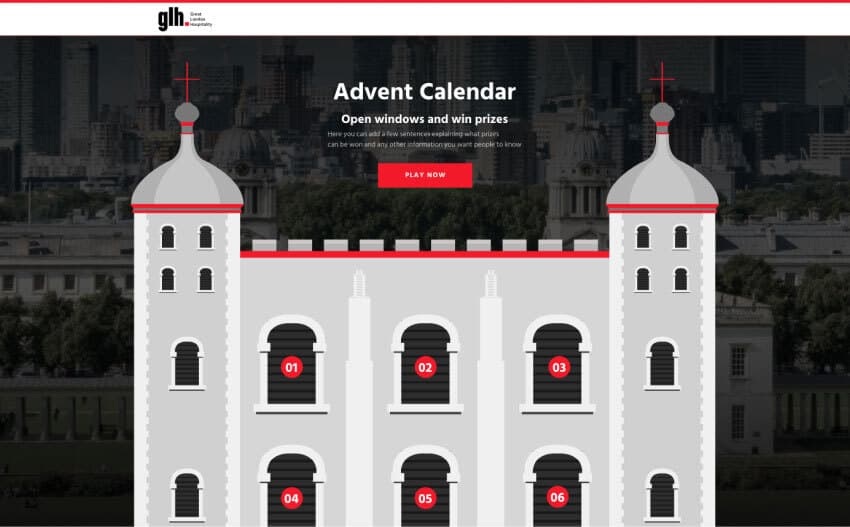 A spirited hotel chain, GLH, partnered with BeeLiked to turn festive enthusiasm into a lucrative customer experience strategy – by introducing a digital Advent Calendar campaign packed with exclusive offers and prizes to excite their audience.
In just over a day, the BeeLiked Studio team rapidly and skillfully developed a theme and designed a digital Advent Calendar for GLH. This calendar became the highlight of GLH's internal campaign and, over 12 days, saw 260 employees participate actively.
The excitement didn't stop there! Each offer had a 24-hour countdown, generating anticipation amongst the team. This limited availability didn't just boost engagement – it kept employees looking forward to the next day's reward.
Taking a page from GLH's book, combining a show of appreciation with creative ideas can do wonders for your workforce. It cultivates a team that's engaged, motivated, and feels truly valued.
The best gamification platform I have seen. Without it, our campaigns would take too much time, be too difficult, and we would risk operational concerns during the campaign. The Support from BeeLiked is second to none, and means that I don't have to worry at all.
Ryan Phelps, CRM Marketing Manager, GLH
Elevate Your Holiday Marketing Game with Our New Advent Calendar Guide
The holiday marketing terrain is challenging, but also filled with countless opportunities for those willing to venture off the safe shores of convention. The simple act of turning to a novel, game-based approach could be the transformative power your business needs.
As we wrap up our Christmas Campaigns article, we're thrilled to usher you into the captivating world of Advent Calendar promotions. As part of the freshly relaunched BeeLiked platform, we've baked up a comprehensive guide on how to leverage our innovative Advent Calendar.
Join us on this exciting journey and unlock the festive magic of marketing success. Start a new chapter with BeeLiked and redefine your customer engagement landscape. Together, let's revolutionize your business story by immersing your customers in an experience they'll eagerly anticipate each day of the holiday season.

Get started with BeeLiked for free.