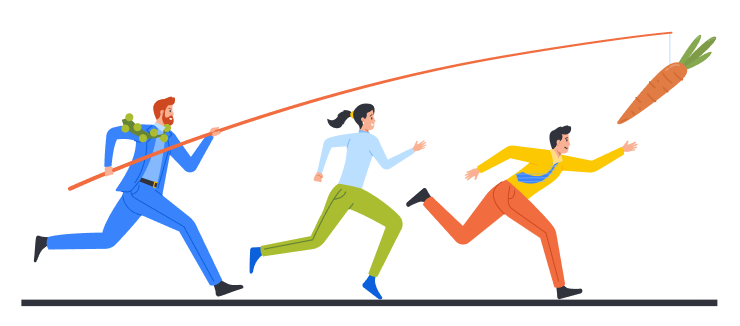 When I was a child, I hated to clean my teeth! Luckily my parents found ways to persuade me. Today, I still have all my teeth and not a single filling.
As an entrepreneur, I have learned techniques for motivating my employees, incentivizing business partners, and persuading business executives to place orders. But what works as an incentive for one person is a dismal failure for another.
For developers, it is not just money that is a powerful incentive, but the opportunity to work in a team with new technologies. Whereas for sales executives, money is king. However, for all employees, it may surprise you to know that there is one thing that will cost you nothing, and it is the biggest motivator of all. Recognition.
Praising someone's work both privately and publicly or thanking them when they have gone above and beyond is guaranteed to make them strive to work hard to keep earning your praise. But there is more.
Here at BeeLiked, we work with many hospitality businesses, and customer satisfaction is key to their continued success. Their challenge is ensuring that each member of staff consistently meets the highest standards. As an example, we recently helped Voco Hotels run a competition between their different hotels for the best customer ratings. All the staff from the hotel that achieved the top customer score were invited to play a spin-the-wheel game where they could win gift card prizes, vacations, and IHG points. It went down a treat.
How can gamification save you money?
With prize games, you can both engage and incentivize staff and recognize their achievements. But best of all, it need not cost an arm and a leg! With games of chance such as Spin the Wheel or Digital Scratch Off Cards, you can easily set the winning probabilities to control your costs. You may want everyone to win something. Or set the odds, so 50% get an instant win. Whatever you decide, by using gamification, you can control your costs and save money over a traditional rewards program. And if instant wins aren't in your budget, then just use monthly sweepstakes. We find it has an electrifying effect on staff – they love it.
Digital rewards for remote teams
Many businesses give their managers scratch cards to hand out to team members. However, as many businesses now have remote teams, giving out physical scratch-off cards is often difficult, so finding new digital ways to reward and incentivize teams is essential. It's also worth highlighting the environmental benefits of a digital scratch card: no shipping, no printing, no wasting paper, and ultimately no tree destruction.
Safe and Secure
When considering a digital rewards program, it's important that you can control who can enter and how often. Many of our clients use our InviteLink technology in their gamified promotions to do this. Some of our clients choose to automate their rewards program. A simple action in Pipedrive, Salesforce, or Hubspot, for example, can drive the process. Others leave it to the discretion of their management teams. Either way, it's simplicity itself.
The beauty of gamified promotions is that a far larger number of people can be incentivized with a fun game of chance than if you were to give everyone the same value Amazon voucher. Even better, the game element ensures that your teams enjoy the anticipation and experience of playing as much as the opportunity to win instant prizes.
Thinking back to my childhood, if my parents had given me a scratch-off each time I cleaned my teeth, I know that I'd have been the most enthusiastic teeth brusher ever.
Getting started with BeeLiked
Our clients have every reason to show their pearly white smiles. By using gamification, they've managed to save money and increase the engagement rates of their teams and channel partners. If you'd like us to put you on the same track, check out our Get Started page. You might soon be smiling too!