Easter's come and gone, the weather's getting warmer (sort of, anyway), and the summer-time marketing campaigns are about to take hold.
Our 4 favorite summer marketing campaigns
Get ahead of the crowd with our four favourite summer campaigns. These great examples of how to market effectively for everyone's favourite season will set you on the right track:
Coca Cola have always been brilliant at marketing. They know their target audience and they know exactly how to appeal to them. A few years ago they kicked off their "Share a Coke" campaign, which brought together a number of key factors – friendship, sharing and of course, having people's names printed on things. Along with the TV campaign, the company also toured up and down a number of countries, allowing people to print less common names onto bottles themselves.
The campaign worked brilliantly, it incentivized people to buy bottles with their friends names on. It convinced them to share photos of the bottles around social media, spreading the campaign further. And, it added a sense of personalization to what is one of the largest, least personal brands on the planet.
To make the most of this idea, consider running a campaign which speaks to your audience on a personal level.
IKEA is a globally recognised brand, known for its Scandinavian roots and for its innovative design ideas. The brand used that innovative approach for its 2013 "Books On The Beach" campaign. To celebrate the birthday of the "Billy Bookshelf" the store placed a number of them, filled with books, onto a beach in Australia.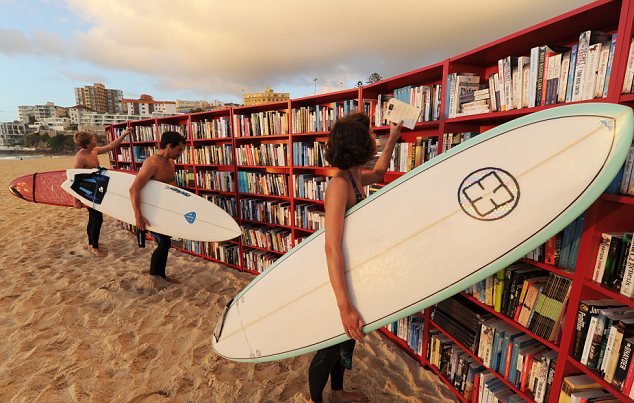 The campaign added a charitable edge, which meant that the money from any purchases of books went to the Australian Literacy and Numeracy Foundation.
Whilst this large scale approach is only possible for big companies, the idea behind it can be replicated! It's all about thinking outside of the box, coming up with a unique idea and making it appeal to the public.
Three is a UK based mobile network operator and in 2015 their social media team came up with a wonderful campaign idea.
They used Twitter as a platform to bring a little laughter to the country, sending out hilarious pictures of summer-time antics.
#BBQ 🍗☀️ pic.twitter.com/wLNLBlL8c2 — Three UK (@ThreeUK) July 4, 2015
Oreo used the summer to market their new "s'mores" flavoured cookie. They cashed in on the summer time camp-fire trend to put together a fun, whimsical campaign which ran across a number of social media platforms.
To harness the uniqueness of this campaign, think about activities based around summertime and consider how you can link them to your products.
About BeeLiked
BeeLiked is an engagement marketing platform that provides brands with a wide variety of contest, quiz and game software to engage their online audience, generate leads and drive sales.
As part of our commitment to help create original bespoke campaigns we have recently created BeeLiked Studio. The studio is a collaboration with a range of skilled individuals and companies, which allows us to extend the range of creative services we are able to offer. It means that when considering options for larger digital campaigns we can bring in specialists such as 3D illustrators, film & video production, as well utilize our own in-house team of programmers and web designers.
BeeLiked offers companies an ever growing portfolio of campaign types that are quick to create, with full design flexibility, performance tracking and data collection capabilities to ensure your campaign exceeds all expectations.
The BeeLiked Platform can help you engage and incentivize your audience and customers across their life-cycle and journey.
BeeLiked is on a mission to prove the ROI of interactive driven marketing. Click here to set up a no-obligation 10-minute discovery call.