Summer is a great time to be creative and discover exciting new ways to engage your audience. It's a traditionally slow time, but you can turn it around and create maximum exposure.
As the temperatures rise and the days get longer, shopping might be the last thing on a customer's mind. But don't let that put you off making plans because it's possible to change that.
Best Summer Marketing Campaigns
Here are some summer marketing campaign ideas that could turn your summer revenue on its head.
Asos x Adidas Originals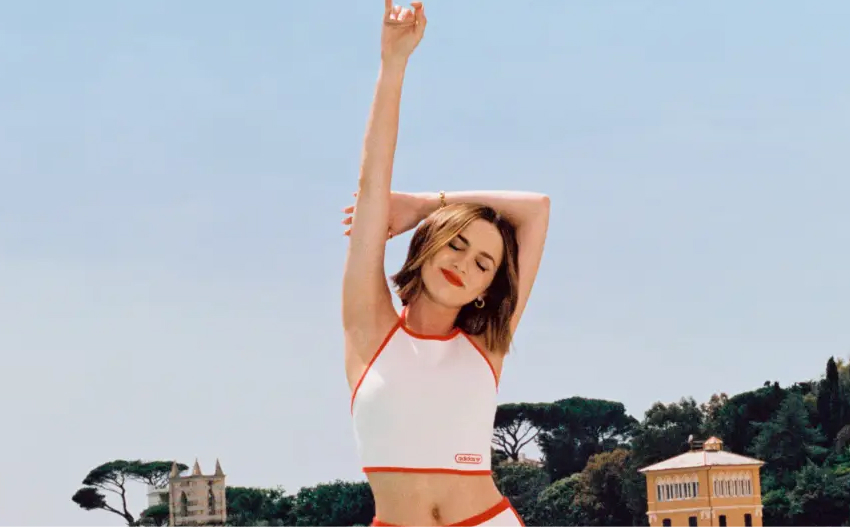 2022 saw British online fashion and cosmetics retailer Asos collaborating with Adidas Originals for their summer campaign. To add some celebrity magic they invited "Euphoria" actress Maude Apatow onboard.
She was asked to front the campaign for the Adidas Originals resort collection. Photographs were taken while Maude was enjoying her summer holidays in Europe. Various locations were chosen including Italy and France and in each shot she's sporting one of the collection's vintage look items, often reading an Asos magazine.
Fatboy x Longchamp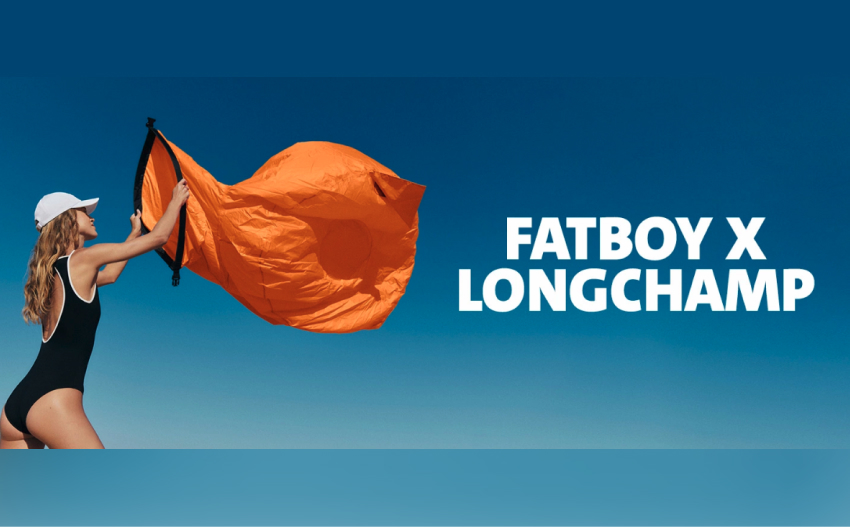 Collaborations are all about creating some magic, taking products out of their comfort zones, and delivering an end product that's consistent with both brand signatures.
The values these brands have in common are innovation, functionality, and sustainability. They decided to work together to launch a must-have summer accessory, the Glamping O.
Coordination was the name of the game in terms of available colors for the inflatable armchair. Three eye-popping brights, candy pink, emergency orange, and acid green perfectly matched Longchamp's Le Pliage color palette.
In keeping with the brands' eco-conscious approach, the armchair was made from recycled polyester with LWG Gold-certified leather trim.
Kinder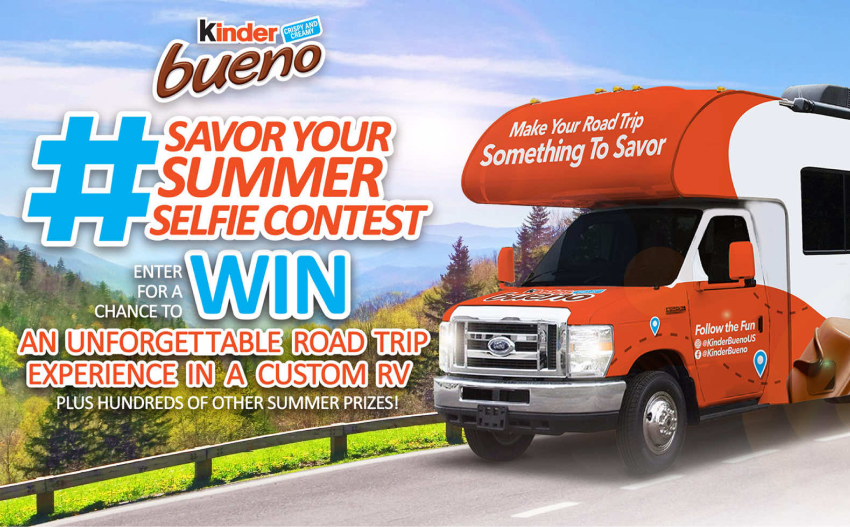 Kinder decided to challenge customers with a summer selfie contest. After all, we all know how much everyone loves to take a selfie.
Anyone who decided to enter was in with the chance of winning an "unforgettable road trip experience in a custom RV." Not only that, there were hundreds of other summer prizes including cameras, cool boxes, t-shirts, and $50 gift cards. Oh, and not forgetting the prize of a summer's supply of Kinder Bueno.
To enter, participants must take a fun summer selfie together with their Kinder Bueno, post it on Instagram or Twitter with the hashtag #SavorYourSummerSelfieContest, and tag @KinderBuenoUS.
Talenti Gelato
BeeLiked was called in to help with Talenti Gealto's flavor reveal. This US gelato and sorbet producer was launching four new ice cream flavors and new branding.
To bring the required excitement and interactivity to the big reveal, fans were invited to help reveal a hidden image. Everyone who entered received an automated email with a money-off coupon.
Talenti Gelato's fanbase loved the offer and when the promotion was published on social media, entries hit 1k in just one minute.
Google
After months of lockdowns and restrictions, Google felt the need to improve its image. It came up with Google's billboard campaign that was designed to show how this search engine could get people's summers back on track.
The campaign featured questions it was thought the public was longing to ask. By answering questions such as "Where to go on a first date?" "Hotel near me", and "Best biscuits to buy" Google felt it was reminding the masses about how important it was in their lives. An emotive film also played a part in the campaign.
CNN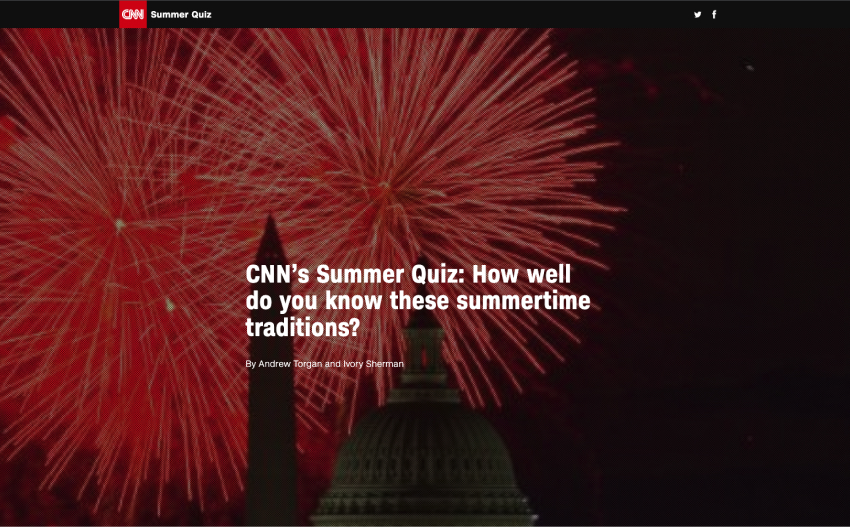 Quizzes are used by marketers for various reasons. It might be to gather customer insights and information or for creating buzz and engaging audiences.
The latter was the aim of CNN's summer quiz, and it also provides users with a playful way to learn about a variety of summertime events.
At the end of the quiz, there are social media share buttons so the fun can be spread across the various popular platforms.
Betway
Fun spin-the-wheel special promotions, just like this one from Betway, are perfect for engaging audiences, collecting opt-in data, rewarding customer loyalty, and incentivizing sales.
Betway's Summer of Spins rewards players with almost twice the normal prize during the summer months. It is aimed exclusively at new customers and the only precondition is that players must register with Betway.
Summer Campaigns with Gamification
Gamified summer campaigns can be very effective for engaging audiences and creating excitement around a brand. Here are some summer marketing ideas for spicing up your campaigns with interactive games and rewards.
S Concierge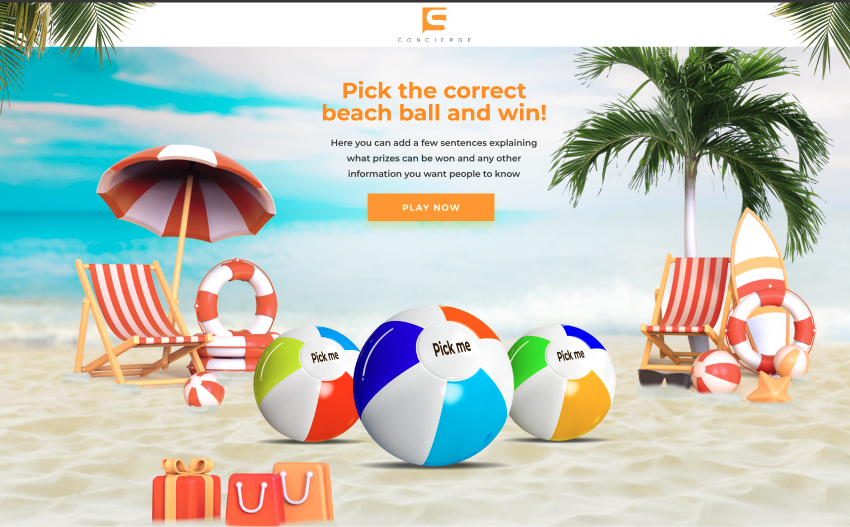 SConcierge, a US corporate housing and residential entertainment concierge service was looking for a way to incentivise their channel partners to register new business. They approached BeeLiked and an integrated gamified rewards program was born.
The S Concierge's rewards program was customizable, depending on the season and various marketing events. It was also eye-catching and engaging but with the option to capture additional data when needed. Salesforce opportunities were automatically rewarded with gameplay and digital rewards were provided for winners.
TUI Group
The regional sales manager for the TUI Group's UK and Nordics felt the sales reps needed some encouragement and more pats on the back for a job well done. With the help of BeeLiked, TUI Smiles was launched.
The rewards program included several beach-themed games of chance. There was a spin wheel game and a digital scratch card with winners getting TUI Smiles. Automatic confirmations were sent to the winners and rewards were added to their staff accounts.
Control was important, so BeeLiked made certain the number of TUI Smiles and sales reps invited to play were strictly managed.
Camino Island Book Launch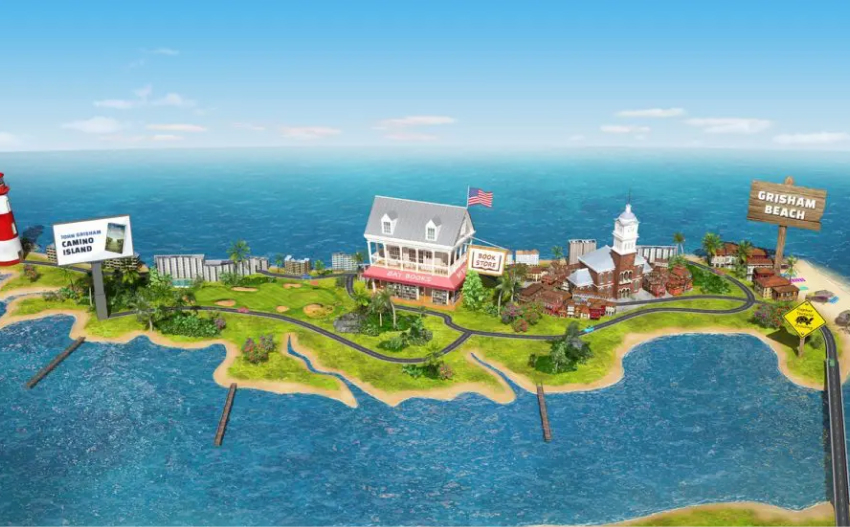 Our final shining example is John Grisham's Camino Island promo. John Grisham is a US author best known for his crime fiction thrillers. Perhaps that's why it was felt some extra effort was required for the launch of Camino Island, a departure from the author's main subject matter.
The novel is set on a fictitious Florida Island, so what better way to raise awareness and excitement than with an animated version of the island? Entrants were able to explore the island and at the same time, discover more information about the book during the summer season.
Not only that, they were also able to enter the Bay Books Heist (an integral part of the plot line), and Grisham Beach Quiz campaigns.
The other aim of the campaign was to gather contact data for future marketing campaigns.
4 'Old But Gold' Summer Campaigns
Get ahead of the crowd with our four favourite summer campaigns. These great examples of how to market effectively for everyone's favourite season will set you on the right track:
Coca Cola have always been brilliant at marketing. They know their target audience and they know exactly how to appeal to them. A few years ago they kicked off their "Share a Coke" campaign, which brought together a number of key factors – friendship, sharing and of course, having people's names printed on things. Along with the TV campaign, the company also toured up and down a number of countries, allowing people to print less common names onto bottles themselves.
The campaign worked brilliantly, it incentivized people to buy bottles with their friends names on. It convinced them to share photos of the bottles around social media, spreading the campaign further. And, it added a sense of personalization to what is one of the largest, least personal brands on the planet.
To make the most of this idea, consider running a campaign which speaks to your audience on a personal level.
IKEA is a globally recognised brand, known for its Scandinavian roots and for its innovative design ideas. The brand used that innovative approach for its 2013 "Books On The Beach" campaign. To celebrate the birthday of the "Billy Bookshelf" the store placed a number of them, filled with books, onto a beach in Australia.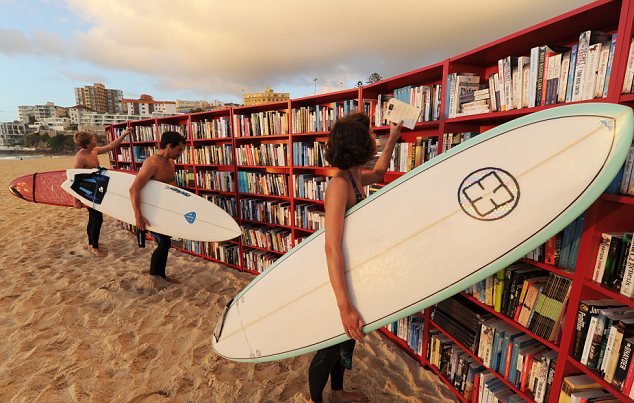 The campaign added a charitable edge, which meant that the money from any purchases of books went to the Australian Literacy and Numeracy Foundation.
Whilst this large scale approach is only possible for big companies, the idea behind it can be replicated! It's all about thinking outside of the box, coming up with a unique idea and making it appeal to the public.
Three is a UK based mobile network operator and in 2015 their social media team came up with a wonderful campaign idea.
They used Twitter as a platform to bring a little laughter to the country, sending out hilarious pictures of summer-time antics.
#BBQ 🍗☀️ pic.twitter.com/wLNLBlL8c2 — Three UK (@ThreeUK) July 4, 2015
Oreo used the summer to market their new "s'mores" flavoured cookie. They cashed in on the summer time camp-fire trend to put together a fun, whimsical campaign which ran across a number of social media platforms.
https://www.youtube.com/embed/ab6wWfTwPwo
To harness the uniqueness of this campaign, think about activities based around summertime and consider how you can link them to your products.
Try a Rewards Platform This Summer
Whether you're a small business or a large corporation, a well-planned summer marketing strategy helps you stand out from the competition and build brand awareness. When it comes to a gamification rewards platform, it can enhance any loyalty program by adding volume, and excitement, and personalizing the customer journey.
The sense of achievement, competition, and social interaction a rewards program creates increases customer engagement and retention.
It's time for you to discover all of BeeLiked's gamification use cases.