The fall season brings a wealth of opportunities for marketers. The mix of different holidays and the lively autumn atmosphere create a wonderful setting for imaginative campaigns. One of the most successful strategies in modern marketing is using gamified incentives. Using game-like elements in marketing can greatly increase customer engagement and brand recognition.

Autumn-themed marketing campaigns have a potent chance to connect with audiences, enticing them with personalized experiences. Let's explore this avenue as we dive into these five autumn-themed incentive campaigns.

1. Halloween Mystery Box: Unveil the Spooktacular Rewards! 🎃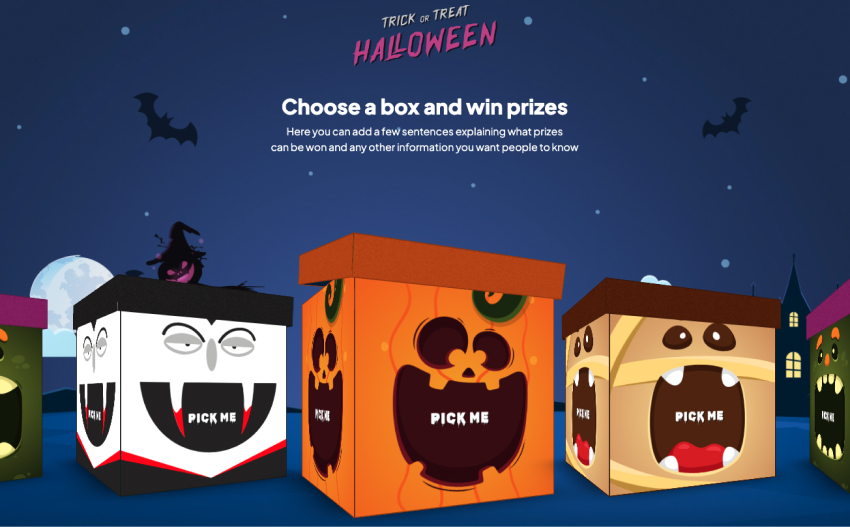 This Halloween, let the eerie festivities elevate your marketing strategy by introducing the enchanting 'Mystery Box' promotion. Not only does the Mystery Box gamification tactic thrill your customers, but it also boosts engagement and converts followers into eager buyers. Sounds intriguing? Let's explore how your business can create a buzz during the spookiest time of the year!
The Haunting Appeal of the Mystery Box 💼👻
The Mystery Box is a promotional tool that plays on human curiosity and the thrill of anticipation. You could say it's the marketing equivalent of trick-or-treating, with customers eagerly unlocking unknown treats. Ideal for Halloween campaigns, a Mystery Box can include:
Exclusive discounts 🏷️
Priority access to new products or services 🚀
Halloween-themed merchandise 🦇
So, how do you design the perfect Halloween Mystery Box that's both captivating and rewarding for your customers?
Crafting Your Bewitching Mystery Box 🔮
Evoke the Halloween Spirit: Use attention-grabbing images of witches, ghouls, or pumpkins to encapsulate the spooky essence of Halloween. Remember, the design is crucial in tempting customers to discover what the box holds.
Build Anticipation: Any good ghost story thrives on suspense. Similarly, provide teasers or clues and offer a limited-time window to unbox the rewards, ensuring customers jump at the opportunity!
Balance Surprise and Value: While surprises entice, make sure the Mystery Box contains valuable rewards that drive customer loyalty and encourage repeat visits.

Conjure Success with the Halloween Mystery Box 🎉
Rewards at the click of a button? That's the enchanting power of the Halloween-themed Mystery Box promotion. Happy customers pave the way for repeat visits, which, in turn, boosts brand loyalty. So, harness this festive strategy, and watch your audience keep coming back for more spellbinding surprises!

2. Thanksgiving Spin the Wheel: Turn Gratitude into Grand Rewards!🦃
The season of giving thanks can be much more than a time to reminisce on our blessings. It offers the perfect opportunity to use an engaging gamification tactic that would deepen your audience's bond with your brand. How about a 'Spin the Wheel' Thanksgiving promotion?
The Wheel that Keeps Customers Coming Back 🎡
'Spin the Wheel' is more than just a thrilling game; it's a tool that lets you reciprocate your customers' loyalty with fun and rewarding experiences. Hence, reflecting the essence of Thanksgiving – gratitude and abundance!
Are you wondering how this scintillating 'Spin the Wheel' promotion works? Hold tight, we're about to spin this tale!
Tailor the Wheel to the Thanksgiving Rhythm 🌽
The game is straightforward: customers spin a virtual wheel to win rewards. But here's where you can include an exciting twist. Customize the wheel to resonate with the Thanksgiving spirit and align with your brand:
Theme and Visuals: Adopt warm autumn hues, festive graphics, and phrases like "Give Thanks!" to create an enticing game interface.
Prizes: Offer enticing rewards, like exclusive discounts, free shipping, or Thanksgiving-themed experiences. Cater to your audience's interests, and you'll have them on the edge of their seats!
For a dose of excitement, roll out a limited-time Thanksgiving 'Spin the Wheel' promotion. Entice customers with the chance to win bigger rewards the more times they spin. The anticipation alone will drive regular visits to your website and heighten engagement.
The Winning Spin for Brand Loyalty 🏆
A successful Thanksgiving 'Spin the Wheel' campaign must strike balance – it should evoke the joyous spirit of the holiday while providing rewarding experiences that reinforce customer loyalty. Align the 'Spin the Wheel' promotion with the spirit of gratitude, and customers will equate your brand with the meaningful aspects of Thanksgiving.
So roll out the Thanksgiving 'Spin the Wheel' game – it's your turn to be the star at the Thanksgiving table while driving customer engagement upwards! 🎉


3. Autumn Advent Calendar: Get Cozy with Customer Engagement!🍂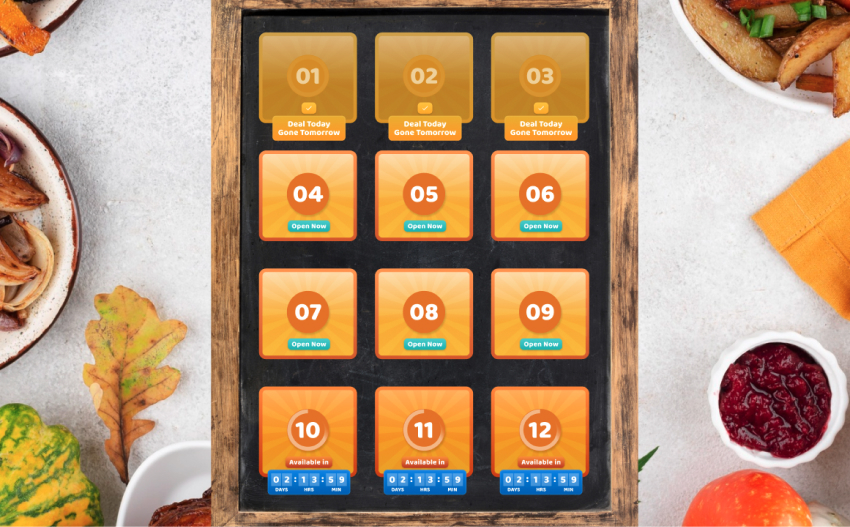 Whoever said advent calendars were a December exclusive, didn't have the ingenuity of an entrepreneur. Here's a fresh spin – meet the Autumn Advent Calendar, a 30-day countdown to add some warm hues and thrilling surprises to your customer journey!
Infuse Seasonal Delights, Boost Brand Experiences 📆
As the leaves change, so should your marketing strategies! Ride the wave of the cozy Autumn charm and give your customers an immersive brand experience before the winter holidays amp up. Picture this – a user-friendly, autumn-themed digital advent calendar right on your platform. It's not just about tool integration; rather, it's about kindling consumer joy and driving sales.
This creatively designed calendar fills your user interface with vivid fall colors, featuring virtual doors that unlock daily delights. These could be:
Special discounts on your autumn collection 🛍️
Exclusive recipes for cozy fall meals 🍲
Handpicked cozy music playlists 🎶
Early access to your upcoming sales events 🎈
While each door furthers the sense of anticipation, it also keeps your customers hooked, returning to your platform every day.
Share the Warmth (and Growth) 🚀
The Autumn Advent Calendar is not only festive but viral! It encourages users to share their countdown journey on social media, giving your brand organic reach and expanding your customer base. The more the fun, the merrier the customer connections!
Watch the Magic Unfold 🌟
As the countdown drops, watch your sales soar! The Advent Calendar instigates organic user growth, leading to a robust customer data set. Remember, marketing doesn't have to be drab – a mix of brilliant ideas and strategic initiatives like the Autumn Advent Calendar can usher in remarkable results.
Still unsure if this is the right option for you? Check out the success of our client, Student Beans, who introduced their own spectacular advent calendar. Dive in and let the Autumn Advent magic enhance customer interactions! 🍁



4. Fall Festival Scratch Off: Autumn Hues and Exciting Chances!🍁
With the crisp air of fall upon us, it's time to bundle up in your coziest cardigan and bask in the delight of the fall season. And what better way to rejoice in the spirit of autumn than with a riveting "Fall Festival Scratch Off"?
Turn Over a New Leaf with Our Scratch Offs 🍂
The Fall Festival Scratch Off promotion offers an intoxicating blend of autumn's allure and the thrill of uncertainty. It's a fun-filled tool designed not only to keep your customers on their toes, but also to enhance their loyalty towards your brand.
Picture this: Your customers are warmly greeted by the vibrant colors of fall as they scratch off a layer to reveal if they've won a prize or not. This interactive feature is like the anticipation of jumping into a pile of dried leaves – you never know what the outcome will be!
Customize the Seasonal Fun 🎃
Our Scratch Off comes with various customization options to best match your brand and the season. Here's how you can ensure your customers fall in love with your brand:
Fully Mobile Responsive: Our Scratch Offs are designed to provide a seamless user experience across all devices. Your users' enchantment with the autumn season won't be limited just to their desktops!
Prize Control: You have complete control over the prizes and their quantities – all tailored to your customer's needs and interests.
Limited Entries: Control the frequency of participation to sustain excitement throughout the season.
Integrate, Engage, and Reap Benefits 🏆
The Fall Festival Scratch Off is more than just an exciting game; it's an engaging promotion that can drive more traffic to your site, enhance customer loyalty, and increase sales. Encourage users to share their winning moments on social media and see your customer base grow organically!
Don't just stop at pumpkin spice lattes. Make your brand's Fall Festival a memorable affair with our Scratch Offs and see engagement soar as high as the autumn leaves!
Ready to bring the charm of fall to your promotion? Start with the Fall Festival Scratch Off – because, in the season of harvest, your business should be reaping the benefits too! 🕸️


5. Black Friday Unwrap the Gift: Boost Holiday Sales with Surprise and Delight! 🎁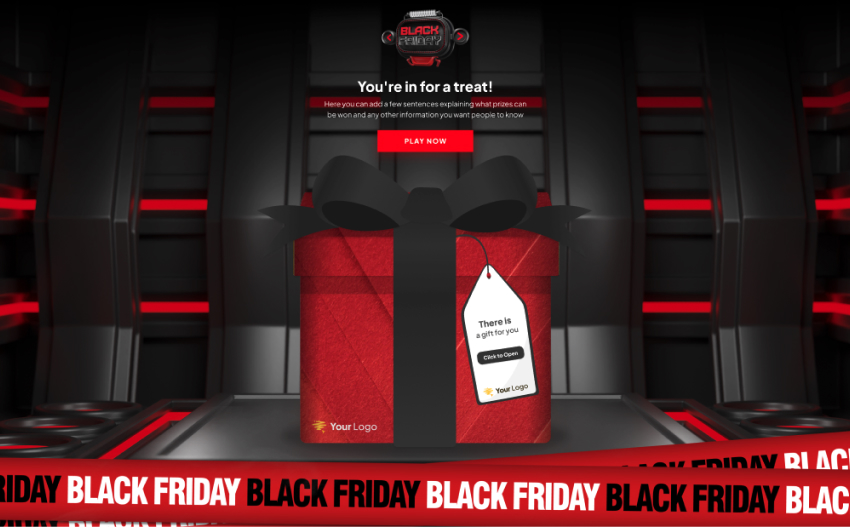 When it's chilly outside and festive cheer is in the air, you know it's time to kick off your Black Friday extravaganza. This year, let us help you turn your Black Friday into a thrilling journey of undiscovered discounts and delightful rewards with our Unwrap the Gift promotion.
Engage Your Customers with Added Intrigue 🕵️‍♀️
Unwrap the Gift is more than just a promotion, it's an engaging adventure that offers unique experiences completely tailored for your customers. Imagine your clientele wrapped up in the anticipation of uncovering what hidden gems lie within their digital gift. It might be a hefty discount on their favorite product line or an exclusive early access pass to your holiday sales.
This fully customized, you-controlled journey transforms Black Friday shopping into a fun-filled quest. The intrigue doesn't just compel customers to engage with your products, but also triggers a genuine connection with your brand. The results? A healthy boost in your Black Friday sales figures!
Your Data, collected Delightfully 📊
You don't only get happier customers with Unwrap the Gift, we put you in control of the data landscape too! By integrating this interactive promotion, you can seamlessly collect user data, interesting insights, and can also export it whenever you need. So, while your customers are busy unwrapping delights, you are effectively unwrapping a wealth of actionable customer insights!
From Black Friday to Bright Friday ✨
The Unwrap the Gift promotion can transform your Black Friday sales into a unique customer engagement festival. Encourage your customer base to share their lucky finds and delightful gifts on their social media platforms. As they spread the word, your organic reach expands, adding more potential shoppers to the frenzy!
Let's Make Your Black Friday Extraordinary! 🏷️
Remember – a successful Black Friday marketing strategy doesn't always have to rely meticulously on hard sells and heavy discounts. Sometimes, the joy of discovery and the thrill of the unexpected make shopping more rewarding and fun.
Wondering how to start? Unwrap the Gift promotion is your box full of Black Friday wonders waiting to be opened. Step into the holiday season with this engaging promotion, and watch your Black Friday turn from standard to extraordinary! 🎉


Amp Up Your Fall Marketing with Gamified Treats
Fall is a fantastic time to connect with your customers. With the charm of Halloween and the coziness of Thanksgiving, you've got the perfect springboard for sparking engagement. So, why not spice up your marketing game with gamified treats like Mystery Boxes or Unwrap the Gift promotions?
These aren't just about making sales. They're about injecting fun and excitement into your brand. When you create enjoyable experiences for your customers, you're building a friendly and approachable brand. And that's a recipe for loyalty, and yes, that all-important revenue.
So, are you ready to trade the same dull campaigns for some gamified excitement this fall?
Let's make this fall the season of harvest for your brand, with opportunities aplenty and sales soaring like a warm wind. The leaves might be falling, but your customers will be rising—in numbers, that is!
Join us today, and let's sweep your customers off their feet! 🍂🌟