Consumers love the thrill of competing and can't wait to receive the rewards up for grabs when taking part. This is one of the reasons why gamification has become such a powerful and popular marketing tool. That's why many companies are now investing in gamification for customer loyalty.
If you'd like to know what it's all about and how it can benefit your business, keep reading to learn more. We'll explain why games are important for customer loyalty, share some examples of gamification at its best, introduce different types of gamification in loyalty programs, and provide some tips on how best to introduce gamification in your business.
What Is Gamification for Customer Loyalty?
Gamification is a way of turning an everyday activity into a game. Participants earn rewards for taking part in and completing different activities.
Gamification for customer loyalty uses points, badges, VIP status, and level-ups to turn something as mundane as buying a coffee or enjoying a meal into an activity that's more engaging and fun.
When companies use gamification they gain insights into customer preferences and behaviors. They can also use the games to gather user-related data which they can then use to heighten the customer experience.
Companies are also able to target particular audiences and participants, personalizing rewards and improving the overall customer experience.
Why Are Games Important for Customer Loyalty
There are many benefits to using gamification for customer loyalty. Such an innovative approach to providing a memorable, enjoyable, and engaging experience for customers brings many benefits to the table.
Cater to your users' needs: The data gathered can be used to create personalized experiences that cater to users' diverse needs and preferences.
Build better customer relationships: Gamification creates a positive environment, boosts enthusiasm, and creates exciting experiences. It also creates a more personal connection with customers.
Encourage engagement with your services: Gamification encourages reward-seeking behavior. Customers want to keep checking in to check their progress and aim for the next achievement.
Incentivize loyal clients: Loyalty programs can be challenging to fund and it's tricky to find the right balance in terms of value. Gamifying loyalty programs rewards customers without it costing huge amounts.
Bring a sense of achievement: Incorporating elements such as progress tracking, competition, and rewards creates a sense of achievement. They also reinforce customer efforts and make them feel accomplished.
Types of Gamified Loyalty Programs
There are four main types of gamification loyalty programs companies can make use of.
Tiered loyalty program: This type of loyalty program separates benefits into different levels. Rewards get better the higher a customer progresses through the levels. To motivate customers to take part and strive to reach higher levels, the programs typically use the names of precious metals. Hilton and American Airlines both offer this type of loyalty program.
Subscription-based: With this type of gamified loyalty program, customers pay a subscription, either monthly, yearly, or upfront. Subscription-based loyalty programs are very effective for retaining customers for a specified length of time. Amazon Prime is a very good example. Payment of a subscription gives customers access to free TV shows, shipping, music, photo storage, and more.
Value-based: There are no explicit rewards with this type of gamified loyalty program. The emphasis is more on an organization's values and product recommendations. Charity pledges are an example of this type of program in action with customers choosing charities that align with their values.
Points-based: This type of program rewards customers' purchases with points. These points are collected and cashed in for a discount or product.
Examples of Gamified Incentives to Boost Loyalty
The most popular way of rewarding customers is with points and the opportunity to exchange those points for something interesting. However, there's much more to gamified incentives for boosting loyalty. Let's quickly share some examples of gamified loyalty enrollment in action.
Subway MyWay® Rewards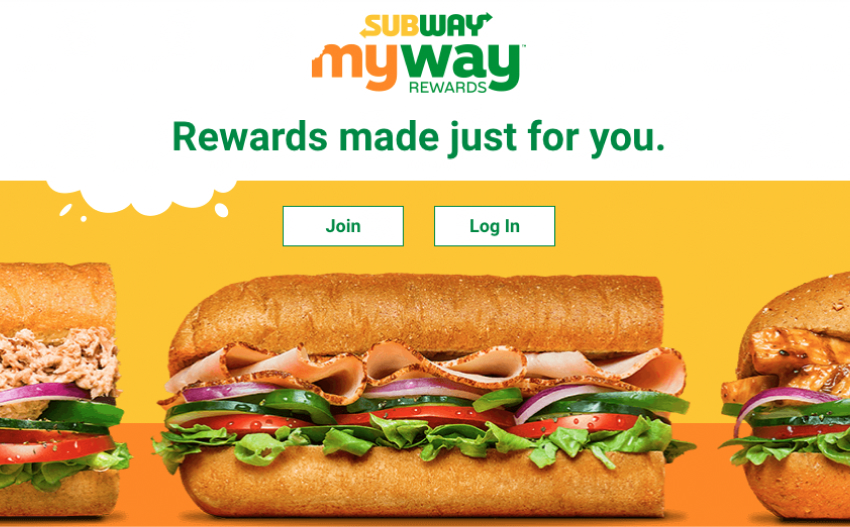 Subway's loyalty program lets customers earn rewards when they buy their favorite menu. It came about following a survey of customers, asking them what they wanted from a loyalty program.
Customers requested a program that was personalized, flexible, and surprising, and Subway delivered. Customers earn tokens with every dollar spent. In addition, they're offered spontaneous opportunities to earn additional tokens. From time to time, Subway sandwich lovers might also receive surprise rewards. The emphasis is on delivering a personalized gamified experience.
Student Beans' Advent Calendar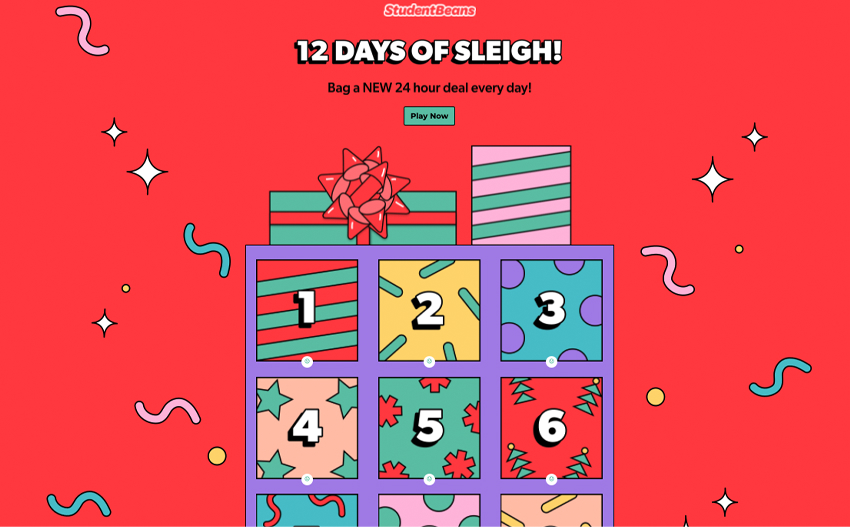 Student Beans provide an opportunity for brands to run student discounts and loyalty programs. To date, 163 million students across 52 countries have participated.
One particularly effective program was the Student Bean's Christmas promo. It took advantage of the FOMO (fear of missing out) effect. The fact that each offer was only available for 24 hours helped to boost feelings of anticipation and engagement.
The rewards are very attractive for students and include coupon codes and discounts on each of the 12 days of Christmas. Featured brands included Pandora, Hotel Chocolat, Columbia, Papa John's Pizza, Panasonic, Princess Polly, boohoo, and many more.
The North Face XPLR Pass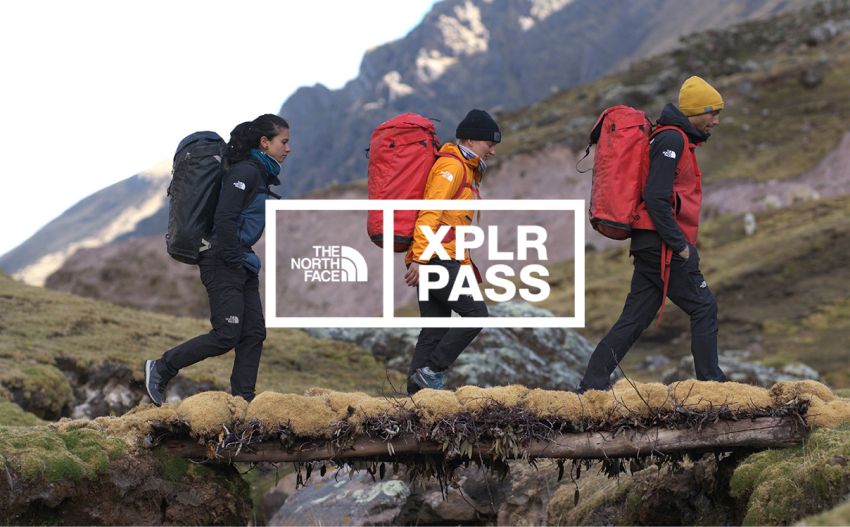 The North Face is an outdoor gear and apparel brand that offers a very unique loyalty program. The program aims to build a loyal community of outdoor enthusiasts. To that end, it offers members unique, curated experiences that emphasize customers and the brand's values.
As well as points for purchases, members are rewarded in other ways, for example:
Check-ins at North Face stores, national monuments, and national parks
Completing surveys
Downloading the North Face app
Referring friends
Bringing reusable bags when shopping in stores
Points can be exchanged for personalized rewards like unique travel experiences (mountain climbing adventure in Nepal).
SConcierge's Partner Rewards Program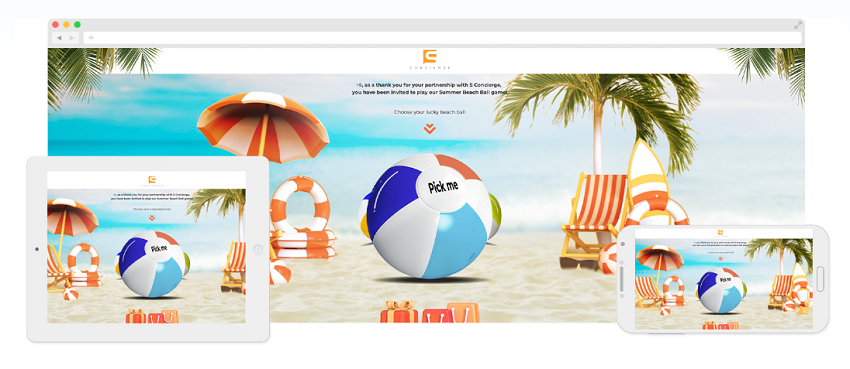 If you're looking for a way to encourage channel partners rather than customers, SConcierge's Partner Rewards Program shows how effective a digital spin-the-wheel game can be compared to their previously used physical scratch-off cards.

SConcierge's rewards incentive automated the process and used an eye-catching and engaging promotion. It took the BeeLiked Studio team just a few hours to create the theme and design.
Shein VIP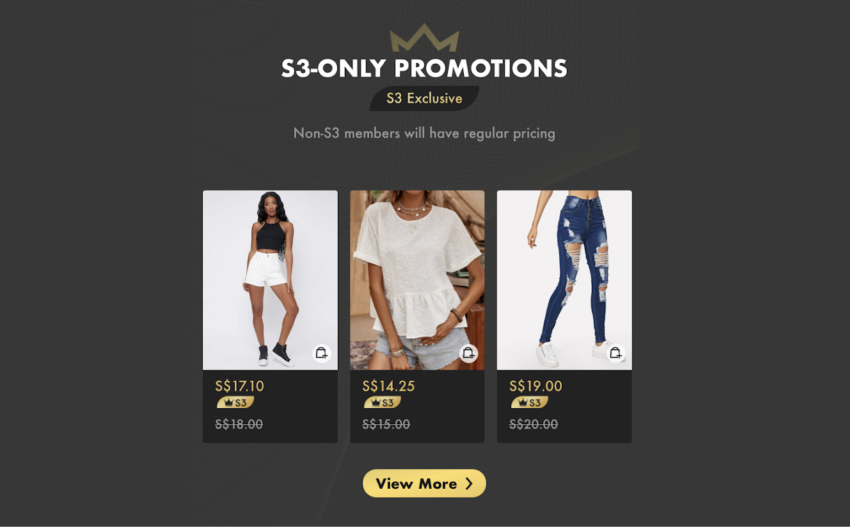 Shein is a Chinese fashion giant that's introduced an intricate system for customers to win points and spend them on the website. Shein is a company that also relies on the power of reviews and its VIP Rewards program gives customers points when they write reviews.
For the minimum text requirement, customers receive five points. The addition of a photograph rewards them with an additional ten points and for size information, an extra two points are added.
Customers can also earn points for:
Daily check-ins
Live shopping when points are handed out randomly during streaming events
Contest participation
G-Street Pizza Roulette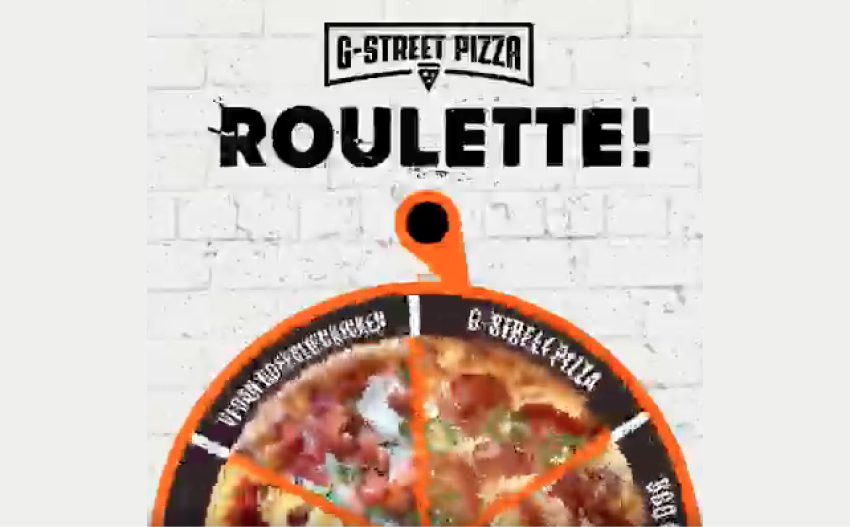 Pizza lovers will love this gamification for customer loyalty spin the wheel game. If you can decide what flavor of pizza to eat, G-Street helps you choose. Simply spin the wheel and your decision is made for you.
As we all know, choosing a pizza can become tiresome after a while, but spinning the wheel adds some fun to the decision.
Holt Renfrew's Lunar New Year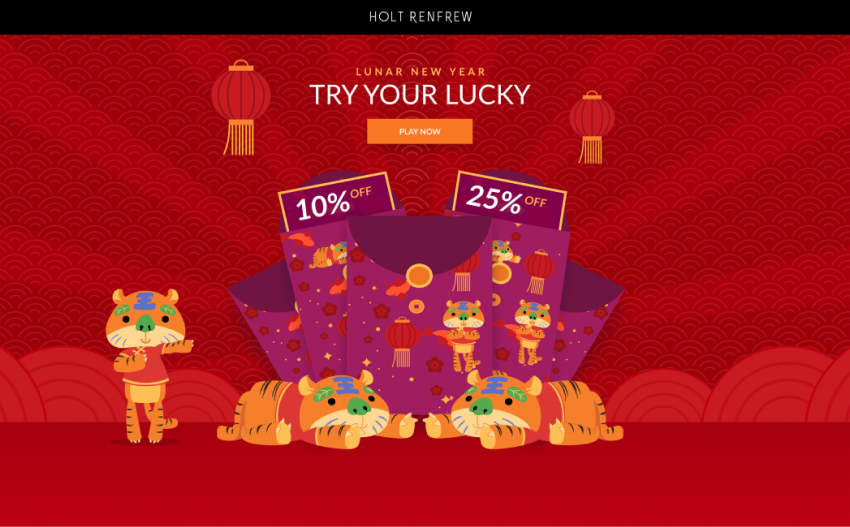 Everyone likes a game of chance and the Lunar New Year promo scratches that itch for customers. It was created for Holt Renfrew, Canada's premier department store group.
Registered customers were sent their own virtual red envelopes and received a unique invitation link that took them to the promotion. The promotion was created in English and French to cater to Canada's multilingual population.
Also, to ensure it met with games of chance restrictions in Canada, a simple maths question was added to the enrolment form.
How to Implement Gamification Into Your Loyalty Incentives
When it comes to implementing gamification into loyalty incentives, the challenge is creating a balance between effort and reward for each person. The following steps will help you achieve that balance.
Decide on the Rewards
Think about what your customers want. While a company's product or services likely cover some of their needs, there may be many more business-related or personal needs waiting to be satisfied.
One of the aims of implementing gamification is to create touchpoints with customers, preferably as many as possible.
If you want to create a selection of rewards specifically for your customers, understanding the customer is crucial.
Work With a Partner for Your Campaign
It's common for partners to be brought on board to provide the rewards for the games. For example, GLH partnered with Malfy to raise product awareness and generate leads for both brands.
The instant win prizes for people taking part included drinks vouchers for GLH and both Malfy and Beefeater distillery tour tickets. By working together, both companies were able to benefit from the game and gather valuable information.
Choose the Type of Promo
There's no one size fits all promotion, which is why it's great that there is a range of promotion types to choose from: Spin the wheels, mystery envelopes, scratch offs, and slot machines.
Launch and Measure
Once launched, it's important to measure the success of a campaign. Evidential KPIs around 'promo entries' and 'number of used vouchers' are one of the most common ways. Measuring success informs decision-making and shapes customer loyalty strategic planning.
How to Measure Success
Knowing how to measure success is important because you want to make sure your loyalty program using gamification is doing as much as possible for your bottom line.
There are some key ways you can measure the performance of a customer loyalty program.
Two essential steps need to be taken to analyze success. The two steps are: include:
Measuring the effect gamification has on target user's behavior
Measuring the effect the modified behavior has on business goals
Once these steps are taken, it's possible to measure the ROI of gamification in the following ways:
Determine the relevant KPIs
Compare KPIs before and after gamification for customer loyalty has been implemented
Compare KPIs concerning gamification activity performance
Measure different aspects in relation to different groups
Use control groups
Before implementing any changes, run a simulation
Try a Gamification Platform for Customer Loyalty
Your brand will enjoy many benefits if it implements a gamification platform for customer loyalty. It will increase customer engagement and retention, and enhance the customer experience and satisfaction by making a loyalty program more personalized and interactive.
Interested to see what's possible? Try Beeliked demos.