Interest in gamification has gone through the roof in recent years. However, nowhere has it enjoyed more success than in the retail sector. For many brands, it has become a key focus and is a great place to look for inspiration.
If you want to learn more about gamification in retail, we're going to introduce you to some fine examples along with a quick introduction to what retail gamification promos entail.
In retail, gamified incentives can help improve the shopping experience, attract new customers, and retain those all-important existing ones. Keep reading to find out how to do it.
What Is Retail Gamification?
To understand what gamification for the retail industry entails it's best to start at the beginning with a definition of gamification in general.
Gamification is the process of integrating game elements and mechanics into non-gaming platforms or programs, transforming them into interactive and engaging experiences that excite and reward users.
In retail, gamification can drive customer loyalty and engagement, increase brand awareness and sales, and a whole lot in between.
Why Is Gamification in Retail Important?
If you're the owner of a retail business, whether it's online or a brick-and-mortar establishment, keeping up with the competition is vital. To ensure your business is relevant it means experimenting with new and trending sales and marketing strategies.
One of the latest is gamification. According to research by Predence Research, the retail industry vertical accounted for a revenue share of 28.5% in 2021.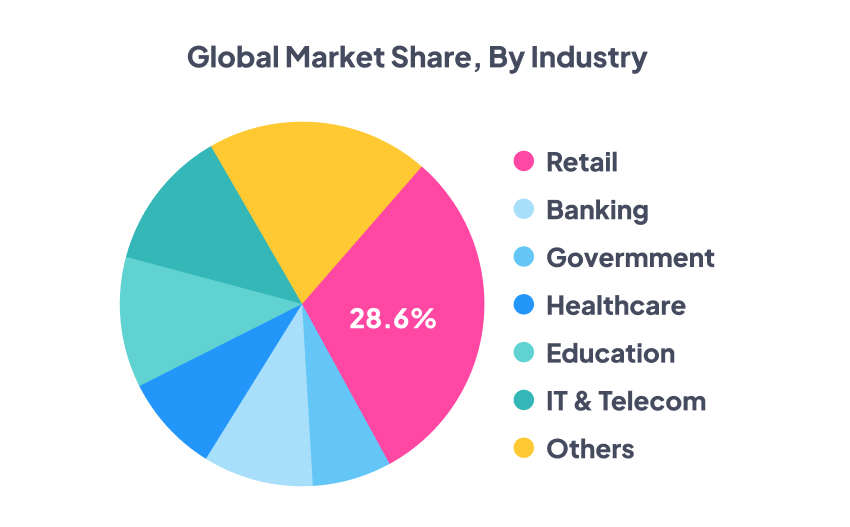 Source: Fortune Business Insights
The increased use of smartphones is expected to increase the gamification market's growth even higher. Between 2020 and 2030, the global gamification market is scheduled to grow by 27.99%.
Gamification strategies might sound like just another marketing catchphrase, but the hype is real and it's a trend that's driving loyalty and sales. For example, gamification has been shown to increase customer acquisitions by up to 700%. Excited to learn more? Read our full guide to gamification.
Examples of Gamification in Retail
Many retail brands now use gamification very successfully to inject fun into retail marketing campaigns and to enrich their customer database. What follows are some examples of successful gamification models that you might want to use for inspiration.
Nike: Nike FuelBands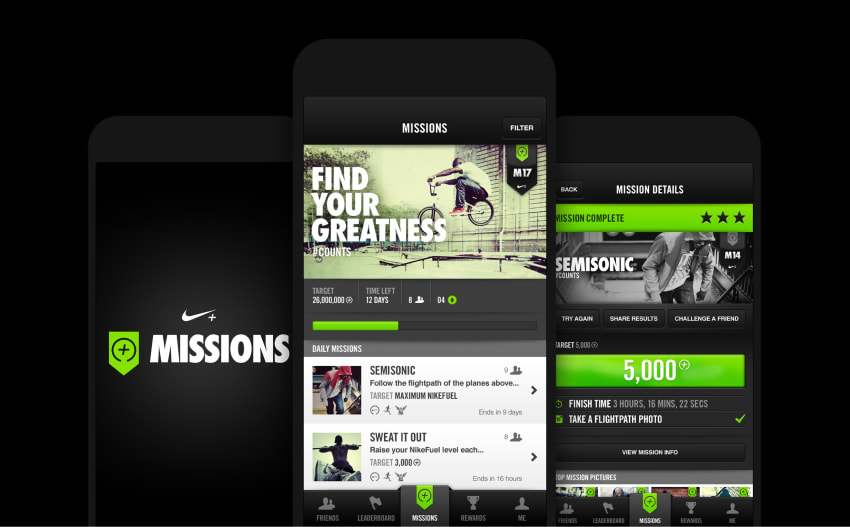 Nike already has a head start when it comes to gamification because its target audience is inherently competitive and it's already launched numerous apps to bring together runners, trainers, and athletes alike.
However, it managed to hit the ground running with the release of the Nike+ Missions. Ever since its initial release, it's been adding new features to keep consumers hooked.
The game is powered by everyday movement and NikeFuel tracks and monitors users' progress. Depending on the difficulty level users choose, they are challenged to earn a specific amount of NikeFuel before being allowed to move up a level. Missions and levels are played against the clock.
Users are introduced to a Nike sportsperson after each mission. They share advice and suggest innovative products that might help the user battle the elements and complete their next mission. Sportspeople taking part include Calvin Johnson, Allyson Felix, Alex Morgan, and Neymar Jr.
T.J.Maxx: Maxximizing Game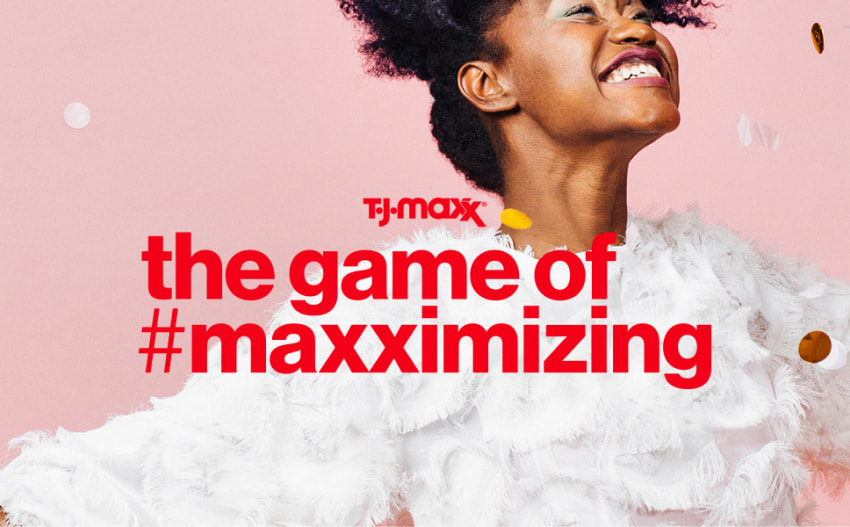 T.J. Maxx launched its gamified awareness campaign in 2019 when it partnered with Hannah Simone. It featured gamified pop-up installations in six different New York and Los Angeles locations. The pop-ups were curated by a group of six celebrities and influencers and featured a selection of products.
The contents of each installation could be won by anyone who correctly guessed the combined value of the displayed products. Guesses had to be posted under Instagram videos or tagged using the #maxximizing hashtag.
The success of the campaign was rather short-lived but it made a massive impact on social media and raised brand awareness. It also managed to promote T.J. Maxx's core message that its products are cheaper than you think.
Holt Renfrew: Black Friday Promo
Holt Renfrew, a Canadian luxury department store, worked with the BeeLiked Studio team to create a popular Cyber Monday Spin Wheel promotion.
The Holt Renfrew's Black Friday Promo's aim was to generate high levels of website traffic during its end-of-November sale period.
Customers were invited to spin the wheel for the chance to win up to 40% off coupon codes that could be used when purchasing in the Holt Renfrew online store.
Using the BeeLiked Spin Wheel for the promotion meant the team could precisely control the number of one-use coupons given out. At its peak, the promotion received hundreds of entries every minute.
Sephora: "Swipe it. Shop it."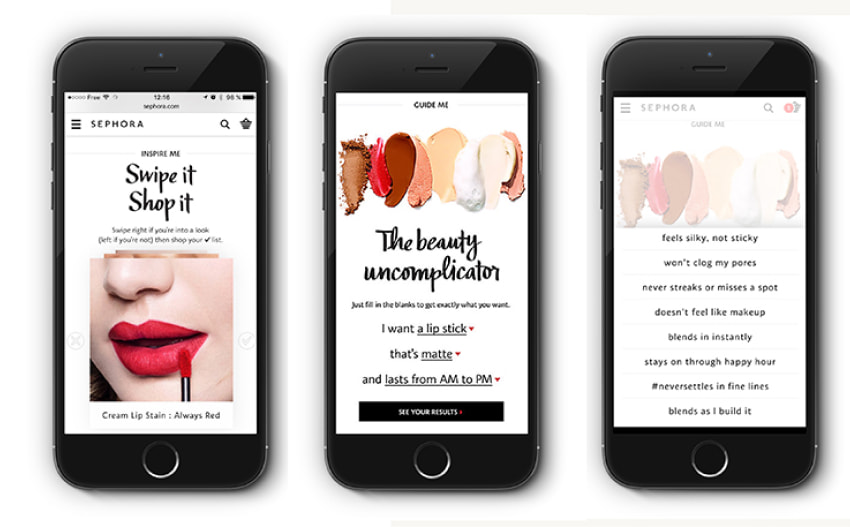 As we all know, shopping online can be quite daunting especially when there are so many products to choose from. Sephora decided to make the task fun for its shoppers with a "Swipe it. Shop it" campaign.
It used retail gamification that allowed customers to swipe left or right depending on whether they liked a particular product. Inspiration came from Tinder's user-friendly and familiar dating app.
Thanks to gamification, Sephora was able to create an enjoyable shopping experience for customers and reduce the stress of browsing through an almost endless catalog of beauty products.
Casper: Subway Puzzles
Casper, a US mattress company chose to use retail gamification to help build brand awareness. It did this by placing rebus riddle ads in the subways of Toronto and New York.
The ads were made up of a series of pictures that spelled out a word. The riddles stretched the entire length of a subway car and there was no additional context. The answers all related to the brand and revolved around the topic of a good night's rest. Consumers were able to visit Casper's website for solutions to the riddles.
These subway puzzles are an excellent example of how easy it is to spark curiosity, increase brand awareness, and increase traffic to a website. All it took was a fun promotional game that helped to distract bored subway riders from their stressful daily commute. The puzzles were challenging, but easy enough to solve during a short subway journey.
How to Implement Gamification in Your Retail Business
If you want to take advantage of gamification in your retail business you have to do it right. Your goal is to increase customer engagement and retention and at the same time build loyalty. Here are some quick and easy tips to help you on your way.
1. Start with Your Audience
What better place to start than with your audience? After all, these are the ones that your gamification efforts are meant to attract. Understanding your audience means you can tailor the experience to their preferences.
2. Add Gamification to Your Product Launches
Gamification can make product launches more successful. It will also help a company stand out from its competition. Not only does gamification drive engagement. It can also present products in an informative, efficient manner and really add value.
3. Use Gamified Promos at Checkout
Gamified promos at the checkout can help reduce the number of abandoned cars. Spin-to-win popups are an excellent example. This type of promo is really easy to create and it can be personalized with winning messages and automated emails.
4. Encourage In-Store Purchases with Games of Chance
Retailers can use games of chance to capture leads and engage with existing customers. Digital scratch-off cards, for example, can be offered on a tablet when a shopper enters a store. It has also been shown that promotional games at retail stores increase consumer spending (Source: ScienceDaily). For both brick-and-mortar stores and online retailers, retail sales games of chance are potential goldmines.
5. Bring Fun to Referrals
Gamified referral programs create a fun experience and help to attract more customers. A referral program that feels more like a game will make the customer stay interested in promoting a product and earning rewards.
Gamify the Shopping Experience with BeeLiked
Looking to gamify your shopping experience? BeeLiked offers several features you won't want to miss. There's enhanced data collection, options for interactivity, and the ability to draw random winners in your next marketing promo.
Check out the full range of BeeLiked enterprise gamification solutions.