If you want to see gamification in action, there are plenty of real-life examples to choose from. Game elements are all around us, from points, progress bars, levels, and competitions to loyalty cards and social media likes.
The following examples of gamification show how successful it can be at motivating people. They will help you understand the best ways to utilize within your business or organization. We've also included one example of how things can not go quite according to plan.
#1 Duolingo
Duolingo is a good example of using gamification in education. It is a gamified educational app for learning a new language. Whatever language you want to learn, you'll likely be able to find it at Duolingo.
At the core of every lesson is gamification, whether that's streaks, grading, lives, or more. The main aim of this gamified educational app is to make learning a new language fun and easy.
A measure of its success is the rate at which it's grown. It currently has more than 500 million total users and around 40 million monthly active users, from every country in the world. The app offers 98 language courses and the courses teach 39 different languages.
Duolingo embraces the Gamification Octalysis Framework which gamification guru Yu-kai Chou created. According to this framework, the core driver for a gamification strategy to be successful should be making players believe they are doing something greater than themselves or that they were "chosen" to do something. This is called Epic Meaning & Calling.
Duolingo achieves this with continuous notifications. Some may find the constant and almost over-the-top notification bombardment rather annoying. However, for many more, it is important daily encouragement and that friendly nudge that gets you back on track. The aim is to make the user feel valued and wanted in the platform, as well as to ignite a sense of "calling".
#2 DUNKIN' REWARDS™
Dunkin Donuts has found a place in this list because it's a shining example of how things can go wrong. The well-known coffee shop brand already had a very successful loyalty program through its Dunkin' Rewards.
It was considered to be a generous and easy-to-use loyalty program that was handing out free coffees left right and center, including birthdays, National Donut Day, and many other occasions. Dunkin' lovers were able to quickly accumulate points and enjoy the many rewards.
A new Dunkin' Reward system was unveiled in October 2022 and it wasn't received well. Customers are now required to spend $70 to get a free crafted drink, such as an espresso, cold brew, or refresher. Free drinks on birthdays have also been discontinued.
Rowdy discussions ensued on the Dunkin Donuts subreddit. Users were expressing their frustration and vowing to ditch a brand they were once very loyal to.
There are some positives such as the option to apply the points earned toward food, such as donuts and breakfast, which wasn't possible before. People who visit Dunkin' at least twelve times in a month also unlock "Boosted Status" giving them additional points for each dollar spent.
The new rewards program hasn't received a lot of good press. In fact, there's quite a lot of negative press and experts are citing many reasons.
It was felt that the reasons given for the change were not credible and Dunkin' should have been more transparent. Only by being honest, emphasizing the reason behind the change, and demonstrating how customers will also benefit is a far better approach. It maintains trust and fosters true loyalty rather than risking customers switching to competitors.
#3 GLH and Chapel Down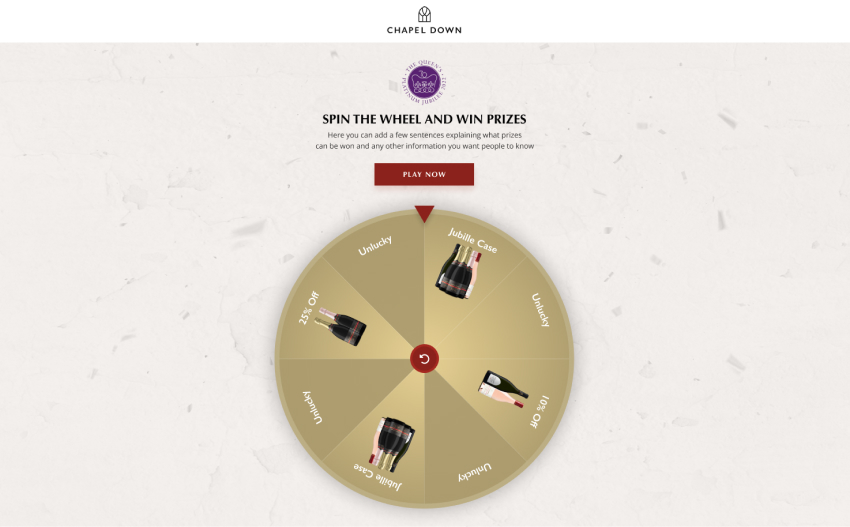 BeeLiked helped Chapel Down (an English vineyard and winemaker) and GLH (the largest owner-operator hotel management company in London) with a joint product promotion to celebrate Her Majesty's Platinum Jubilee in 2022.
The BeeLiked Studio team designed a spin wheel promotion with product awareness as the primary goal. Several products from Chapel Dawn were featured in the Jubilee promotion as well as a Tour & Tasting for two as the grand draw prize.
#4 TUI
The TUI Group, a global travel and tourism company, approached BeeLiked for help when it wanted to incentivize and reward its sales reps for each customer booking they made.
The TUI Smiles contest involved several beach-themed games of chance for UK and Nordics sales reps to play when they met the required criteria. Using a link, they were able to play the games and win TUI Smiles, the internal reward currency of the TUI Group.
BeeLiked's platform allowed the team to control the exact number of TUI Smiles being won and the sales reps who were invited to play. A total of 37k+ rewards were given out.
#5 ZA Bank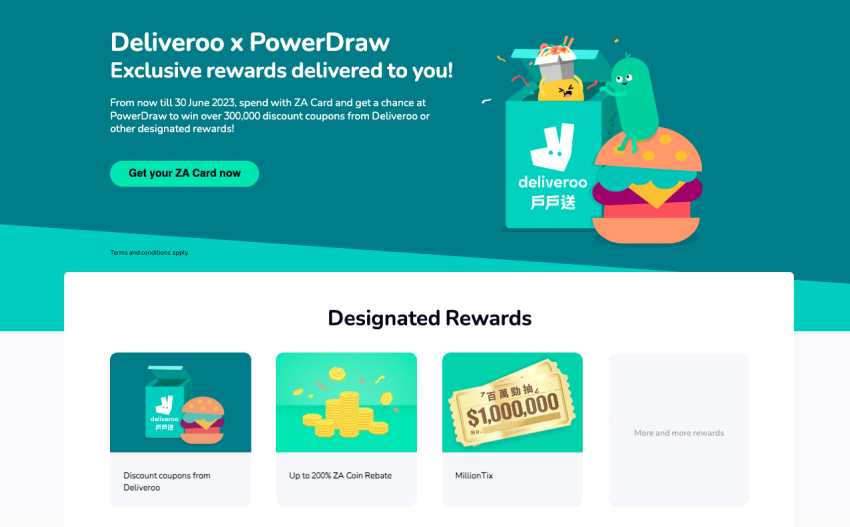 The ZA Bank, Hong Kong's No 1 virtual bank turned to gamification to promote its ZA Card. Customers who sign up for a ZA Card and use it for making purchases are in with a chance of winning a selection of PowerDraw rewards including 300,000 discount coupons from Deliveroo.
To enter the PowerDraw, customers must make eligible purchases using their ZA Card. the minimum purchase amount is HKD 10. For each purchase, customers are awarded one PowerDraw chance in the ZA Bank app.
#6 Headspace
Headspace is a guided meditation app that uses gamification elements that increase and enable intrinsic motivation to create long-term change.
Gamification features in the app help to make meditation a habit and the app's built-in reward system gives users peace of mind.
Let's take a quick look at some of the effective gamification techniques used by this brand.
The fast and easy onboarding process helps to make users feel safe
Beginners are given access to free content which entices them to join and pay
The app features a leaderboard, but there are "no leaders". Instead, you see which of your "buddies" has used the app and if they haven't, the app encourages you to send them a nudge to remind them.
The Headspace reward system includes streaks and badges that give users positive reinforcement
#7 Netflix
"You" is a popular Netflix series that's about a dangerously charming, intensely obsessive young man who goes to extreme measures to insert himself into the lives of those he is transfixed by.
To pique the interest of current fans as well as possible new ones, the popular entertainment company has turned to gamification in the form of a trivia quiz.
The quiz also introduces Netflix fans to its official companion site, Tudum, and the Tudum Festival. This event is held every year in São Paulo, Brazil. It's a global pop culture event that covers Netflix's original films and television series.
#8 Ambition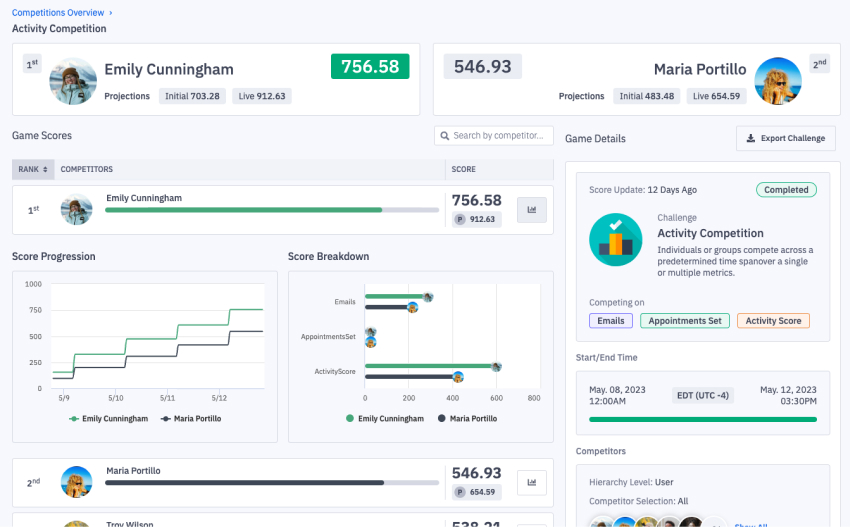 Ambition is a powerful coaching suite that allows sales and enablement leaders to maximize team performance, and encourage and facilitate an amazing employee experience.
One of the ways it does this is with the help of gamification competitions. Two competition frameworks are available: Fantasy and Challenge.
Fantasy Competitions are similar to the Fantasy Football format that is very popular in the US. They are perfect for driving collaborative, long-term behavior. Employees are drafted into teams and compete in weekly head-to-head matchups.
Challenges are head-to-head competitions in which users, teams, or other groups compete with each other. This type of healthy competition is very simple and great for driving specific behaviors and increasing employee engagement.
#9 flatfair
The London-based fintech flatfair lets landlords offer "deposit-free" renting to tenants. It replaces traditional deposits with secure, innovative rental solutions that provide double protection for landlords and savings for tenants.
BeeLiked was approached to create a fun and fully integrated promotion to reward its sales partners. A digital Your Prize House scratch card promotion was the answer. The BeeLiked team felt it reflected the flatfair's brand and values. Popular prizes were chosen with the help of flatfair's leadership team. They include digital e-gift cards and the chance to win a monthly random draw jackpot prize.
The reaction of sales agents has been very positive and there are reports of month-on-month increases in referrals.
#10 Visit Britain
Visit Britain is a UK tourism agency funded by the Department of Culture, Media, and Sport (DCMS). It's responsible for marketing Britain around the world and developing Britain's visitor economy.
When it wanted to give shop visitors something to celebrate over the festive period, BeeLiked created a Big Ben's Spin to Win.
Visit Britain was the first company to use BeeLiked's Spin the Wheel app and it took advantage of the flexibility and customizability it offered. In this instance, rather than the wheel spinning, the game used spinning clock hands. The game achieved a 59% conversion rate.
#11 KFC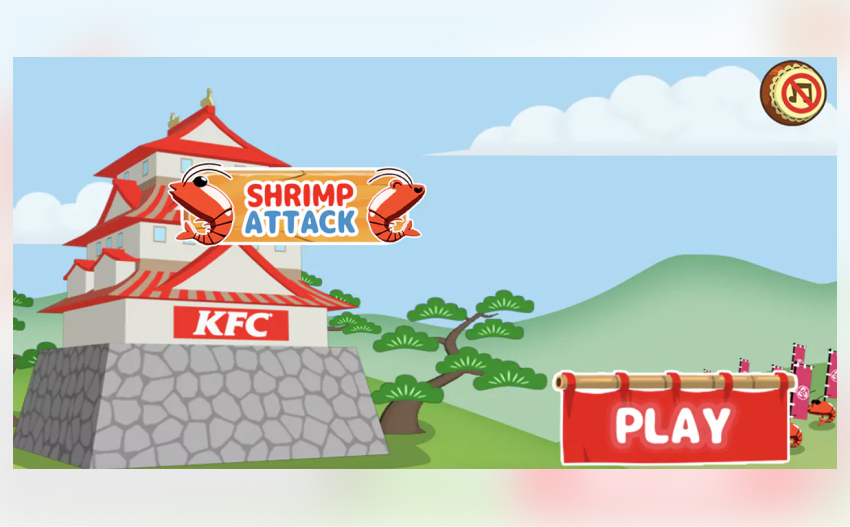 When KFC added shrimp to its menu in Japanese restaurants the fast food brand felt it needed to generate some excitement about its latest addition to the menu.
It opted for a gamification solution in the form of a game it called Shrimp Attack. The game mechanics aimed to increase awareness and incentivize users to try the product by rewarding them with discount vouchers.
In the game, players must protect KFC's chicken kingdom's castle from ebi shrimps. As the shrimps pop up at the bottom of the screen, players must slash at them. The more shrimps a player slashes, the more points they receive, and the more discount vouchers are rewarded.
This gamified marketing campaign was highly successful, so much so that the product eventually sold out and the campaign had to be stopped halfway through the originally planned duration.
BeeLiked Gamification Rewards Platform for Marketing
Gamification is a way to build relationships with a target audience and influence their decision-making process. The examples above show how well it can be done. However, not everyone has the skill or time to design such a campaign, which is where BeeLiked can help. We have a dedicated team that can design the perfect campaign for your brand.
Try BeeLiked's platform to gamify your marketing!