Almost 50% of shoppers have wrapped up their Christmas shopping by early to mid-December. And with American consumers spending consistently more money on Christmas gifts since 2008, the potential for growing your business is too good to miss.
The total amount spent on Christmas gifts in 2022 was more than $178 billion, and this year the figures are bound to be even higher.
The sun might still be shining outside, but there's no time like the present to start planning your Christmas marketing campaign and working out how you're going to spread some holiday cheer. Christmas is not just the season to be jolly, it is also the season for shopping, sales, and splurges.
If you need some inspiration, we're about to share some of the most successful Christmas marketing campaigns ever. There's a significant amount of competition so you've got to do something that catches the shopper's attention. Pick the right marketing strategy and you'll boost customer loyalty, and build relationships between your brand and consumers that will last for many years.
Coca-Cola (2021) – Holiday Caravan
Coca-Cola is one of the world's most recognized brands, possibly because of the amount of time and effort they spend on planning their marketing campaigns. 
Coca-Cola is also a brand that knows exactly how to execute a Christmas marketing campaign. Not only have they boosted company sales, but they've also changed culture. Their iconic portrayal of Santa Claus, for example, has become the image we all associate with Christmas. That's no mean feat for a cold drinks company better suited to summer.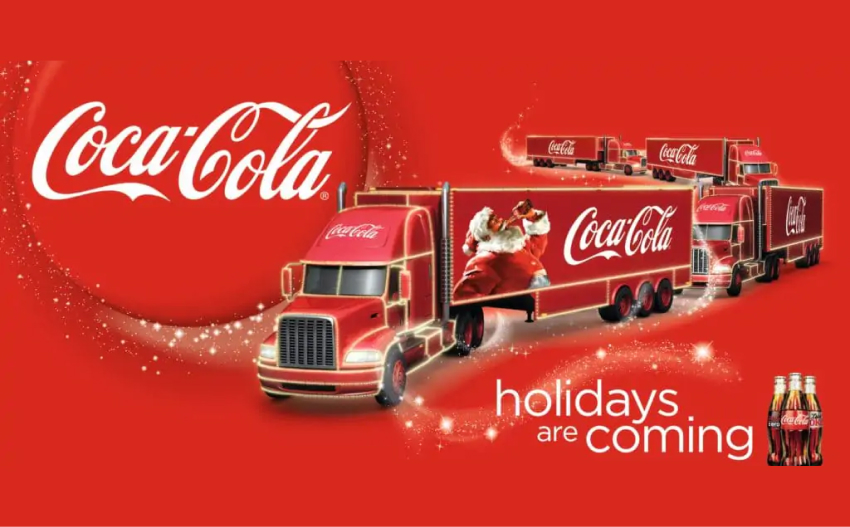 Bringing the Coca-Cola marketing story right up to date, we must mention the Coca-Cola Caravan Campaign. The campaign started in 1996 in the United States and Canada.
It's a series of brand experiences that involve trucks decorated with lights and images of Santa Claus delivering Coca-Cola products and gifts to various cities and communities, particularly during the holiday season.
The campaign has since expanded to other countries, such as Jordan, and is part of Coca-Cola's "Real Magic at Christmas" campaign, which aims to spread joy and gratitude.   
John Lewis (2012) – The Journey
John Lewis is a well-known UK retailer that has made a name for itself with its yearly tradition of creating some of the UK's best Christmas advertising campaigns. The first launched in 2007 and every year since, shoppers eagerly wait for the next Christmas Advert.
The annual adverts work so well because as well as telling a powerful story with a hint of nostalgia, the adverts are also aligned strongly with the brand.
Each John Lewis advert is reputed to cost a million pounds to make and that shows. The simple and consistent message of the adverts is to leave no one behind on Christmas day. Everyone needs a little, simple love from one another, especially during the festive season.
2012's advert tells the story of two snowmen in love. The tale is of a snowman who travels over mountains and through horrible weather to bring his snow girlfriend a scarf and gloves to keep her warm. It was set to a Gabrielle Aplin cover of The Power of Love by Frankie GoesTo Hollywood and had many people shedding tears at the time.
KLM Royal Dutch Airlines (2012) – Happy Holidays Flight
KLM Royal Dutch Airlines is well-known for its inventive campaigns, and in 2012, it took the lead in delighting customers during the festive season with its Happy Holidays flight. 
It was a stormy autumn day and KLM stewardess Natalie was surprising some travelers at Amsterdam Airport with special Christmas presents.
Some lucky passengers were invited to take a seat in a festive Christmas-themed Business Class theater where they were encouraged to put up their feet and await further events. Once airborne, famous Amsterdam-based comedy institution Boom Chicago performed a Happy Holidays show. Santa didn't forget about all the other passengers and made a merry tour around the aircraft.
Mondelēz's Milka (2019) – Give to Those Who Give the Most
Milka's 2019 Christmas campaign encouraged viewers to give back to those people who work tirelessly behind the scenes to make the festive season so special. 
#MILKA won the World´s #1 Digital Ad award for its ´Give to those who give the most´ Christmas campaign. At the heart of the campaign was a 60-second film, The Unsung Hero.
The film is set in an Alpine school during Christmastime. While rehearsing for the Christmas performance, one of the choir notices the school's custodian working hard to make the stage look extra special in time for the show. She also notices that he is deaf and decides to surprise him on the big night. She performs her solo in sign language so that the custodian can appreciate the heartfelt words of the song.
LEGO (2022) – Holiday Hero
In 2022, LEGO decided to go all out for its Holiday Hero Christmas campaign. For the first time ever, the campaign featured a celebrity, Katy Perry, and was a resounding success.
Rather than use the traditional sights of Christmas such as snowy landscapes, ornaments, and Christmas trees, LEGO decided on a DIY LEGO vehicle delivering gifts with Katy Perry singing her hit song while riding along.
The important message the Christmas video delivered was that with LEGO, anything is possible because it allows you to "build a playful holiday and rebuild the world".
The Christmas campaign was a good one because it was fun to watch and impossible to predict what was going to happen next.
Visit Britain Shop (2020) – Big Ben's Spin-to-Win
For a Christmas campaign to be successful, it doesn't necessarily mean celebrity appearances and big budgets. It's just as easy to make an impression with something like Big Ben's Spin-to-Win contest that BeeLiked designed for the Visit Britain Shop. 
The shop wanted to give visitors looking for the perfect gift something to celebrate over the festive period. Working together, the Visit Britain Shop team and BeeLiked's studio team created a suitably festive Big Ben.
This type of campaign is completely customizable in terms of the number of segments and weighted results. You can embed the content anywhere on your webpages or share it on social media posts.
Costa Coffee (2021) – AR Experience
In 2021, Costa Coffee decided it wanted to give all its loyal customers a brand-new experience and spread some festive spirit. Five little festive characters decorated Costa's to-go cups and these cute guys came alive for customers worldwide via their smartphones, using a QR code and WebAR technology.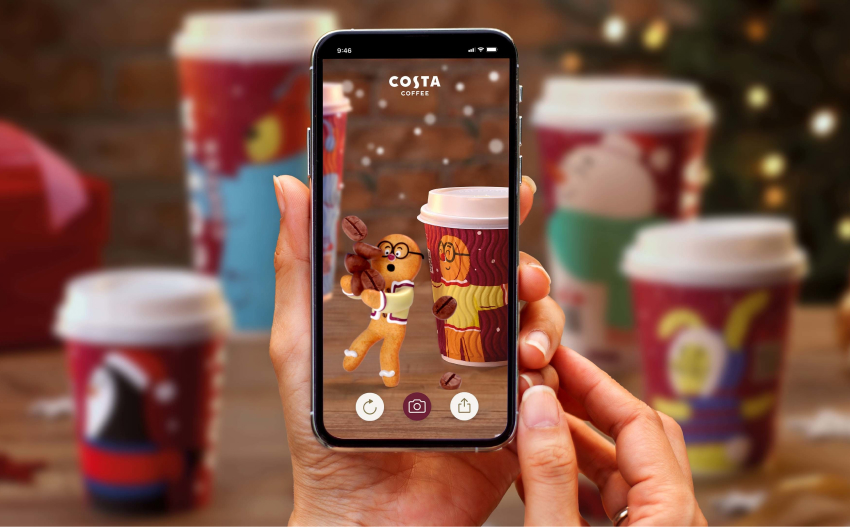 The five little characters were Ginger, Bear, Rabbit, Penguin, and Snowy. All customers had to do to bring them to life was scan a QR code and tap on the screen. This would start the festive characters dancing, juggling, or figure skating in the surroundings of their owners.
A global rollout of the campaign in Costa Coffee Stores brought about almost 100,000 views in the first month.
GLH (2022) – Digital Advent Calendar
It's not just customers that deserve some special attention at Christmas. Why not use gamification to celebrate with your hard-working employees?
GLH's Advent Calendar is the perfect example of how a company can reward and show their appreciation for team efforts throughout the year. The theme was created, and the design was put together by the BeeLiked studio team in just over a day.
Over the 12 days of the promotion, 260 employees participated. Each offer was only available for 24 hours, so it kept the employees highly engaged and excited waiting for the next day's prize.
Why not create your advent calendar and include gift cards behind each of the windows?
Google (since 2014) – Santa Tracker
Google Santa Tracker is an annual Christmas-themed entertainment website that was first launched in 2004 by Google.
The Santa Tracker website lets you follow Santa Claus on his journey around the world on Christmas Eve. You can also play games, watch videos, and learn about different cultures and traditions.
Create Interactive Christmas Promotions
If you want to create an interactive Christmas promotion, you don't have to struggle on your own. BeeLiked has been creating holiday promotions for customers of all shapes and sizes for many years. You get to benefit from customizable gamification promotions, which means we can design the perfect campaign for you.
Let us help you build awareness for your brand, drive engagement, promote your gift guides, influence positive customer behavior, gather valuable audience and opt-in data, and much more. Check out BeeLiked Studio,