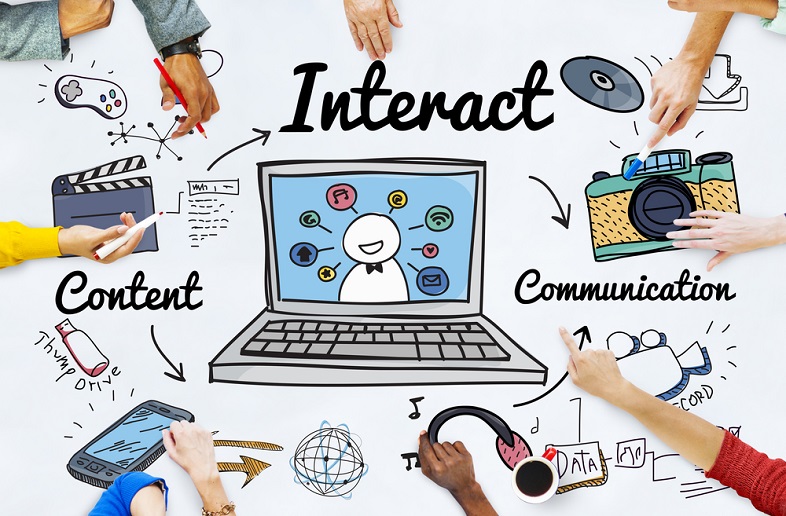 Your audience is already disconnecting with your digital marketing. The relentless bombardment of content coupled with consumer apathy, privacy, and regulatory issues is driving down your engagement and opt-in rates.

Consumers today, are understandably reluctant to click on anything; particularly if it means parting with their data. It's their data so maybe you should reward them?
What is interactive marketing?
Interactive marketing gives something back. In return for their attention, you reward your audience for their time and interest; this can be monetary, points for your loyalty programme, prizes, social status etc

At BeeLiked we normally introduce an element of gamification into our clients campaigns as we find this is the best way to encourage participation. We can take them through a personalized video journey, ask them simple questions, or have them upload some fun UGC. Interactive marketing allows you to move your audience in a low touch non aggressive way through your funnel whilst collecting valuable segmented demographic data to optimise your marketing personalization.
Why should I use it?
Whilst traditional marketing is seen as a one-way journey interactive marketing is a way to accompany each user on their own personalized journey; creating an individualized experience for everyone. This leads to stronger conversion rates and greater levels of engagement.
"Interactive content, such as apps, assessments, calculators, configurators, and quizzes, generate conversions moderately or very well 70% of the time, compared to just 36% for passive content." Source
1. It's the antidote to passive audiences
This then helps marketing goals such as;
Capturing attention and tapping into new audiences (Interactive content generates 4-5x more page views than static content LinkedIn)
Brand awareness and differentiation (88% of marketers said that interactive content is effective in differentiating their brand from their competitors. source)
Boosting conversion rates (79% of marketers agreed that interactive content can have reusable value, increasing the number of repeat visitors and multiple exposures. source)
Educating buyers ( 93% of marketers agreed that interactive content is effective in educating its buyers. source)
Replenishing or refreshing a subscription or newsletter list
Improving satisfaction
Increasing conversion rates
Ad recall
Creating trust
Collecting insights
Enhancing and promoting loyalty
2. It's cost effective
One misconception we often come across is that interactive campaigns will be expensive, when in reality they often demonstrate an excellent return on investment, with or without a large budget. The beauty of interactive media is often in its simplicity: be it a thrilling contest or a sharable quiz , these can have a dramatic effect on your engagement levels without being bespoke.
"In January of 2015, nine of the 10 most shared Facebook publications were quizzes." source
3. It can be very quick to set up
Interactive marketing doesn't need to be complex. Campaigns can be straight forward, innovative and lightning fast to set up. In fact, our current record for setting up a campaign using BeeLiked software was 5 minutes! As our platform has already set up the 'bones' of your campaign, it really can be as simple as picking the app you need, adding your branding and off you go…
4. You can respond to events in real time
As turn around can be fast, you can be agile enough to do reactive campaigns for current events such as a big season finale, sports match or current news event. Being the first topical campaign on the scene is going to give you a competitive edge and is more likely to be shared on social media.
5. It's a better way to connect
Making your interactive campaign personalized helps you connect with your audience. Marketers tend to see an average increase of 20% in sales when using a personalized web experience (Source). It can be easily threaded into your campaign narrative, using your customer's name, preferences and interests to drive the narrative.
Personalization can also be the prize! For the launch of Dan Brown's book ORIGIN we bought to life a campaign that used each entrants name to create the world's first virtual book signing. They simply filled in some brief details and they were then guided through their own personalized video including Dan's house, library, and his secret office. The experience culminated with Dan personally thanking them for entering the competition and then finally in his own handwriting signing a virtual copy of the book for them.
Find out more about similar campaigns here.
6. You can use it to reward loyalty
Like with the Dan Brown contest, rewarding your customers is a wonderful incentive for them to engage and share content. You can also reward them by offering another chance to play, an extra vote or an increased chance of winning a contest.
Nearly half (44%) of millennials are willing to promote products or services through social media in exchange for rewards.
6. It's easy to track and attribute performance
Being able to monitor audience behaviour gives marketers valuable insights into how their customers are interacting with the campaign.
For example, our clients at the Beano Shop, regardless if the user wins or not give a trackable code for a discount , which funnels users back to the online shop.
Final thoughts
There is a reason that marketers are ramping up their interactive marketing as it has proven results at increasing conversions compared with passive content. It opens up your portfolio to a range of marketing opportunities.
Barriers aren't always as high as they seem. It need not be expensive, slow or complex to produce.
Interactive marketing gives you more ways to gather user insights than static content as there are more ways to follow the customer journey and improve the outcomes.
About BeeLiked
BeeLiked offers companies an ever-growing portfolio of campaign types that are quick to create, with full design flexibility, performance tracking and data collection capabilities to ensure your campaign and promotion exceed all your expectations.
The BeeLiked Platform can help you engage and incentivize your audience and customers across their life-cycle and journey.
Read more on how BeeLiked can help you with:
Sales and Purchase Incentivization
Trade-show and Event Lead Generation
Affiliate & Channel Partner Incentivization
BeeLiked is on a mission to prove the ROI of interactive driven marketing. Click here to set up a no-obligation 10-minute discovery call.