Key Stats
500k+ Entries
56% Conversion Rate
About
BeeLiked was challenged to help publicize Dan Brown's novel ORIGIN.
The team at Knopf Doubleday asked us to devise a campaign that would engage as many of Dan Brown's fans as possible, raise awareness of his new book Origin and collect data for marketing purposes.
We firstly created a book cover design contest and then to encourage fans to vote for their favorite design, we created the world's first virtual book signing using video personalization technology to make it appear as if Dan is writing you a personal message. #danbrownorigin
Check out the video example below – and watch out for what we do next, as we haven't finished with this campaign yet.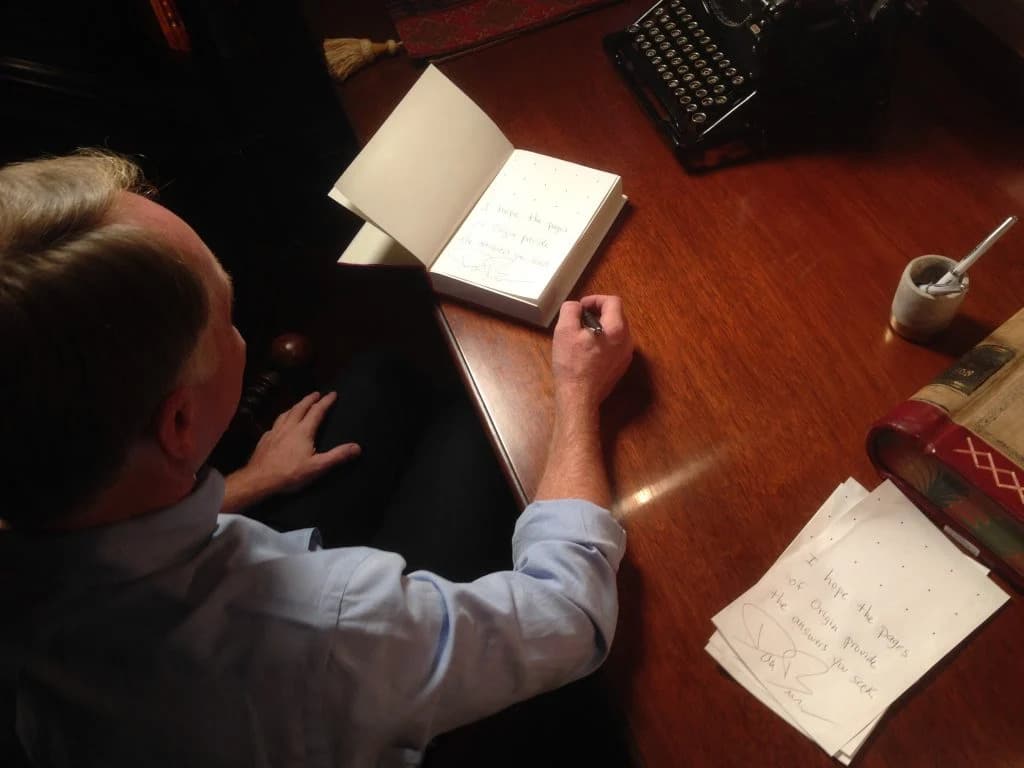 Imagineering
The idea for the campaign really came from having so little information about the novel, all we knew was its name ORIGIN, and that it was the fifth outing for Robert Langdon. With so little to go on, we had to think laterally.
Our Studio Team devised the campaign concept from an original brief to create a book cover design contest. We knew that whilst the design community would love this, we had to evolve the idea to appeal to the majority of Dan Brown's existing fanbase. Our thoughts turned to Dan Brown himself and how authors typically go about promoting their books through book signing tours. We realized that there were millions of fans that would love to have a signed copy of ORIGIN and we could reward each voter with their own personalized book signing video.
Design
As all campaigns are built on BeeLiked's existing contest platform, our in-house design team must first decide if existing templates provide sufficient design flexibility for the campaign. In this case, it was decided that new templates were needed for both campaigns. The Origin Cover Contest design needed to appeal to the creativity of graphic designers, whereas the voting campaign needed to appeal directly to Dan Brown fans. With 70% of entries coming through mobile or tablet, it was imperative that pages were optimized for smaller screens.
Technology
The Origin Design Contest was created using BeeLiked's Multi-Media Campaign, though using a custom-designed template. The campaign was customized (using our intuitive setup interface) to allow individuals to upload their design either via Dropbox or from their phone or computer. Unlike most Multi-Media campaigns on the BeeLiked Platform, it was decided not to provide a gallery of entries.
The Dan Brown Voting campaign was created using BeeLiked's 'Top of the Polls' campaign, again with a new template so we could better showcase the great cover designs. In addition, we integrated third-party video personalization software into the platform allowing each entry to generate its own video.
Personalized Video
This was the first time BeeLiked had used personalized video technology, but it is certainly not the last. The technology requires motion tracking within the filming so that the video personalization software can then replace tracked items for each entrant. In addition, we needed to recreate Dan Brown's own handwriting by developing a font from his writing. Dan was very obliging and provided us sufficient handwriting samples for us to match his handwriting. (In fact, he liked it so much, he requested the font for his own personal use).
One other unique feature of this campaign is the personalized voice welcome within the video. Using Amazon Polly, the BeeLiked team were able to generate a sound file unique to each entrant (first checking for rude words) and combine that with the video personalization. This was all done within 10 seconds to minimize any wait time. Dan Brown even created a video for Zeus his cat.
Our video partners in creating this wonderful film are Nemorin Creative, whom we have been delighted to collaborate with on a number of projects.
"This campaign has been hugely exciting for Doubleday as it allows fans to fully immerse themselves in Dan Brown's world and to receive a personal message from the author himself. We have never been able to offer fans a unique, intimate experience like this before. Through BeeLiked's service we have been able to manage and track the entire contest from start to finish. We couldn't be more delighted with the results."

Suzanne Herz | Knopf Doubleday | Penguin Random House