How often can get you get a digital marketing campaign live within hours? Not often, am I right?
Yet it is one of the reasons our loyal clients use BeeLiked time and time again. They can go from campaign concept to launching it within as little as 30 minutes. Unique digital marketing ideas are quick to implement with BeeLiked's digital scratch card software.
5 Reasons to use a scratch card
But firstly, why would you choose a digital scratch card campaign?
Digital scratch cards are a fun way to generate discounts and prizes. They only take seconds to play, require no skill and can offer instant gratification. Here are some other reasons digital scratch cards are a quick win in digital marketing:
They're a great way to build opt-in marketing data.
They work well as both one-off contests or as part of a long-term strategy.
They're great at enhancing your sales funnels.
They're already mobile optimized.
Once you have a branded scratch card template, it takes even less time to create another similar campaign.
It does work…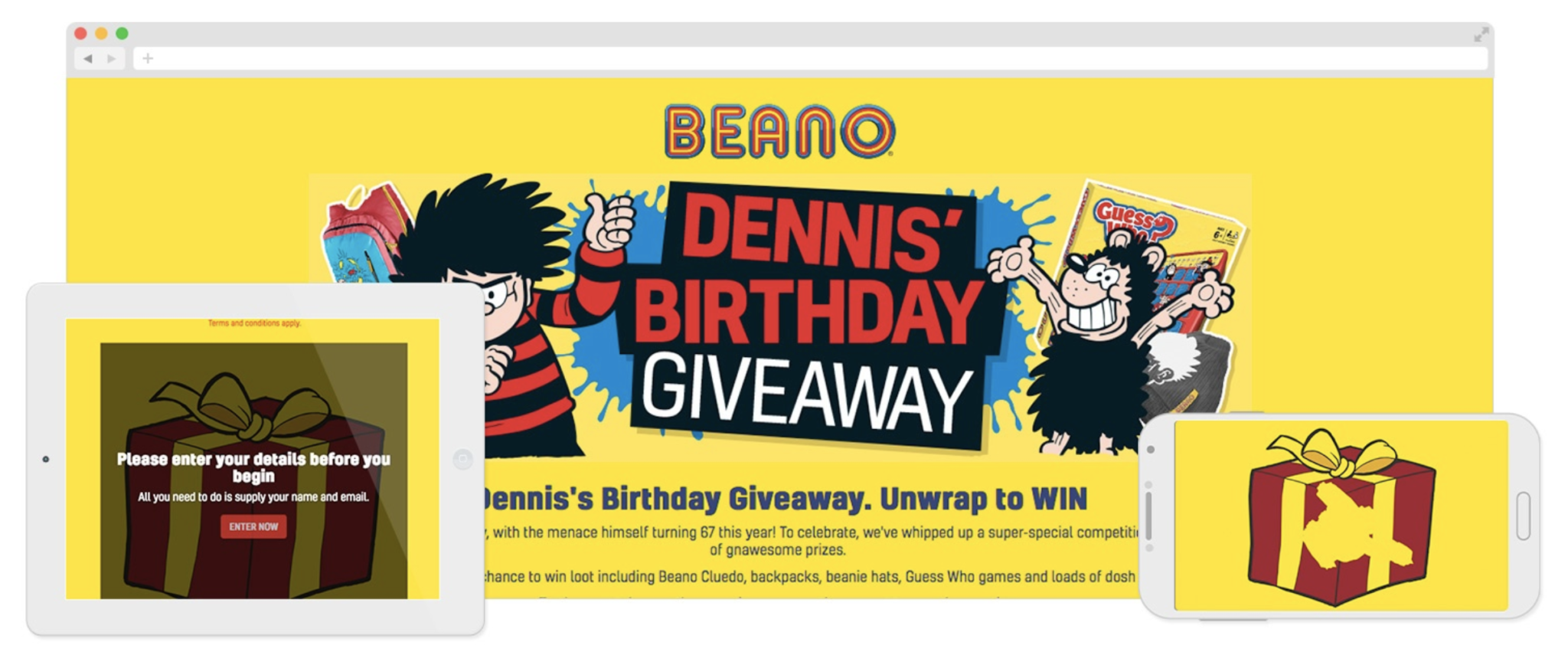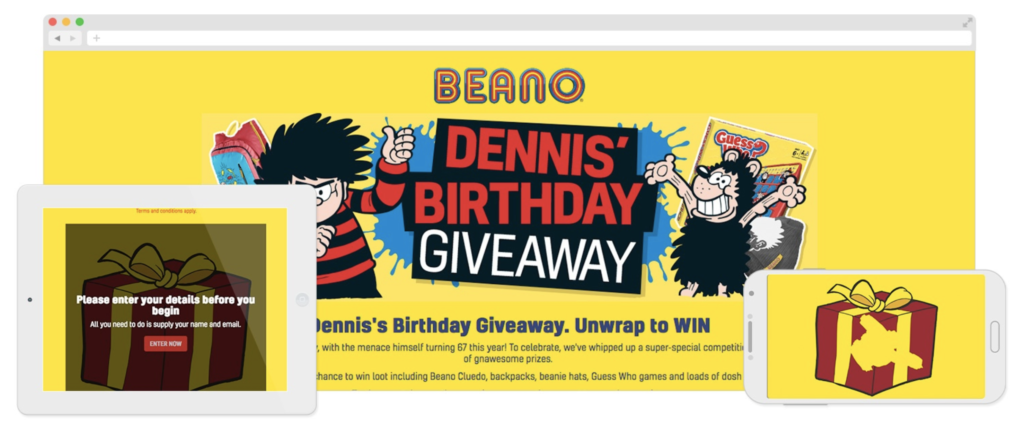 The Beano Dennis the Menace Birthday scratch card campaign was an enormous success, achieving a 65% conversion rate on entries and helped to drive traffic deep into The Beano's shop.
"BeeLiked saves us both time and money. By quickly re-configuring and dropping in some fresh designs we can rapidly deploy a new campaign from a base template in hours."

Alan Ward, Senior Digital Project Manager – The Beano
5 easy steps to get your scratch card
1. Setup your BeeLiked Account
First off, you'll need to set up your account with BeeLiked. You can do this by booking a demo.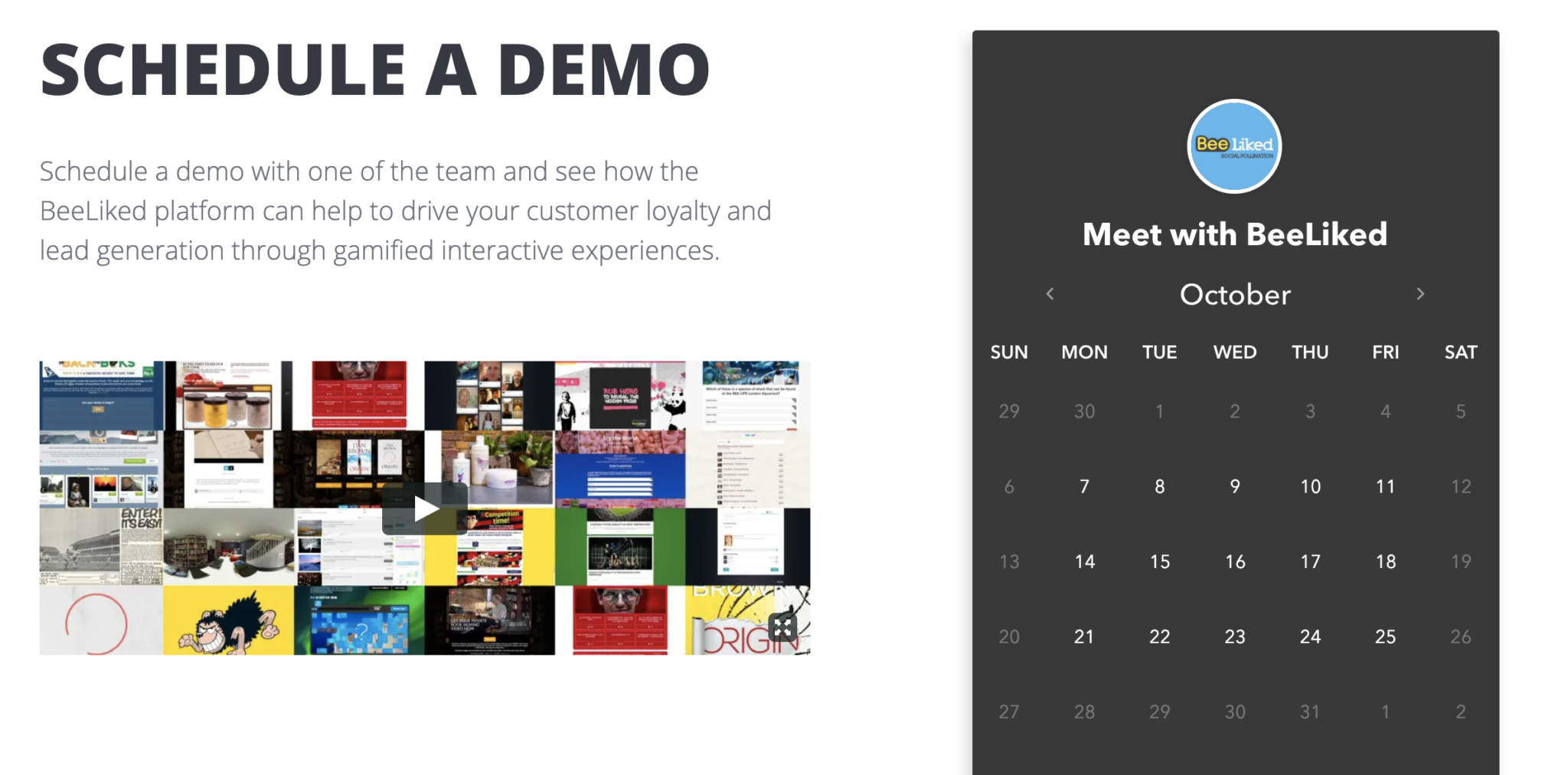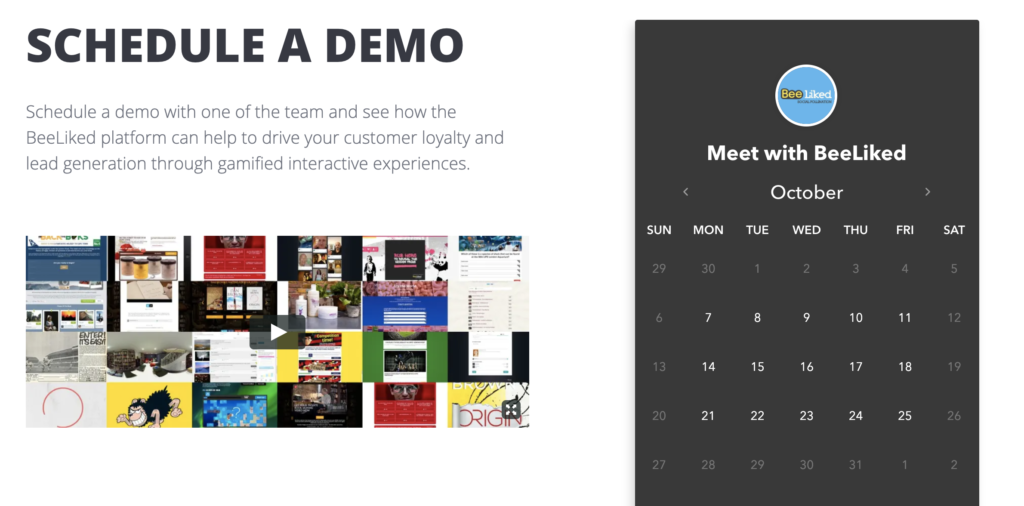 (TIP: Once you have access to your account, you will also find e-mail settings. If you want to include a transactional e-mail as part of your campaign – this is a good time to configure your e-mail settings. DNS records can take 24-48 hours to propagate.)
2. Load the scratch card module
Select "digital scratch card" on the app page. Within this you'll find all the custom measurements for the design assets your team will need to create (i.e landing page, the actual scratch card, result cards and a banner – you don't need much).
Don't have a design team in-house or available? We've got you covered.
(TIP: In a real rush or got a busy creative department? Take a look at our bank of ready made template campaigns and you can get going straight away.)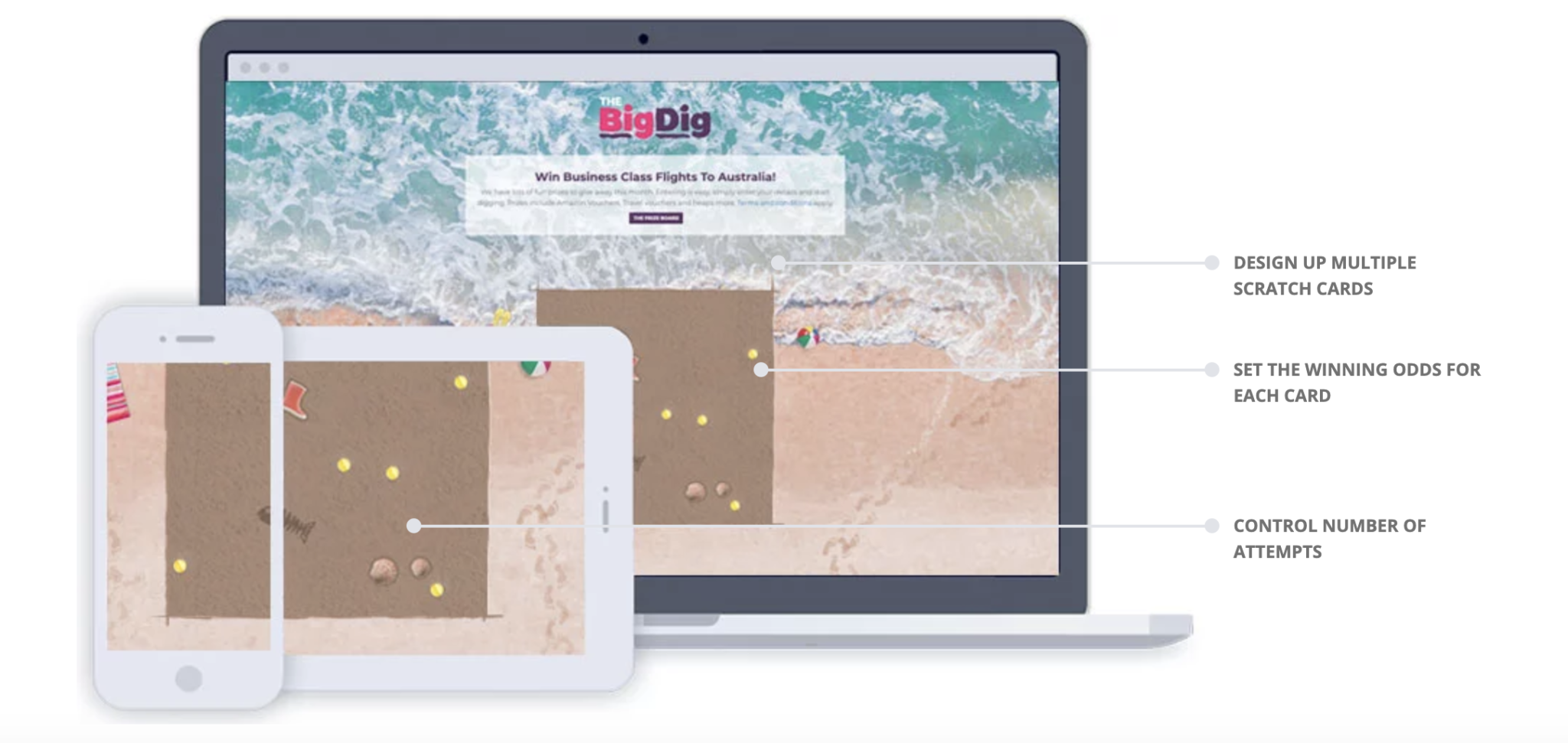 3. Configure the scratch card
Got your design assets at the ready? Use our intuitive software to
Add the design assets
Enter promotional text
Add your campaign terms and conditions and data privacy policy
Customize the social channels people enter with
Choose the data entrants have to share to participate
Enter share messages
Enter transactional e-mail copy – if relevant
I get it, step 3 looks kinda big, but all of the above can be done in under 30 minutes. If at any stage you get confused – we've got your back with a bank of helpful articles available at your fingertips – or we can support you over chat.
(TIP: Work that sales funnel. Make sure every player is a winner. If they don't win big, why not link them back to your product page with an exclusive discount to thank them for playing?)
4. Test & Share
Demo your campaign. Share it with your team. Once you're all happy – make your campaign live.


5. Embed, Publish and Promote
Embed your campaign as a widget or within your website pages with a simple embed code. At this stage it is wise to test it again to make sure you've copied the code over correctly. If it passes, you're ready to start promoting it.
About BeeLiked
BeeLiked offers companies an ever-growing portfolio of campaign types that are quick to create, with full design flexibility, performance tracking and data collection capabilities to ensure your campaign and promotion exceed all your expectations.
The BeeLiked Platform can help you engage and incentivize your audience and customers across their life-cycle and journey.
BeeLiked is on a mission to prove the ROI of interactive driven marketing. Click here to set up a no-obligation 10-minute discovery call.