Sales has two strategies that help you understand, plan, and implement your lead conversion; the traditional sales funnel and lifecycle marketing or customer journey. While these strategies do have some overlap, they follow a unique structure and goal.
The 2 strategies
The lifecycle marketing model is based entirely on your customer. It is based on the end-to-end experience a customer has with you rather than just the sales process. This goes from awareness, and interest, to investment, followed by loyalty and retention.
The sales funnel follows leads in a more analytical way. It considers both the customer's perspective and mindset in relation to purchasing from you.
Some suggest that lifecycle marketing is the best way to nurture leads, while others live by the sales funnel. Follow us through this article as we delve into the differences and similarities of these models so you can decide once and for all which is best.
The sales funnel
You've likely heard of the marketing/purchase/conversion/sales funnel. They have different names, but it's all the same idea. It is a process designed to help your customers learn more about you so you can engage and nurture connections at every stage of the funnel. The goal of the sales funnel is customer conversion and revenue.
Before you choose between the two strategies, it's important to know the facts. Here's what you need to know about the sales funnel.
Stages of the Sales Funnel
There are various stages to the funnel. These are not sacrosanct – it ultimately depends on your target audience and their objectives; below is an example of some of the stages you may encounter:
1. Awareness
The initial point of contact, at this phase, your future customer doesn't yet know about your product or service. So here's where you educate them. It's essentially subtle lead generation. This is when they visit your website for the first time, which they found from an ad, Google search, a post shared on social media, or other traffic sources.
2. Research
The research portion of the funnel provides your future customer with the tools required to learn more about your company.
3. Decision-Making
Even your most engaged prospect might need a push. They are paying more attention to what you offer, including different packages and options, so they can make the final decision to purchase.
4. Purchasing
Finally, your lead is a customer and has made it to the end of the funnel. Now, your challenge is to turn them into loyal and repeat customers. 
Why do Companies Use the Sales Funnel?
A straightforward way to determine the best way to nurture leads 
By reviewing the analytics at each stage, it can be used in planning your annual budgets 
It can act as a driver in your future sales direction and planning. How your customers react to various strategies, such as newsletters and incentives, helps you plan new content. Ideas that don't work then be reworked or got rid of, and ideas that do work can go on to do more great work.
Lifecycle marketing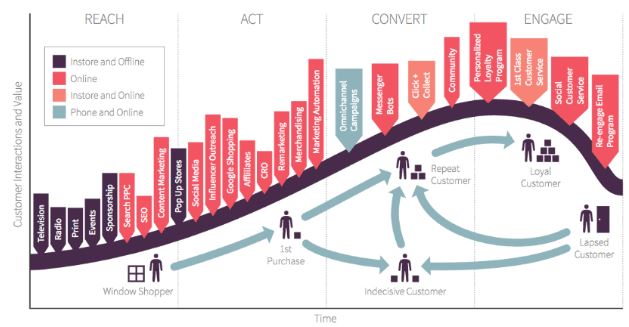 Lifecycle Marketing (LCM), also known as the customer journey, is an overview of your customer's experience from discovery to purchase. As with the sales funnel, there are distinct phases, each with its own goals and measures.
The focus of the LCM strategy is to inspire lead conversion by focusing on the customer, not the sale. To do this, your marketing strategy needs to be based on high-quality content. One of the key findings in an article by sproutsocial.com was that when customers feel connected to you, more than half of them (57%) will increase their spending with you, and 76% will buy from you rather than your competitors.
Stages of Lifecycle Marketing
To better understand your customer journey, you must examine the various stages. Here they are:
1. Awareness
The first level of the lifecycle marketing method lines up with the sales funnel. It includes discovering your brand or product and deciding whether or not to learn more. If you are following the customer journey strategy, you will need to create high-quality content, and use lead magnets.
2. Intent
This combines the sale funnel's "research" and "decision-making" stages. By unifying the 2 phases, you reduce the time your lead and your marketing teams spend.
3. Decision
The decision stage is your customer purchasing your service or product. Based on your hard work and content provided in the awareness and intent phase, they've decided that you're right for them. Congratulations!. This is when it's a good idea for you to encourage customer feedback on third-party sites and for you to actively engage with customers who may have questions about their new product or service.
4. Loyalty
This stage is all about creating return customers. However, unlike the funnel method, LCM looks at your overall customer experience rather than repeat purchases. Thank-you cards, follow-up emails, and exclusive new product access can be used as incentivizes in this stage. It is widely known that acquiring a new customer is around five to 25 times more expensive than retaining an existing one! We can't emphasize this enough; ensuring you have happy and loyal customers is key to the growth and success of your business.
Why do Companies Use Lifecycle Marketing?
It can be used to improve customer service within a brand. 
It helps businesses discover new ways to improve the customer experience, create long-term returning customers, and increase loyalty.
The customer journey can give the information needed to create better products and services based on customer needs.
By focusing on the journey as a whole, you can account for the full value of your customer over their entire lifetime of doing business with you rather than just a marathon that ends at the first sale.
So which is better?
Both strategies have their pros and cons. While lifecycle marketing suggests a harmonious consumer-business relationship, we know there's more to sales than just customer loyalty.
The sales funnel allows you to make strategic plans and define marketing goals, including rolling out new types of content and ads. For instance, in the sales funnel interest and research stage, many companies use videos. Videos help your audience learn about your product and company personally and visually. 
Whereas the lifecycle model puts emphasis on customers rather than sales. One of the funnel's most scrutinized marketing elements is consumer apathy toward paid ads. According to Statista.com, the ad-blocking user rate in the US in 2019 was 26%. Many people don't want to see paid Ads, or perhaps more importantly, over a quarter of your paid advertising messages will never reach your intended audience!
Paid advertising is one of the tools in both the funnel and LCM strategies. A recent report from Salesforce looked at the value of LCM. They reported that 88% of the budget for lifecycle marketing goes into awareness. So as financial gain is not the end goal in LCM, which marketing method does it better?
And the winner is…
Sorry to say, but there is no right or wrong answer – it entirely depends on what's important to you.
If collecting new customers and converting leads quickly and efficiently is your goal, then the sales funnel is likely your best choice. If you're in for a long-term relationship with a focus on repeat customers, then the lifecycle marketing model is likely a better fit for you.
If you came to this article hoping for a clear-cut decision on which strategy to use, we have a solution for you. While LCM and the sales funnel have some key differences, there's also a lot of overlap. The names might have changed, but ultimately, each stage of these two strategies has the same target outcome – lead conversion and retention. The only real distinction is in the execution.
You can scour the internet and find analytics telling you that both sides of this spectrum are right. The sales funnel was first implemented by E St. Elmo Lewis in 1898, and the customer journey is more recent. As years go on, each will continue evolving, so why not combine them and use the best of both marketing methods?
The sales funnel works; it's been proven time and again, but there's something to be said for good customer service. A marketing funnel with the consumer in mind could be your ticket to success.
About BeeLiked
BeeLiked offers companies an ever-growing portfolio of promotion types that are quick to create, with full design flexibility, performance tracking, and data collection capabilities to ensure your campaign and promotion exceed all your expectations.
The BeeLiked Platform can help you engage and incentivize your audience and customers across their life-cycle and journey.