1. The Co-Op's Fight The Price
A very simple, but very successful idea, The Co-Op's Fight The Price campaign had the company advertising a series of products (including big-ticket items like TVs and washing machines) on their Fight The Price microsite. All customers had to do was tweet about the item they wanted most and the company would drop the price based on the number of votes for each piece.
This worked well for the customers and the store alike. Customers are incentivized to share out the campaign to as many people as they can, so that the price continues to drop. This means the campaign gets more hits and the results grow exponentially.
Senior planner at Holler, Pete Jackson, said: "This is about bringing the Co-operative's community ethos to the fore in their social activity, putting people in control and getting them a good deal."
The strategy clearly paid off, as the uptake was huge – resulting in more customers and some excellent publicity.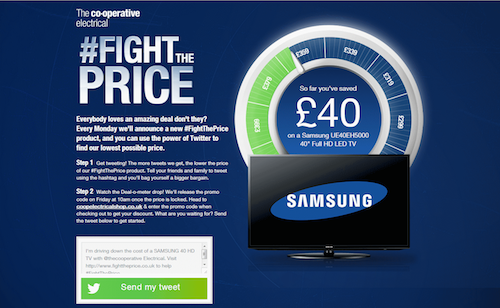 2. Domino's Pizza: #letsdolunch
The most appealing reason to participate in anything is cheap food and that's exactly how Domino's Pizza got their customers on board with their #letsdolunch campaign. The offer ran for only two hours on March 5th, 2012 and offered a continually lowering price for their 'Pepperoni Passion Pizza' by one pence every time someone tweeted the hashtag #letsdolunch.
The results were phenomenal, with 85,000 tweets the price went from £15.99 to £7.74. Customers could collect that prize from 11am to 3pm that day.
The brilliance of this campaign is that not only are the customers getting a great deal, a lot of people who would not have chosen Domino's Pizza that day will have been convinced to go by the lowered price. Not only that, but again the audience is incentivised to get as many people as possible to join in.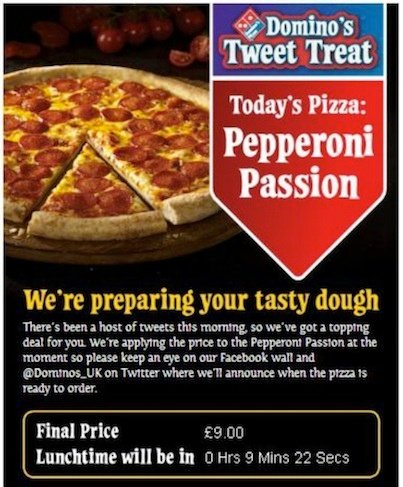 3. Innocent: #Tweetandeat
In a month long campaign by the UK based fruit smoothie company, Innocent, the company offered a reduced price on their 'Veg Pots' revolving around the number of tweets they acquired.
The premise was simple, customers just had to tweet #tweetandeat to receive a minimum of 50p off their products, discounts varied but the ultimate prize was a totally free lunch (and you thought those didn't exist!)
The aim was to encourage followers to get everyone they know to tweet the '#tweetandeat' hashtag to lower the prices (are you seeing a pattern yet?).
These campaigns all work for the same reasons, they're innovative, they give the company exposure and the incentive is there for their audience to spread the message as widely as possible.
4. Uniqlo: #LuckyCounter
Can you tell what's coming? Uniqlo UK ran a similar campaign, where for every customer who tweeted #luckycounter reduced the price of their clothing selection by 1p!
The brand used a microsite to enable their audience to select which item they wanted, this also meant they could tweet their selection straight out from the page. The simplicity and ease of use led to a huge uptake in entries. with thousands of customer entering their store as a result of the campaign.
So there you have it! Our top four favourite Price Drop campaigns. To make this campaign even easier to run, in the next few months we will be launching our very own Price Drop campaign, so in just a few minutes and some simple logo changes you could have your very own ready to launch.
About BeeLiked
BeeLiked offers companies an ever-growing portfolio of campaign types that are quick to create, with full design flexibility, performance tracking and data collection capabilities to ensure your campaign and promotion exceed all your expectations.
The BeeLiked Platform can help you engage and incentivize your audience and customers across their life-cycle and journey.
BeeLiked is on a mission to prove the ROI of interactive driven marketing. Click here to set up a no-obligation 10-minute discovery call.