New kid on the block Pinterest, has certainly taken the social media world by storm. Launched in 2010, and now well established, Pinterest is fastly becoming an essential tool in many companies social media marketing.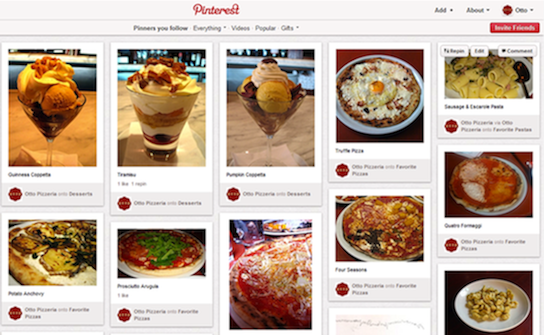 The platform, which invites members to 'pin' their favourite videos, pictures, and articles from across the Internet on 'bulletin boards', is growing at a record rate, surpassing even Facebook and Twitter at the same stage in their history.
What is Pinterest?
Pinterest, however, is very different to Facebook and Twitter, it is not another site for posting statuses and chatting with other users. Pinterest, as their mission statement suggests, wants 'to connect the world through the things they find interesting'.
Think of Pinterest as a digital noticeboard, where you can filter things you want to share into categorised boards. For example, at BeeLiked we want to engage our audience with Social Media, digital marketing articles, fun competition ideas and helpful resources. So we have created boards for each of those topics on our Pinterest.
You may have wished there was a way to filter posts from your friends to only the topics that interest you. Now, with Pinterest, this is possible. Simply choose which boards you wish to follow and re-pin the bits you like to your own board.
Why use it?
Amazingly as of March 2012 women made up 89% of all users. Apparently, now in July 2012 it's around 60% women.
Pinterest had 11.7 million monthly unique users in January 2012, becoming the fastest stand alone site in history to hit the 10 million mark.
Pinterest users spend 89 minutes per month pinning and browsing boards, second only to Facebook who boast an astonishing 405 minutes per user, per month.
Pinterest is now the 3rd largest social network behind only Facebook and Twitter.
Pinterest drives more referal traffic than YouTube, Google+ and Linkedin combined.

How to use pinterest for your venue or hotel
1. Photography
One of the best things about Pinterest compared to other socail networking sites is that it is highly visual. Therefore if you run a hotel, restaurant or bar and take pride in the visual presentation of the establishment, then Pinterest is the perfect platform to showcase your brand with some photos!
A hotel should have at least one board for it's own photos. A restuaurant one for its specials and a cocktail bar might consider creating a board showcasing mouthwatering pictures of its cocktails.
If you are a little worried about your photography skills, then download the Instagram app as it will help you make beautiful looking photos which you can then upload to Pinterest.
2. Show your knowledge of the sector
Pinterest is also a perfect medium to show that your company is extremely knowledgeable about what you do. So hotels might want to create a board with articles on 'things to do' around the area or even create a board on the best travel tips or travel destinations.
As a restaurateur or bar owner you'll need to think along the lines of recipes, healthy eating tips or perhaps even wine recommendations. Customers can then come to your Pinterest page and see that you are experienced and well-informed about hospitality and food, which hopefully will encourage them to visit your venue.
Remember, most of the content on Pinterest lives on other sites, so all it takes is a bit of initial research on the net to find interesting resources to 'pin'.
3. Showcase Your Events
Pinterest is a great platform to promote events held at your establishment. It's great for showing off facilities, meeting rooms, gardens, wedding festivities etc.
4. Drive More Traffic To Your Site With SEO
Driving more traffic to your website, is the best way to drive up your online bookings. Pinterest will do wonders for your SEO efforts (Search Engine Optimisation), meaning your business will rank higher in Google searches. This is because Pinterest doesn't use 'No Follow' tags like Facebook and other social networks. What this means, is that you will benefit from links coming to your website making your page appear higher on Google and other search engines rankings! This as long as the content (photos and videos) you are sharing are placed on your own website and not someone elses.
5. Engage your Audience
As with any kind of social networking site, Pinterest is another perfect way to communicate and engage with your customer base. So make sure to connect with your customers, reply to their nice comments and repin interesting things they have posted that are relevant to you.
A Pinterest competition is also a perfect way to interact with you audience! Photo competitions are perfect for Pinterest. Why not run a competition that asks your audience to take the best photo of your venue and then share on Pinterest. The best photo could win a free meal at your restaurant or a free nights stay in your hotel!
Final thoughts
Pinterest is a highly effective social marketing tool and should start to become part of your daily social media marketing efforts.
It is very simple to sign-up for an account, even though it's invite based. If you don't know anyone already on Pinterest, simply 'request an invite' and you will get an email fairly quickly.
Here's just a few tips before you start:
Be imaginative with your boards, think about all the topics and interests that relate to your company. But, always keep in mind what will interest your audience; don't fill your boards with adverts and promotions that can be found on your website regardless.
Connect and engage with your followers like you should already do on Twitter and Facebook
Make sure to take some time setting-up your profile, make sure it has the links to your Twitter page and website, as well as a short bio on the company.
Be wary of copyright issues, always give credit to the owner of the content and ask if in doubt.
Make sure all pins include the right caption and information
Be consistant with your brand voice and values.
About BeeLiked
BeeLiked offers companies an ever-growing portfolio of campaign types that are quick to create, with full design flexibility, performance tracking and data collection capabilities to ensure your campaign and promotion exceed all your expectations.
The BeeLiked Platform can help you engage and incentivize your audience and customers across their life-cycle and journey.
BeeLiked is on a mission to prove the ROI of interactive driven marketing. Click here to set up a no-obligation 10-minute discovery call.