It's that time of the year again; Valentine's Day. Everything's about to turn red (especially the faces of all us single people when we're asked about our love lives). Valentine's Day is a month away and the marketers are already in full swing. To help you think up a cool campaign for the loveliest day of the year, we've rounded up our top tips
We know that some people will be reading this thinking "There's no possible way I can use Valentine's Day to market my product" well we're here to tell you that you absolutely can and should. You don't need to sell luxury Swiss chocolate to use this holiday to your advantage.
Start of by trying to think about how someone might use your product or service in the context of a relationship. Selling razors? Pre-date perfect shave.
But if you sell something that has nothing to do with romance it's not the end of the line, unleash your inner comedian with something tongue-in-cheek.
All you need is a little creativity and a sense of humour, remember that being funny can be just as captivating as being moving!
Tesco are pretty good at this:
Your love for cheese knows no bounds, @innocentdrinks, so we've just got to ask… #LoveIsAllAround pic.twitter.com/F8iAEXIlEO — Tesco (@Tesco) February 10, 2015
And Pilot Pens, a pen manufacturer, got in on the action themselves, by acknowledging the erosion of handwritten messages, they ran a campaign which enabled people to send digital hand-written notes to loved ones via social media.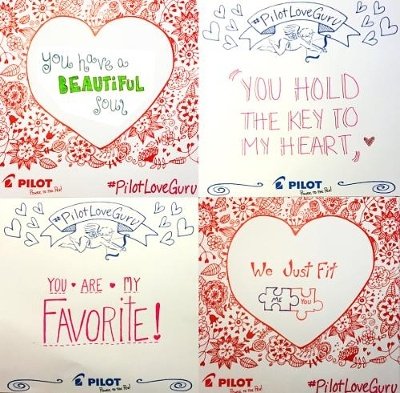 Bringing a little bit of the traditional back to the modern.
Pilot Pens Love Guru Valentine's Day campaign
2. It's A Good Time For Offers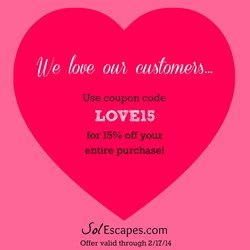 SolEscapes.com campaign
Valentine's Day can be an expensive affair, especially since it comes so soon after Christmas while we're all feeling a little squeezed around the middle. This can be a great time to offer a discount on your products or services, helping convince your audience to spend a little on the one they love, without it breaking the bank.
A nice spin on this idea is the 'recommend a friend' tool. Make your offer a little bit more loving by making it all
about friendship.
Or why not consider showing the love for singletons too? A number of restaurants have offered deals for couples and groups of single friends alike, under the heading of not needing to be in love to celebrate love.
3. Be Careful
Think through a campaign as carefully as possible, when you're looking at something like love you don't want it to get awkward. A good failed example is McDonald's campaign last year where you could: "Pay With Lovin'"
Aside from sounding like an offer you might get in the Red Light District, the whole premise of the campaign was embarrassing. Random customers were selected who would be given free meals in return for performing humiliating tasks, such as publicly asking a stranger to dance or declaring their love for someone.
While there were some good stories and some people probably really enjoyed the opportunity to kiss a stranger, the more socially-repressed amongst us didn't appreciate this one all that much.
4. Get People Involved!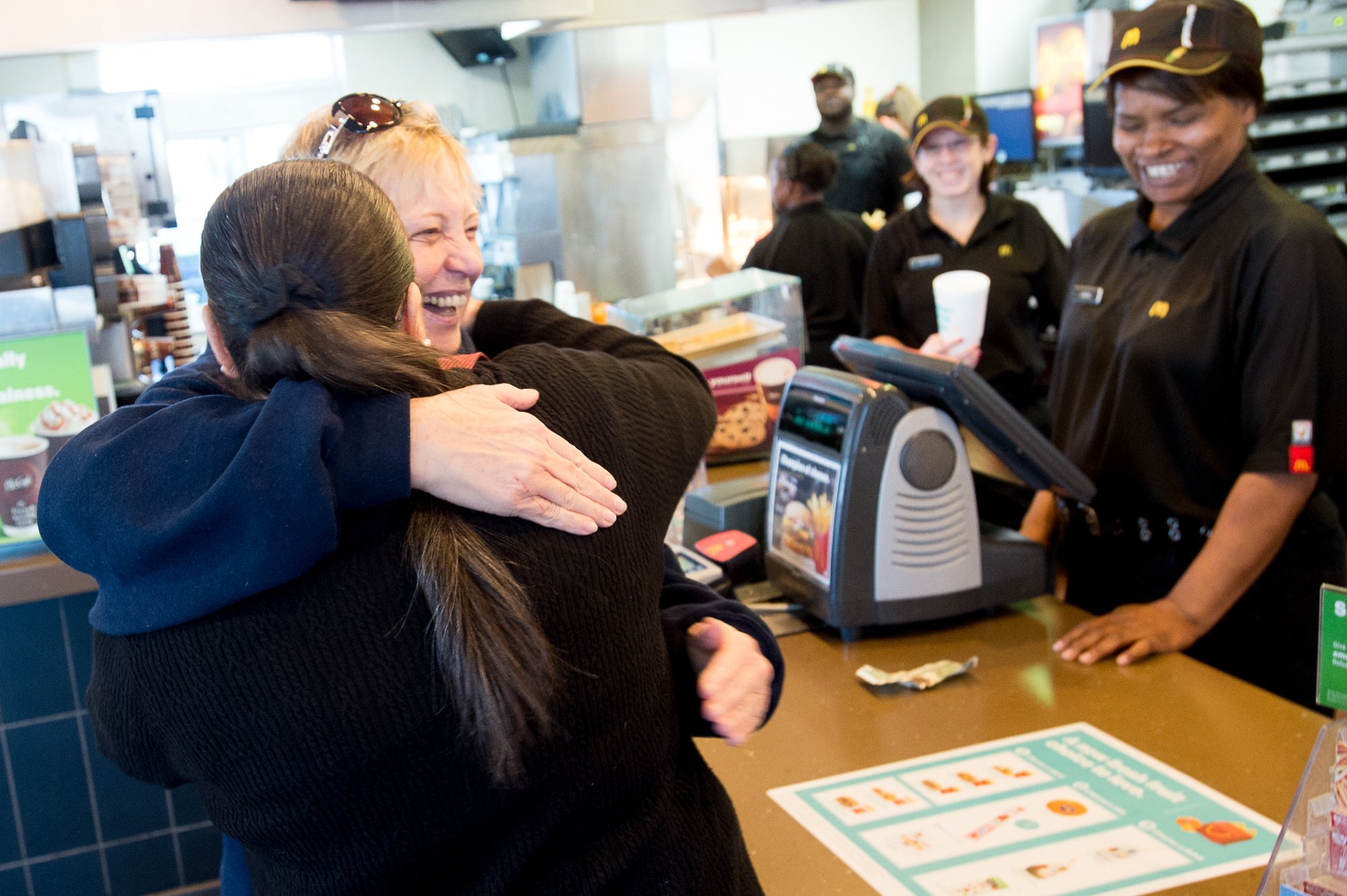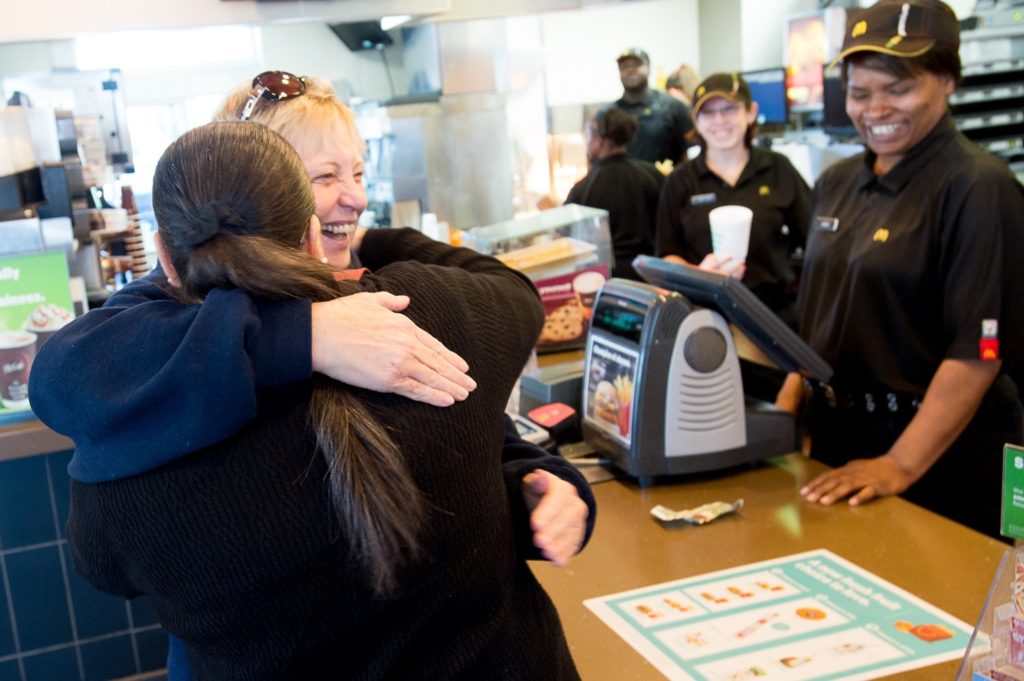 McDonald's Pay With Lovin' campaign
If there's one thing which people like to brag about it's their relationship. Two minutes on Instagram and I guarantee you'll be overwhelmed by the couple selfies and date night documentation, it's enough to warm the heart of even the most dedicated Ebenezer.
The brilliant thing about this is what it means for marketers and businesses. People are already willing to create material and share it with you! The best way for you to make the most of the holiday is simply by harnessing all that content together. Think up a cool campaign idea, it could be anything but certainly pictures are the simplest and watch the entries roll in.
How about a "I love him/her because" photo competition? You could even base it around a specific product, require people to take selfies with whatever you're selling and offer a brilliant prize for the winner! What could be simpler?
Hallmark are obviously the kings of this:
Don't say "I love you" this Valentine's Day. Say more. #PutYourHeartToPaperhttps://t.co/axccnwickA — Hallmark (@Hallmark) February 12, 2015
So there you have it! It's never too late to think up a great campaign for Valentine's Day and you really can't afford to let such a lucrative celebration pass you by. Share the love this spring!
About Beeliked
Beeliked is a marketing platform offering easy to set up and run campaign options, that are perfect for trying and testing something new. We have a wide range of innovative digital campaigns to help brands engage with their existing audiences and reach new customers through the viral and social nature of the contests and games.
BeeLiked offers companies an ever growing portfolio of campaign types that are quick to create, with full design flexibility, performance tracking and data collection capabilities to ensure your campaign exceeds all expectations.
The BeeLiked Platform can help you engage and incentivize your audience and customers across their life-cycle and journey.
BeeLiked is on a mission to prove the ROI of interactive driven marketing. Click here to set up a no-obligation 10-minute discovery call.