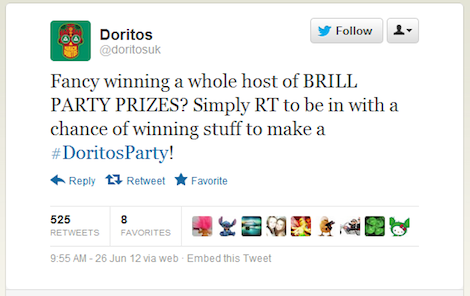 These days, it's hard to scroll your Twitter newsfeed without seeing a 'RT To Win' Competition. Brands love this type of contest, as they are simple but very effective.
In a matter of days brands can gather hundreds if not thousands of retweets and new followers.
For those of you who are serious Twitter NEWBS and haven't heard of an RT to win. As the name suggests, entrants are asked to retweet a particular message to be in with a chance of winning. At the end of the campaign, winners are chosen at random from all the entrants.
3 Top tips
1. Timing
One important factor to consider when it comes to RT to win competitions is timing. To increase retweets of your promotion, you need to be tweeting at the optimal time and not when people are asleep or having a busy day at work. Especially the first time you tweet about it.
This will affect your total number of retweets for the campaign, so make sure to get it right.
There are a number of debates online as to the best times to tweet, however, I would recommend the best time is in the morning around 8-9am or in the evening 5-6pm on Monday-Thursday, because people check Twitter on the way to work and at the start of the day, as well as on the way home.
There are tools such as Tweriod and even Hootsuite that give you the best times to tweet according to you and your followers' tweets. So do some research and time your launch well!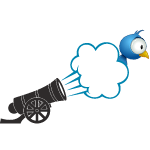 2. Offer a great prize
The most successful Retweet to win contests that receivethe highest figures offer great prizes. Because, let's be honest that's the whole point of the campaign.
Take a look at this Retweet to win competition BeeLiked's client Curious Hotels ran.
They offered a 1-night stay at Cowley Manor in the Cotswolds and received over 800 retweets in a matter of days!!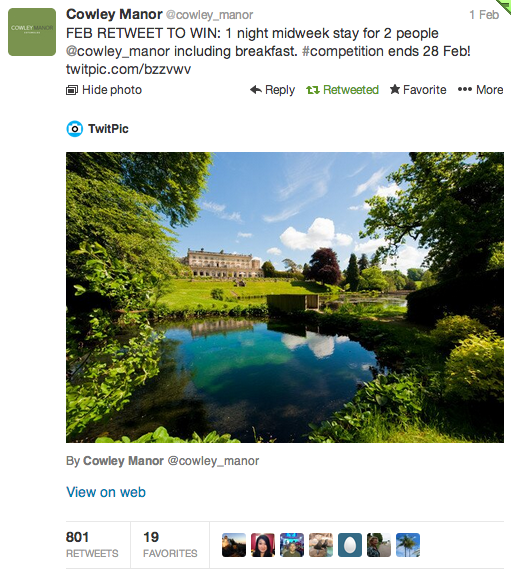 3. Use A Microsite
Retweet to win competitions are very effective, but they do have one rather large drawback and that's the fact that you can't tweet out about the competition multiple times.
I often see brands tweeting out saying 'Retweet our last tweet to win' – which just sounds and looks rubbish!
On top of this, with RT 2 WIN competitions, there is nowhere to host your terms and conditions. Companies will often create T&Cs for the campaign using 'notes' on Facebook. I think this looks extremely poor, directing your followers away to Facebook to view T&Cs for a campaign on Twitter!
That's why I would always advise to use a microsite for Retweet to wins, as it means you have a nice landing page for your competition, that is fully branded, provides your term and conditions, and most importantly, can be shared as many times as you like.
Take a look at the microsite we launched for Australian travel company Wotif. The competition ran over 3 days, with the BeeLiked software enabling them to pick 1 winner a random each day!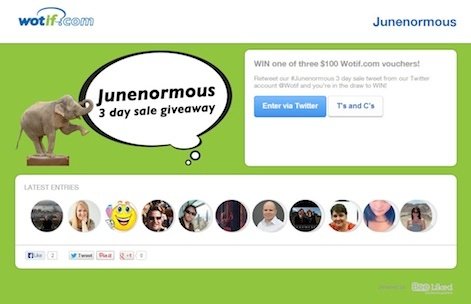 About BeeLiked
BeeLiked offers companies an ever-growing portfolio of campaign types that are quick to create, with full design flexibility, performance tracking and data collection capabilities to ensure your campaign and promotion exceed all your expectations.
The BeeLiked Platform can help you engage and incentivize your audience and customers across their life-cycle and journey.
BeeLiked is on a mission to prove the ROI of innovative gamified driven marketing. Click here to start your 14 day free trial