What to do and not to do
And while there are a lot of benefits to RT To Wins, there's a lot of common pitfalls too – make sure you avoid them by follow our top tips.
1. Spam meat is bad, spam tweets are bad
Even if you rigorously clean up your Twitter it's likely you'll see at least a few spammy tweets while you're browsing your feed and if you're anything like me, you immediately swipe past anything that looks a bit off, no matter what prize they're advertising. While major companies continue to attract customers based on their name and logo alone, for smaller companies it's vital that you get across the validity of your business and of your RT To Win campaign. The best way to do this is by following the experts, i.e.
Do this: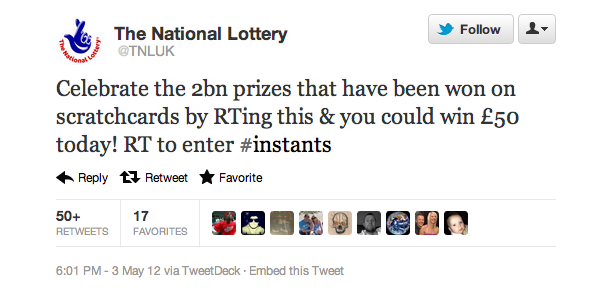 Not this:

The National Lottery set out their tweet in a clear and concise way, getting the point across without going over the top. The example below on the other hand looks like spam. From the structure to the capitalisation, everything about it screams ""do not click this" and you can bet your followers will scroll right on past anything that raises a red flag.
2. If something looks too good to be true, it probably is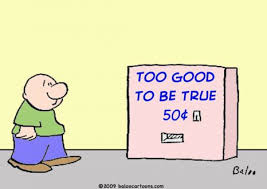 Unless you're Audi, advertising a sports car as a prize isn't going to go down well with your followers (although if you're advertising a sports car as a prize, you're probably doing well enough as it is). Numerous studies have found that people react negatively to campaigns that look "To Good To Be True", they make your followers incredulous and that doubt will make them avoid your twitter competition.
Happily, the upshot of this is pretty positive: You don't need to break the bank on your prizes. You'll be much more successful offering small, realistic prizes than focusing all your efforts on something spectacular. After all, nothing beats a free T-shirt.
Don't believe us? Take a look at the tweet above again. Even The National Lottery are only offering £50.
3. Make sure your prizes are relevant
Having said that, you do need to make sure your prize is relevant to your business. It's a Twitter competition, the people entering are interested in your prize, not in your company, so you need to make sure your prize is relevant to your business.
Let's take a look at two examples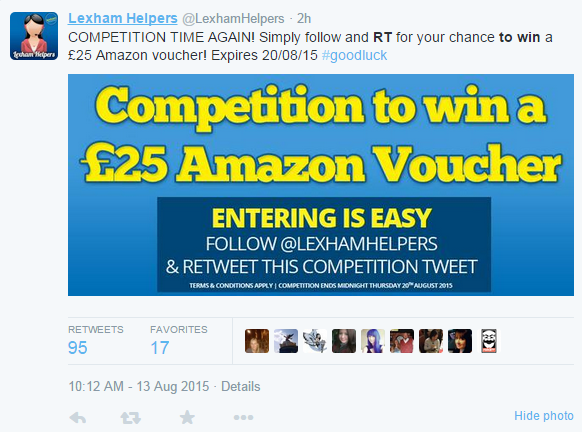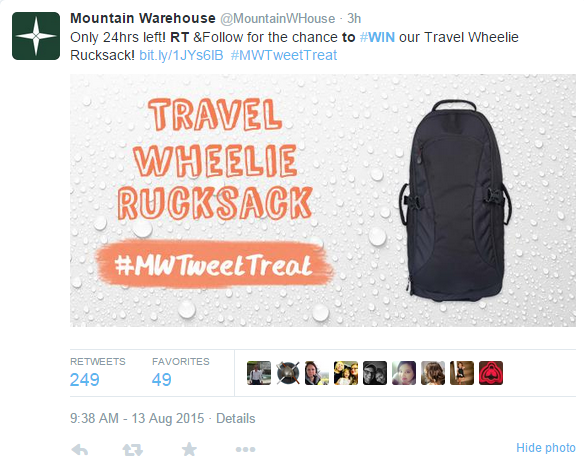 Both of these Retweet To Wins are presented similarly, however without actually clicking onto Lexham Helpers Twitter profile we have no idea what they do as a company. On the other hand, we understand immediately who Mountain Warehouse are from their selection of prize. This means that the number of people looking for outdoor gear who click onto that link will be a lot higher than the number of people looking for insurance brokers who click on Lexham Helpers.
4. Timing is everything
The major drawback of using Twitter for business is the speed. If someone's not actively browsing when you tweet, there's a good chance they will miss your message. This makes understanding when the best time is to engage your followers absolutely vital to the success of your RT To Win twitter contest.
Luckily, there are several major analytics players to help you work out when the best time is to tweet.
Top Players:
SocialBro offer a free "Best Time To Tweet" feature which is brilliant for newbie tweeters.
Hootsuite offer a number of options, including integrating SocialBro into the dashboard or if you prefer a simpler method, using "autoscheduling" and letting Hootsuite automatically tweet at the optimum time.
Tweetreach offers a number of different plans and packages to help you find the correct one for your business
5. Make it interesting!
Get your creative juices flowing! The major drawback of Retweet To Wins and Twitter contests in general, is that it's difficult to get across the uniqueness of your brand. Coming up with a brilliant hashtag that sums up who you are is an excellent way to create interest and get those retweets up.
About BeeLiked
BeeLiked offers companies an ever-growing portfolio of campaign types that are quick to create, with full design flexibility, performance tracking and data collection capabilities to ensure your campaign and promotion exceed all your expectations.
The BeeLiked Platform can help you engage and incentivize your audience and customers across their life-cycle and journey.
BeeLiked is on a mission to prove the ROI of interactive driven marketing. Click here to set up a no-obligation 10-minute discovery call.