Happy Pancake Day! That's right it's Shrove Tuesday, that time of the year when people go flippin' mad for pancakes, and what better way to celebrate it then creating pancake selfies?!
Tefal, the supplier of kitchen housewares, has launched a highly creative social media campaign that allows you to take a Pancake selfie and share it with your friends.
The microsite enables fans to upload a photo by webcam, Facebook and Instagram and place it onto a pancake!
Once your selfie is superimposed on the pancake you can tweak the shade of the image and then share it out to your Facebook, Twitter and Pinterest.
Everyone who enters the competition will also be put in a sweepstake to win a Tefal Ingenio 13-piece cookware set worth £250.
Check out my cheeky mug on my pancake…
The cookware brand has also created a gallery with famous faces. Can you guess who this is?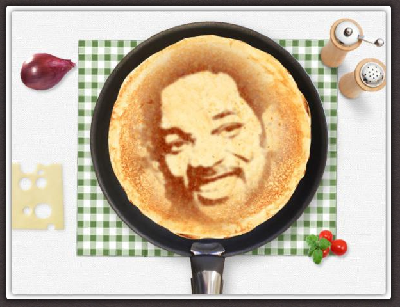 I love this campaign, it's really simple, very nicely designed and a great way to put your brand's name to one of the many calendar events over the year.
I do think this this campaign could be improved. For instance when logging into Facebook, the app only loads images that you have posted on your wall, but doesn't let you access your Facebook albums and only pulls in 20 of your Instagram images.
Nonetheless – still a really cool idea!
About BeeLiked
BeeLiked offers companies an ever-growing portfolio of campaign types that are quick to create, with full design flexibility, performance tracking and data collection capabilities to ensure your campaign and promotion exceed all your expectations.
The BeeLiked Platform can help you engage and incentivize your audience and customers across their life-cycle and journey.
BeeLiked is on a mission to prove the ROI of innovative gamified driven marketing. Click here to start your 14 day free trial.