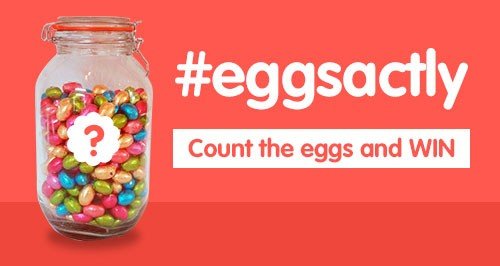 Are you looking for Easter digital marketing campaign ideas? First, take a deep breath and prepare yourself for some eggs puns. Ok, ready?
Easter is eggsactly one month away, and that can only mean one thing – morning brunch, egg hunts and lots of chocolate!
At BeeLiked, we've been getting in the Easter spirit early as we've been creating some awesome new digital marketing campaigns to eggceed your fans eggspectations over the Easter period, and reward some of them with great prizes whilst they guzzle chocolate & hot crossed buns.
Being a small team ourselves, we are aware of the need to reach out to our customers over key sales periods, yet within the limited time frame available, there is always a need to compromise between time, budgets, and generally eggcelling in your day to day activities of running a business.
With all of this in mind, we decided to create BeeLiked Instants: Pre-built digital marketing campaign ideas for Seasonal periods.
We put our thinking caps on and have come up with a range of eggscellent marketing campaigns all ready for Easter. We call them "Instants", because we've done everything for you. Simply select one of these marketing campaigns, and you'll be ready to launch before you can say 'supercalifragilisticEGGSpialidocious'. [ok enough of the egg puns]
6 Easter digital marketing campaign ideas
So without further ado here are 6 Easter digital marketing campaign ideas to excite your audience! Have a play around with the campaigns via the 'see it live' buttons or simply sign up to BeeLiked Free and then contact us to put the campaign ready made into your account!
1. Easter Treat Retweet
We love a 'tweet' and we're sure your audience would too. Run an RT to Win for FREE this Easter.
2. Caption This 'Tweet Wall'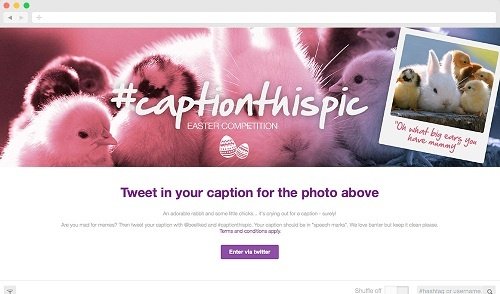 Here's a fun Easter caption contest you can run for free. Asks fans to tweet in their best caption for the photo!
3. One Question Quiz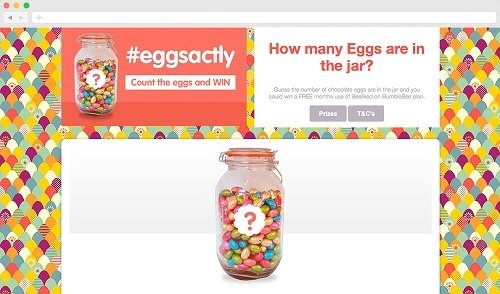 Ask your fans and followers to guess how many chocolate eggs they think are in the jar for a chance of winning. We'll provide you with the 'eggsact' number when you select to run this campaign!
4. Rabbit Rewards Poll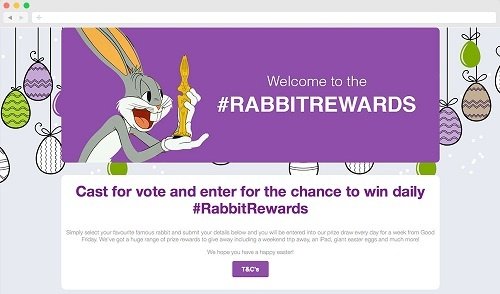 Here's a fun poll for you to put to your audience. Every rabbit that is any rabbit is here, together with a little explanation of who they are and what makes them great.
5. Easter Quiz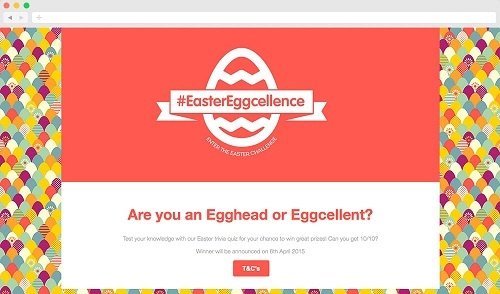 Test your audience's knowledge in this fun Easter themed quiz! From Guinness World Records to Roger Rabbit this quiz has it all!
6. Photo Contest – 'Choco Selfie'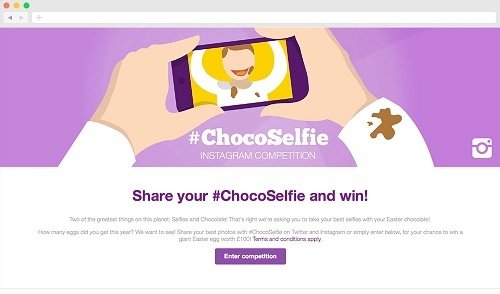 Everyone loves chocolate and we've heard selfies are pretty popular too; so this is an ideal combination. Ask your audience to submit a picture of themselves with their Easter chocolate!
About BeeLiked
BeeLiked offers companies an ever-growing portfolio of campaign types that are quick to create, with full design flexibility, performance tracking and data collection capabilities to ensure your campaign and promotion exceed all your expectations.
The BeeLiked Platform can help you engage and incentivize your audience and customers across their life-cycle and journey.
BeeLiked is on a mission to prove the ROI of interactive driven marketing. Click here to set up a no-obligation 10-minute discovery call.