Everyone loves to take a nice photo and now with the huge rise of smart-phones and the success of photography social networks Instagram and Flickr, it couldn't be easier to share great pictures with your friends.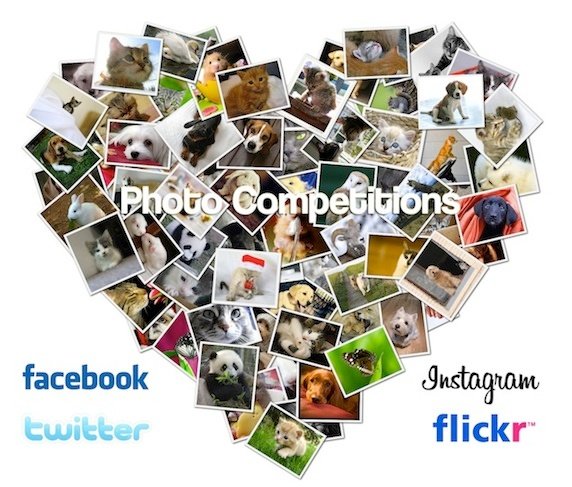 Therefore, photo competitions are a highly effective but simple competition method to implement for a marketing campaign. Photo competitions encourage user-generated-content from fans and followers, allow customers to engage with your brand and drive traffic back to your social networking sites, as well your website.
So, I've put together 5 fun photo competitions that utilized Facebook, Twitter, Instagram or Flickr to give you some inspiration!
1. Lonely Planet 'Best In Travel'
Many of us dream of travelling around the world, exploring different countries and learning about other cultures. Travel guru Lonely Planet helps many people do this, not only by providing people with guidebooks and information, but by running high quality photo competitions that help you decide where to visit or allow you to reflect on places you've been.
The guidebook and digital media publisher has been running a weekly Flickr photo competiton for over 50 weeks, to which they receive some amazing photos.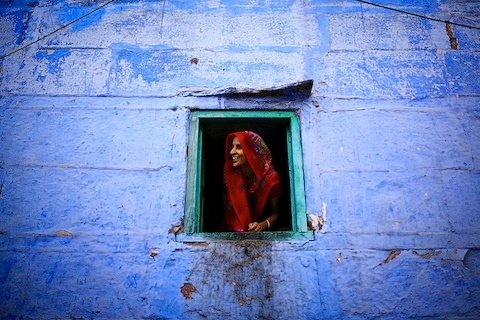 However, this month Lonely Planet has launched a new photo competition through an app on their Facebook page titled 'Best In Travel 2013'
The brand has picked some of the best cities, countries and regions in the world for the upcoming year and is asking fans to take their challenge to see if you are the ultimate traveller.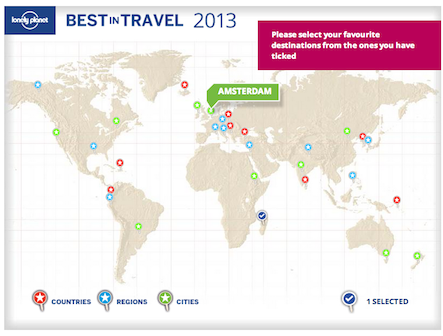 Fans must select how many of the destinations they have been to and then fill in information about what they liked the most, what the location is best for; food, events, adventure etc, and upload a memorable image!
If you are selected as Lonely Planet's 'ultimate traveller' you will win a US$4000 travel voucher. Also, everyone who takes receives a 50% discount on any Lonely Planet ebook, PDF or digital chapter!
Head over to Lonely Planet's Facebook page and enter now
2. Carnaby Christmas 2012 'It's Only Rock and Roll'
Instagram is an obvious choice for a photo competition as brands can receive some great, professional looking photos of their customers, products and venues.
This month English Rock band 'The Rolling Stones' have collaborated with Carnaby street to produce a spectacular Christmas installation for the iconic London street, and have opened a shop called 'GRRR' to celebrate the 50th anniversary of the band and their association with the area.
The street decor includes hanging clusters of gold vinyl records, featuring photos, artwork and album covers as well as the Stones' iconic tongue and lips logo placed on The Carnaby arches. The outdoor installations tell a visual story from the band's creation in the 1960s to the present day, and will be in place until 6 January 2013
In conjunction with the street promotion the brand has launched an Instagram photo competition to encourage people to visit Carnaby street and takes some great snaps!
All fans have to do is take a photo on Carnaby St and tag it with #stonescarnabyxmas to be in with the chance to win a GRRR! deluxe box set, plus a Carnaby Street gift pack including dinner for two in Carnaby, a bottle of champagne, Carnaby privilege card and limited edition shopping bag!
Check out the Campaign video here and get yourself down to Carnaby St this Christmas!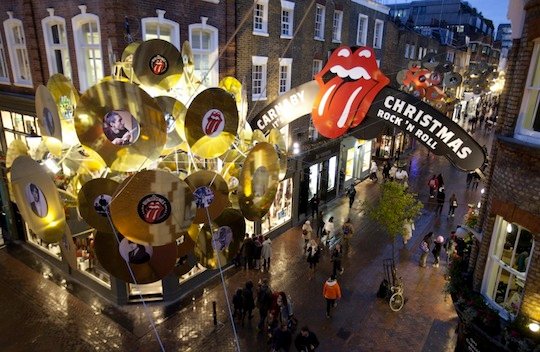 3. Ford #Fiestagram
Ford ran a highly creative competition this year, to help increase awareness of their new Ford Fiesta's 'innovative features'. The U.S car manufacturer launched the contest through Instragram, asking people to upload photos for weekly challenges that were themed around 'key Fiesta technologies' e.g 'shapes', 'hidden', 'music' etc.
The campaign was lead with the hashtag #Fiestagram, and was featured on a 'content hub' on the Fiesta Facebook page. The contest also featured in the real world on digital billboards and in galleries.
Ford offered weekly prizes for each challenge such as a 'Sony Handycam', and every entry made into the entire #Fiestagram competition was given the chance to win a 'grand prize' of a new Ford Fiesta!
The competition received over 16,000 photos, the Facebook page generated over 120,000 new fans and the photos made regular appearances on the 'popular' page on Instagram!
Very cool photo competition! Check the campaign video out here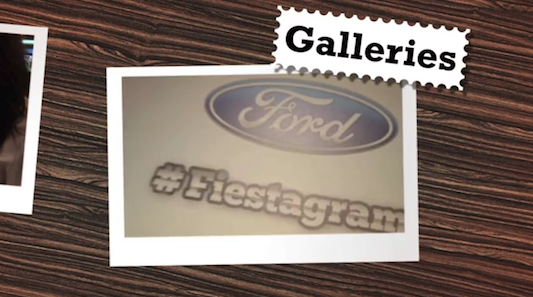 4. Starbucks 'Happy Hour'
Global Coffee Chain Starbucks, ran an inspirational Twitter contest that asked followers to complete photo challenges to celebrate the return of their 'Frappuccino Happy Hour'.
Followers were encouraged to tweet in photos to @StarbucksUK using the hashtag #MyFrappuccino completing daily challenges, including most delicious smiles, what "just-chillin" looks like, why you love summer and many more.
The brand rewarded the most fun and creative photos with a £10 Starbucks Card to a winner every day.
The hashtagged entries were also shared onto Instagram, giving the contest a great crossover onto mobile.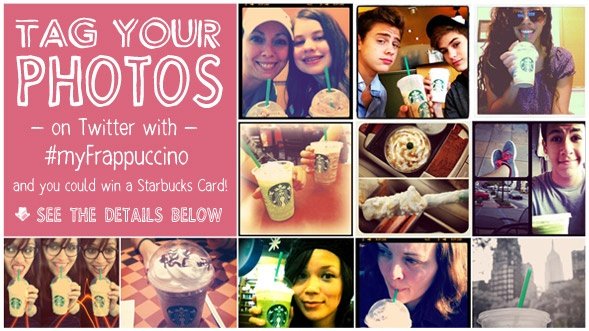 5. Sainsburys Share The Moment
Last month Sainsburys launched a fun photo competition on Facebook asking fans to upload a photo of their 'autumn moment' to win 1 of 5 £100 vouchers on offer every week until November 6th.
Customers were asked to add a caption to their photo as well as select a theme, including Halloween, Bonfire Night, Outdoor fun, Cooking and Baking
This may not be the most innovative campaign in the world, however, it has a 'feel good' 'family' approach and with over 540k likes Sainsburys received a substantial response.
Final thoughts
The contests featured above are great, however, some of these competitions could have benefited from a microsite and social voting. For example the Carnaby St and Starbucks competitions both utilze a hashtag on Twitter and Instagram, but why not use a microsite that showcases and features all entries?
The Lonely Planet, Ford and Sainsbury's contests used Facebook apps to promote their photographs, but the campaigns could have been more viral had the brands enabled users to vote and share their favourites! Also why not have your competition running across Facebook, Twitter and maybe even Instagram as well?
About BeeLiked
BeeLiked offers companies an ever-growing portfolio of campaign types that are quick to create, with full design flexibility, performance tracking and data collection capabilities to ensure your campaign and promotion exceed all your expectations.
The BeeLiked Platform can help you engage and incentivize your audience and customers across their life-cycle and journey.
BeeLiked is on a mission to prove the ROI of interactive driven marketing. Click here to set up a no-obligation 10-minute discovery call.