This week it has been reported that the 2014 ice bucket challenge viral campaign has far exceeded expectations. The funds that the campaign managed to generate, resulted in the discovery of a gene behind the neurodegenerative disease ALS. This incredible result shows how the advent of the viral campaign rewrote the rules when it comes to marketing.
Also this month, Pokémon Go hit the ground running when it made history with the most downloaded app ever, in less than 10 days. They have successfully created a worldwide frenzy, and reinvented Pokémon for a wider audience.
Like the self-replicating infectious agent it takes its name from, the viral marketing hit can start from tiny origins and grow to global proportions, simply through being perfectly adapted to the conditions it has to thrive in. Some campaigns are conceived as being nothing but viral, others come about almost by accident – what they have in common is that, once they get going, they acquire a life of their own.
With viral going, well, viral at the moment we thought we would share with you some of our favorite campaigns at BeeLiked HQ.
Dove- Choose Beautiful https://www.youtube.com/embed/7DdM-4siaQw
This sensitive campaign resonated hard with its audience as women candidly discussed their insecurities. The evocative advert was designed to get people thinking about themselves and what they considered beautiful. People discussed it with their daughters and passed it on to their friends. The advert managed to articulate how many people felt about themselves.
Old Spice- The Man Your Man Could Smell Like https://www.youtube.com/embed/owGykVbfgUE
This brand was refreshed in 2010 and has gone from strength to strength. This crisp and humorous advert was aimed at persuading women to buy Old Spice for their men. The ad amassed 220,000 YouTube views in the few short hours after the Super Bowl viewing, and the video continually gained about 100,000 views every few hours after that. The brand has continued to use viral marketing effectively, and even the Old Spice man himself took part in the Ice Bucket Challenge.
Dollar Shave Club https://www.youtube.com/embed/ZUG9qYTJMsI
In the first 48 hours after this video debuted on YouTube, 12,000 people signed up for the service. This brand challenged a shaving legacy with a humorous self-deprecating campaign that resonated with a varied audience. Four years after starting up, Dollar Shave Club has just been bought by Unilever for a billion dollars.
ALS Ice Bucket Challenge https://www.youtube.com/embed/qgqsgXSJ7g8
I've already mentioned an outstanding outcome from this campaign, but it has to be in my favourites! The ALS Icebucket Challenge will go down in history as one of the most viral campaigns of all time.
In 2014 the challenge swept the world and dominated our news feeds for weeks…. 2.4 million ice bucket-related videos were posted on Facebook, and 28 million people uploaded, commented on or liked ice bucket-related posts. Reports suggested the campaign raised over a whooping $100 million compared to $2.7 million raised the year before – wow!
That Dress https://www.youtube.com/embed/I0OPNOpU6SY
Okay this isn't strictly a marketing campaign but it certainly went viral. When Caitlin McNeill innocently posted a photo of her dress on Tumblr, asking for consensus on the color of the dress the internet blew up. Everyone wanted to have their say about the dress from celebrities to scientists. The winners were designers Roman Originals, which saw a massive increase in sales and awareness.
Clever brands took the opportunity to cash in with some brilliant 'reactive marketing'
Dunkin Donuts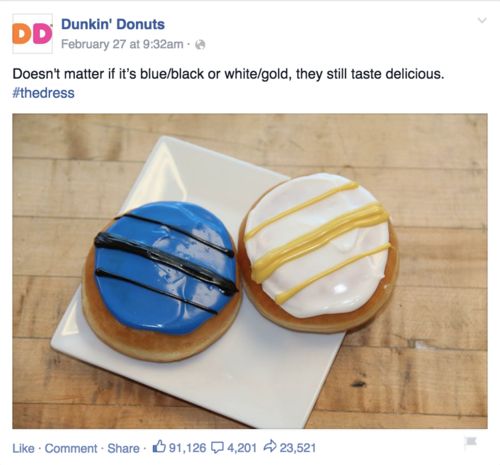 Oreo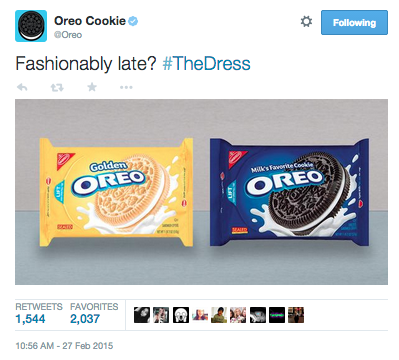 Salvation Army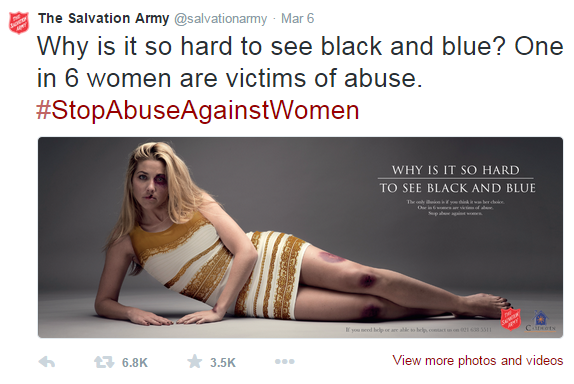 No one has a formula as to how to make a campaign go viral, but each one has created a strong reaction with an audience – enough for them to forward it on to friends and family. Be it humor, the fear of missing out, escapism or capturing the zeitgeist. Some of the most successful viral marketing campaigns hardly look like marketing campaigns at all.
Viral campaigns are about the unknown. Both the medium and the message are up for grabs and can come from anywhere.
BeeLiked is on a mission to prove the ROI of innovative gamified driven marketing. Click here to start your 14 day free trial.