Check out these five great campaigns
So, if you're after some inspiration on how to incorporate newsjacking into your marketing strategy, check out these five great campaigns – who knows, maybe you'll even grab some Rugby World Cup tickets in the process!
1. DHL #ScrumShareWin photo competition
DHL are a worldwide partner of the Rugby World Cup, and they're celebrating their partnership by running some great competitions. My personal favourite is their photo contest: #ScrumShareWin.
The photo contest asks rugby fans to share photos of themselves scrummaging on social media using the hashtag #ScrumShareWin. Entrants are encouraged to share original photos taken in unusual places. The competition has had lots of entries, producing some great UGC (user generated content) that DHL can use to promote their Rugby World Cup partnership.
DHL have enlisted a scrum expert to boost the visibility of their campaign. Their promo video features former Wales and British Lions prop Adam Jones explaining how to enter the photo contest! As well as having a really fun theme and a famous face, DHL are also attracting entries with great prizes. A pair of Rugby World Cup tickets are being given away every week as part of the #ScrumShareWin campaign.
To take a look at the contest, check out their competition page. Or if you fancy running a similar campaign for your brand, check out our photo contest tool.
2. Currys and Toshiba How Rugby Are You? Personality Quiz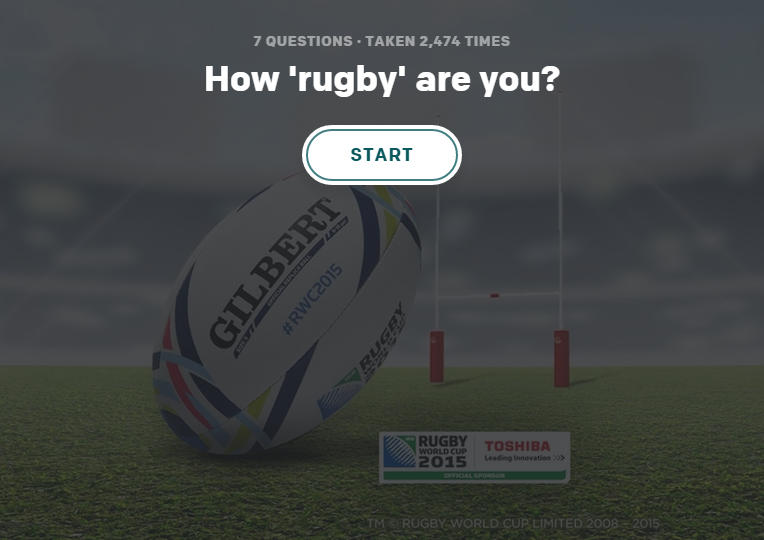 Currys have teamed up with official Rugby World Cup sponsors Toshiba for their topical competition.
Their campaign is based around the concept of a personality quiz. These type of quizzes have been popularised by Buzzfeed, and the results are often shared on Facebook. Currys' How Rugby are You? quiz asks fairly straightforward questions about rugby, then provides entrants with outcomes based on their score. The higher your score, the more "rugby" you are in your outcome. Those with high scores are likely to share and show off their knowledge of the sport.
Currys have further incentivized people to share their result on social by the addition of prizes. Everyone who shares how 'rugby' they are on Facebook or Twitter gets entered into a prize draw to win Rugby World Cup tickets.
You can run a similar thing with BeeLiked's simple to use quiz maker.
3. Mastercard Priceless Cities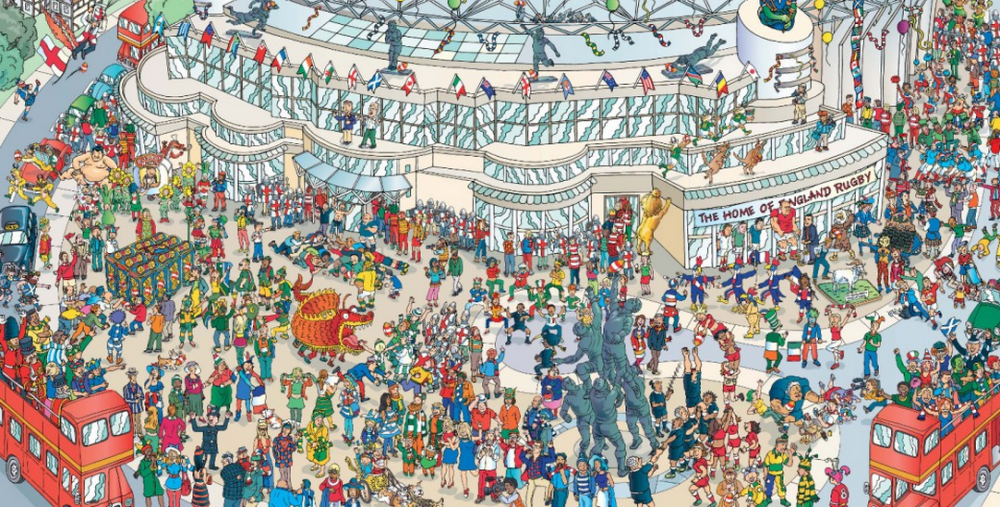 Mastercard ran a fun "Where's Wally" type campaign featuring a busy cartoon of Trafalgar Square with hidden rugby balls. To win, players were asked to count the number of balls within the picture. The campaign was fun and challenging with a good prize, however the design they used was a little old fashioned, lacking the interactive element consumers have come to expect from online games.
With BeeLiked's software you can run a similar style of campaign which is fully responsive and interactive.
4. Gilbert #passiton
Official world cup ball provider Gilbert's campaign was a fun and inclusive way of getting people excited about the approaching competition. The video contest they ran involved a simple premise, videos simply had to include receiving a pass of a Gilbert ball and the words "the rugby world cup is coming, pass it on". The clever inclusion of their logo into each video and the fun wordplay linking a rugby pass with the passing on of information made the campaign an instant hit.
Gilbert have recruited famous rugby and other sports stars to promote the competition and have gathered a huge variety of user generated content from it. Prizes for the best videos were also a fantastic incentive for entry; free tickets to a game are enough to get anyone's creative juices flowing.
There you have it! Some brilliantly creative campaigns created to celebrate the Rugby World Cup.
About BeeLiked
All these great campaigns are easy to create using BeeLiked's software – so while it may be too late for England this time, there's no reason we can't get our campaigns ready for team GB's hoards of gold medals at Rio next year (or is that just wishful thinking?).
BeeLiked is on a mission to prove the ROI of interactive driven marketing. Click here to set up a no-obligation 10-minute discovery call.