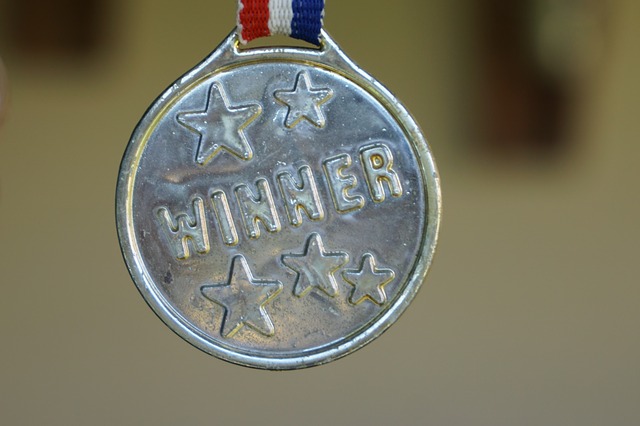 Running a competition is a tried and tested way to generate publicity, create visibility, introduce your brand to new customers and get a bigger organic reach. Whilst crafting a successful competition can work wonders, mistakes can be a PR nightmare, leaving customers angry, frustrated or questioning the integrity of the company.

Pitfalls you need to avoid
1. Not crunching the numbers first
Make sure you consider the full cost of running the competition, including prizes, distribution and logistics.
The most famous example of this being the Hoover Free Flights competition, which is still seen as a cautionary tale for any business looking to run a national competition. In 1992 Hoover ran a competition that promised airline tickets to customers that spent over £100 on products. This prize lead to customers making purchases purely to take advantage of the prize which worked out a lot cheaper than the flight tickets themselves.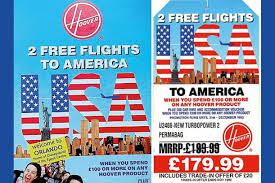 Such a strong take up of the offer was not anticipated and it lead to Hoover being unable to honor the competition. It also cost them over £50 million, the British Royal family withdrew their Royal Warrant, a number of Hoover executives were sacked, court cases went on until 1998 also, Hoover was then sold to the Italian Manufacturer Candy.
2. Not honoring the winner
Once competitions are in the hands of the public they may not go the way you expected them to go, are you ready for any eventuality? Make sure that your own competition terms and conditions are up to date and can stand up to scrutiny.
In 2016 the Natural Environment Research Council (NERC) faced a dilemma between credibility of the organisation and public opinion when the winner of their #NameOurShip competition was RRS Boaty McBoatface, after the naming choice went viral. In the end they decided to go with the RRS David Attenborough, which was the fifth choice. The name was kept and Boaty McBoatface is the lead submarine used for scientific research on the RRS Sir David Attenborough.
The Guardian notes that naming contests can often bring out rather humorous answers.
"The Boaty McBoatface saga is not the first time online polls have gone awry. Greenpeace launched a campaign to name a humpback whale in the South pacific in an attempt to keep them from being poached by the Japanese. The poll prompted a voting frenzy after Mr Splashy Pants was put forward – and ended up winning 78% of the vote.
Similarly in 2012, soft drinks brand Mountain Dew was forced to abandon a poll to name its new apple-flavoured drink after it was hijacked by message board 4chan who ensured that "Hitler did nothing wrong" won the vote.
The city of Austin, Texas, also learned the perils of public voting after a poll to rename the Solid Waste Services Department ended up with an overwhelming number of votes to call it The Fred Durst Society of the Humanities and Arts as an ode to the Limp Bizkit singer.
Despite an endorsement from Durst himself, the city shunned democracy in favour of Austin Resource Recovery."
In all of these examples the competition rules allowed the judges to have final say, but in ignoring the popular vote and either removing the quiz altogether or choosing a more sensible answer, it takes the credibility away from the brand.
3. Too hard to win or misleading
There are a lot of sophisticated competition players out there who pay attention the terms and conditions, if a competition is too hard to win or is seen as misleading it is likely to anger your audience.
In 2012 the New Covent Garden Soup Company also caused controversy when it announced that no one had won the top prize of a farm. The company explained that as the winning code had not been entered, no one had won the prize.
Although the competition was legal, customers felt that the process involved in picking a winner made it too difficult to win.
Marketing director Nigel Parrott said: "We are just as disappointed and we take the feelings and comments of our customers very seriously.
"We had 267,000 entries to the competition. Had all packs been entered, someone would definitely have won. We are now reviewing how future promotions should be run and are taking these comments into consideration."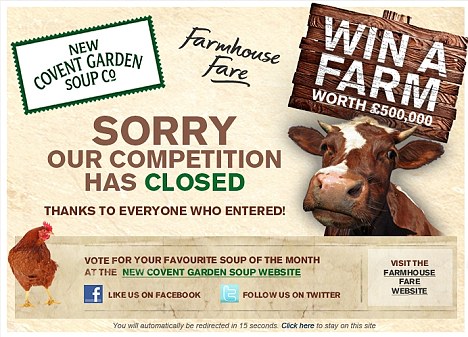 Recently Walkers came under fire in the UK when their "spell and go" competition was banned after customers complained that it was too difficult to win. Competitors were encouraged to collect crisp packets which contained special codes, when entered onto the competition website they were then awarded letters. The letters were then used to spell the names of 26 holiday destinations. However participants said the letters C, D and K seemed hard to find making it difficult to spell out the countries on offer.
Holidays included 3,000 'long-haul' trips to places such as Bangkok, Hong Kong, Kuala Lumpur, New York, Sri Lanka and Tokyo – all of which contain the letter 'K'. The remaining 17,000 short-haul holidays included Amsterdam, Barcelona, Budapest, Corfu, Crete and Majorca – all of which included the letters 'D' or 'C'.
After some 100 people complained to the Advertising Standards Authority (ASA), the ASA confirmed that the letters, referred to as "type 1" letters were were indeed hard to find, but had not been withheld.
However, it was not satisfied with the "random swap" function on the competition website which allowed participants to exchange letters within a "pool" on the competition website as this claimed that "all letters are treated equally".The pool was made up exclusively of "type two" letters, meaning C, D or K could never be won.
Statistics by Walkers showed that by mid-June of 2016 a total of 12.8 million codes had been entered by just over 655,000 people. Of of the 12.8 million corresponding letters given out, just 98 letter Ks were issued, 252 letter Ds and 278 letter Cs. In total, 628 C,D and K's were issued – just 0.0005 per cent of the total number of letters. In all 796 holidays out of an advertised 20,000 were wonder which is around 4%.
3. Don't break social network rules
Recently the easiest way to fall foul on a competition is by not following the terms and conditions on each social media site. Before you launch a contest make sure that you are read the latest relevant rules so that there is no chance that your competition will get pulled.
Cole Haan ran a Pinterest contest asking consumers to post five pictures of their favorite Cole Haan shoes and their favorite places to wander and tag them with #Wandering Sole.
However it was not deemed clear enough that this was a contest. Even though a hashtag was used, it was felt that to the average Pinterest browser it looked more like an endorsement rather than a competition entry.
About BeeLiked
BeeLiked offers companies an ever-growing portfolio of campaign types that are quick to create, with full design flexibility, performance tracking and data collection capabilities to ensure your campaign and promotion exceed all your expectations.
The BeeLiked Platform can help you engage and incentivize your audience and customers across their life-cycle and journey.
BeeLiked is on a mission to prove the ROI of innovative gamified driven marketing. Click here to start your 14 day free trial