Check-in specialist Foursquare, with over 750,000 companies and over 20 million users, is now more than ever a hugely effective social media marketing tool for bars, restaurants and hotels.
5 successful Foursquare campaigns
1. Grantapet Billboards
Last year, a small German pet food company implemented an extremely clever ambient Foursquare campaign on the streets of Munich and Berlin, surprising owners and their dogs during their daily walkies!
Granatapet installed 10 billboards around the cities which when a user checked into the billboard on Foursquare, it dispensed their new dog food into a bowl below the sign for their furry friends to feast on.
The billboards worked by using the Foursquare API, each time a member of the public checked-in on the app, it was noted on server that was connected to a small box within the billboard operating the dispenser. When the server noted a check-in, it realised a sample of pet food.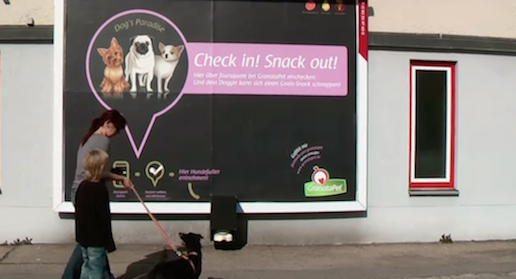 The experiential campaign was innovative and inexpensive, with each billboard costing around 350 euro to install. As you can imagine the dogs would pull their owners back to the billboard each day to get some more food on their walk. The ambient idea not only catches dog-owners eyes, but the interactive element makes them want to see if the billboard works.
The 10 billboards averaged 118 check-ins each on the first day, and Munich pet stores sold 28% more GranataPet during and 10 days after the campaign than prior to it. Sales of GranataPet increased by 14% from previous year, and pet store requests to carry the product increased by 38%.
2. Shelter Scotland
Homeless charity Shelter carried out a simple but effective campaign in 2011 with a budget of less than £2000, winning 'Best Use Of Check-In/Location Based Services' at the Social Buzz Awards.
Shelter, the first UK charity to use the benefits of Foursquare, designed their project in-house which allowed users to check-in to their charity's shops in Edinburgh to receive discounts and rewards.
Check-in discounts included an offer that allowed users on their first Foursquare check-in at a Shelter store to get 3 for 2 on any donated item. Then as an additional award, their loyal customers could claim the discount every 6 check-in.
The campaign also offered the opportunity to collect eight limited edition badges, one in each of the eight shops around Edinburgh, encouraging supporters to visit more stores and spend/donate more money.
The idea made shopping at Shelter a rewarding experience for supporters, as well as spreading the word to a new generation of customers. The campaign is still on-going with a plan to role-out the Foursquare concept across the rest of the UK very soon.
3. Angelo & Maxie's
New York is a city full of restaurants and steakhouses, therefore, Angelo and Maxie's needed to stand out from the crowd. So, in late 2011 the venue launched a Foursquare campaign over 45 days, which offered a free desert when you checked-in on Foursquare and bought an entree.
Simple it may sound, however, during the campaign there were 400 people that checked-in and unlocked the Foursquare special. What is equally impressive is that 60% of the participants were first time users of Foursquare.
The campaign saw a return of investment of $18,000 boosting revenues by 18% during the 45 day period, which was then extended for another 30 days.
This shows that specials and campaigns on Foursquare don't have to be highly creative and complicated; a free dessert could just be the the icing on the cake that will lure customers into your venue. Also, once guests are in the venue, they will buy drinks and side orders etc, driving even more revenue.
4. Dominos Mayor Award
Dominos Pizza launched a Foursquare campaign in 2010 that offered free pizzas and discounts to Foursquare users who visited it's physical outlets.
Domino's franchisees gave away free pizzas to the 'mayor' (person who has checked-in most in a particular venue) of each of its outlets, once a week as part of the scheme, and every Foursquare user received a free side dish when spending over £10.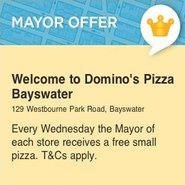 Having 'mayor specials' not only rewards your most loyal customers but it persuades people to visit your venue more regularly and remember to check-in on every visit.
Domino's received a quick return on investment from Foursquare after implementing the campaign across the UK, reaching a total of more than 200,000 Foursquare users in Britain, and receiving nearly 10,000 check-ins from around 3,500 unique visitors.
5. Starbucks & Red : Rush To Zero
It's nice to fight for badges and majorships at your favorite venues or to get a free dessert with your meal when you check-in, but it's much more satisfying to check-in and feel as if you've actually done some good in the world.
In June 2012 Starbucks teamed up with RED Aids organisation to launch a Foursquare check-in campaign to raise funds for the fight against HIV transmission.
From June 1st through 10th, every Foursquare check-in at a Starbucks store in the United States or Canada raised $1 as part of the (Red) Rush to Zero campaign.
Starbucks donated up to $250,000 during the event as well giving out limited edition (Red) Rush Foursquare badges on the application. The campaign was targeted towards eradicating the transmission of HIV from mothers to babies, with hopes to end the epidemic by 2015.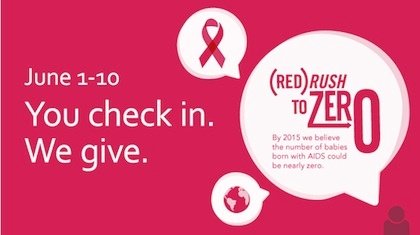 The campaign was highly effective for Starbucks as not only did it make them look like an organisation who cares, but it significantly raised their check-ins and visits to their Foursquare account.
Obviously, not all companies have a budget like Starbucks, however this is a good example of how a not for profit partner can benefit your Foursquare campaign. A smaller business could partner with a charity and implement a similar idea but on a smaller scale.
Summary
There are a number of Foursquare campaign strategies out there for you to choose from. Once you have decided on a concept, make sure it is clear and simple, and then start spreading the word!
You don't have to have a huge budget to implement a Foursquare campaign. Just make sure the concept and prizes are on-brand and relevant to your business. As you can see from the earlier Angelo and Maxie's example above, a free dessert could be all it takes to boost venue through Foursquare.
But remember, once your campaign is up and running, don't neglect it. Make sure to thank users for checking-in, and post updates of your campaign on other social networking sites like Facebook, Twitter and Pinteret.
About BeeLiked
BeeLiked offers companies an ever-growing portfolio of campaign types that are quick to create, with full design flexibility, performance tracking and data collection capabilities to ensure your campaign and promotion exceed all your expectations.
The BeeLiked Platform can help you engage and incentivize your audience and customers across their life-cycle and journey.
BeeLiked is on a mission to prove the ROI of interactive driven marketing. Click here to set up a no-obligation 10-minute discovery call.