Reward medical professionals for continuing their education
USHealth Connect (USH) is a global organization that provides education for healthcare professionals. Its subsidiary, ReachMD, needed to increase the number of participants taking tests and registering contact information on its EdTech website after watching specialist talks.
Promotion Setup
The 'Post Test' is advertised below each video.
The spin wheel loads before the tests are taken, and the participant spins to see what Amazon gift card they have won.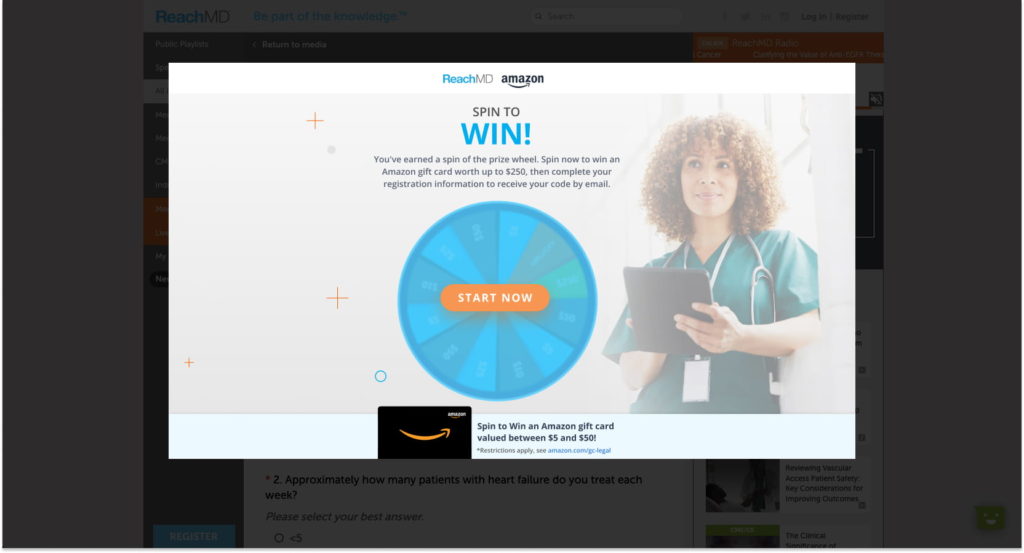 Prizes are gamified, with everyone guaranteed to win at least $5. Having been shown they have won a prize, participants must then take the test and register their information in order to be sent their digital gift card.
Seamless integration
USH integrated its EdTech website and back-end systems with BeeLiked's API to create a secure and seamless process. Each entrant accesses the spin wheel using a unique anonymous InviteLink, which ensures they can only spin once, with no entrant data needing to be passed to BeeLiked. Results are then retrieved through the API and mapped to user data in the ReachMD systems. Qualifying entrants are then sent their gift cards.
Outcome
Completely secure anonymous entry with no data being passed to BeeLiked
Fully automated reward process with invite fraud prevention
18% increase in people taking tests
40% increase in opt-in data
CPA under $10